The Langton Watercolour Papers
The Langton Products
What is The Langton collection?
Revered among watercolour artists the world over, The Langton paper is known for its superior quality and is designed to withstand the most demanding techniques of an artist's craft.
The Langton collection comprises two ranges: The Langton paper and The Langton Prestige, while some features differ between the two, there are some similarities in the manufacturing and makeup of these papers.
Both collections are made in the traditional way, using a cylinder mould machine and are available hot pressed, cold pressed and rough texture. Being mould-made, artists can enjoy a combination of the consistency that only comes from machine-crafted paper with the appearance of handmade paper.
Cold pressed paper has a subtly bumpy texture, which complements watercolour works perfectly, while hot pressed paper has a quintessentially smooth texture. The rough texture of paper brings a whole new dimension to artworks, offering artists the opportunity to incorporate the paper's finish into the piece and use its ruggedness to play with depth.
The entire Langton watercolour paper collection also has an acid-free finish, which protects against discolouration and retains the vibrancy of the colours over time.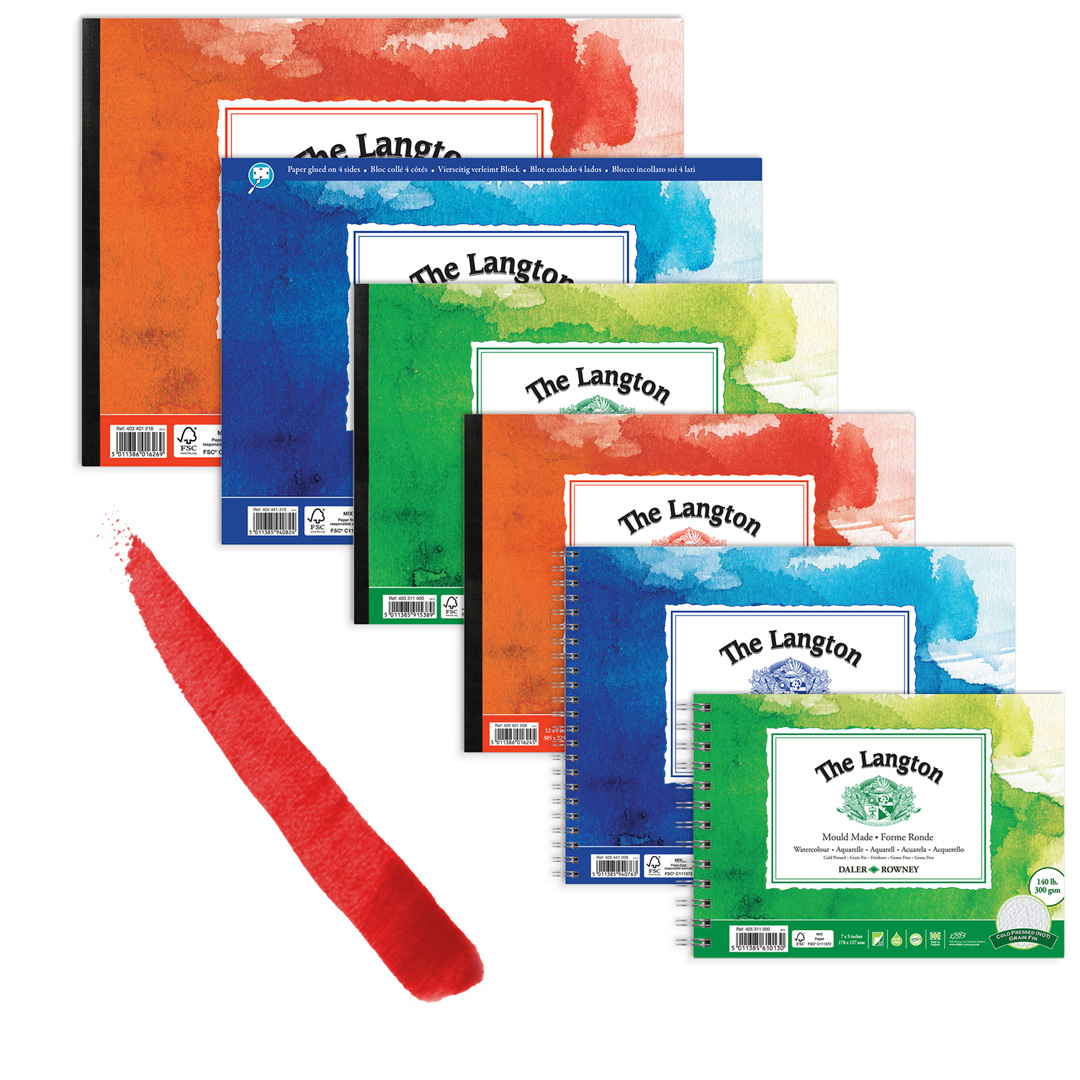 Now, for the differences.
The Langton paper is crafted from wood pulp and cotton and is available in both 300gsm and 425gsm, which is thick enough to stand repeated watercolour washes without puckering. While the Langton Prestige watercolour paper is made from 100% cotton and features a natural whiteness. The collection is available in a weight of 300gsm and has a soft touch with a random texture as well as a gelatinised surface for strength and stability. Due to its superior archival quality, The Langton Prestige is most suited to professional artists and advanced students.
The Daler-Rowney Langton collection is available in a wide range of sizes and formats, including loose sheets, pads, blocks and spiral sketchbooks, so no matter the outcome, you'll find the right Langton paper to suit your needs.

Traditionally made
Each sheet of The Langton paper is crafted in a cylinder mould machine, combining consistency with handmade-style craftsmanship.

Versatile uses
While best suited to watercolour works, The Langton paper is also suitable for pencil, pen, pastel, charcoal and gouache.

Acid-free finish
The neutral PH of the fibres prevents fading and discolouration to ensure the long-standing vibrancy of your finished artwork.

Made in England
Daler-Rowney is proud to continue the long heritage of manufacturing The Langton watercolour paper in the United Kingdom.

Unmatched quality
The Langton collection is crafted using either 100% cotton or cotton and wood free fibres for a superior-quality watercolour paper.

Suitable for hobbyists and professionals
Due to its archival quality, The Langton is suitable for advanced students, experienced watercolourists and professional artists.
Explore The Langton collection
Browse both collections in their entirety, including the varying sizes and formats and discover why so many turn to The Langton watercolour paper time and time again.
Discover watercolour techniques with Daler-Rowney
Discover watercolour artists