Products
System3 Acrylic Ink
Daler-Rowney System3 Acrylic Inks are multi-surface, pigment-based opaque inks, ideal for mixed media and multi-technique applications. The System3 Acrylic Inks are water-based, water-resistant when dry and can be used inside as well as outdoor.
Pigment-based acrylic inks.
High lightfastness (3*).
Opaque.
Can be thinned with water.
High versatility: multi-surfaces, indoor and outdoor, ideal for mixed media.
Usable with airbrush and technical pens.
Available in sizes of 29.5ml, 180ml and sets.
Made in England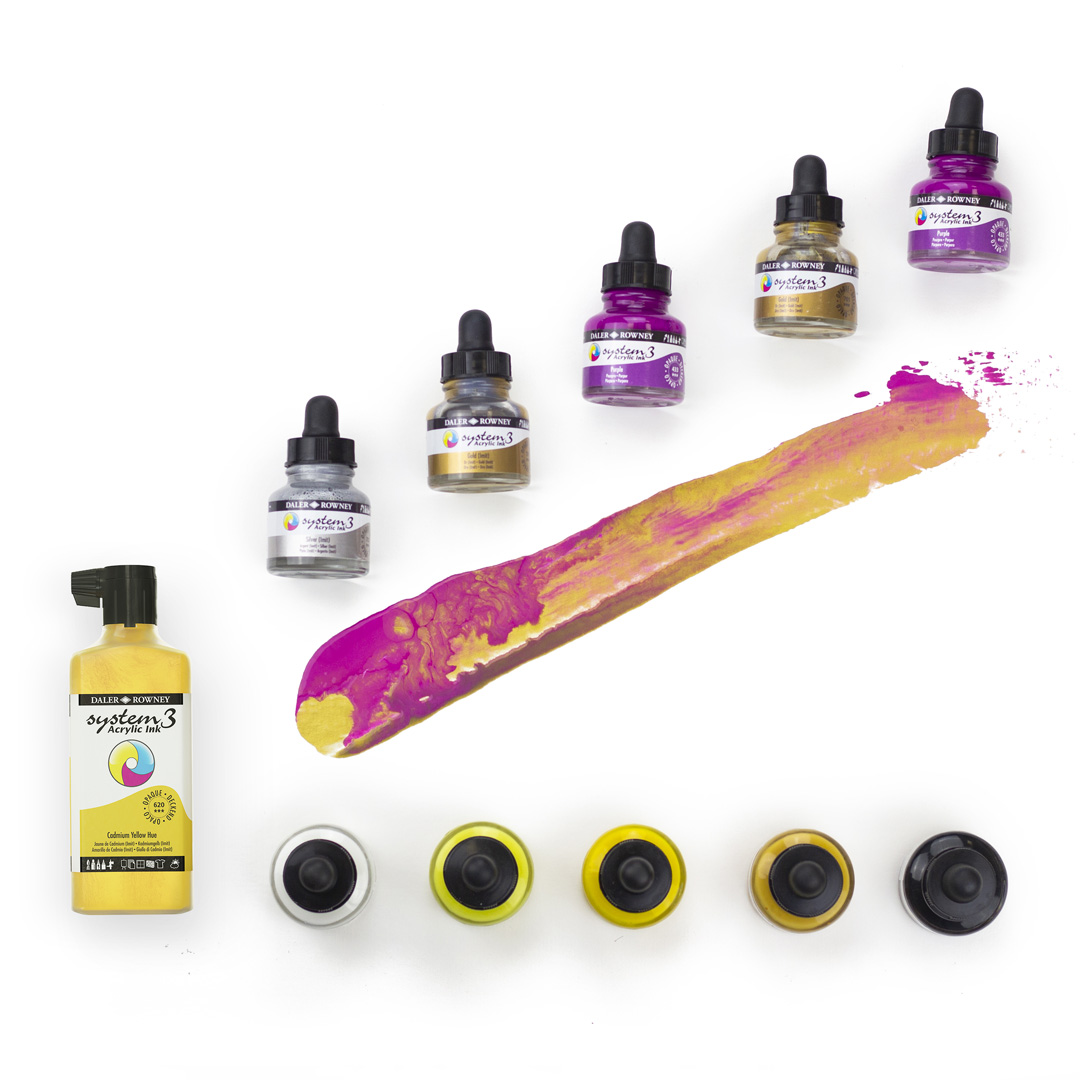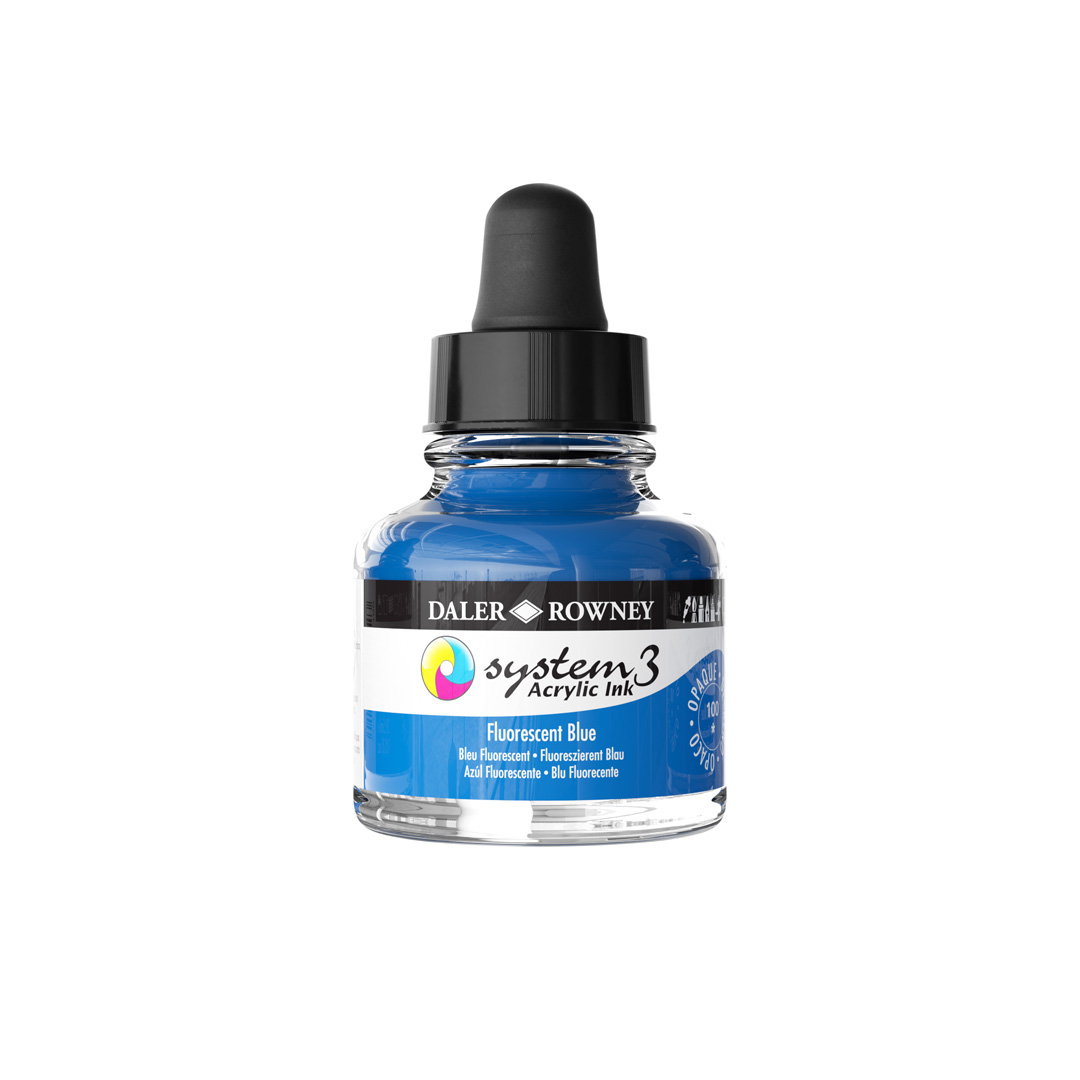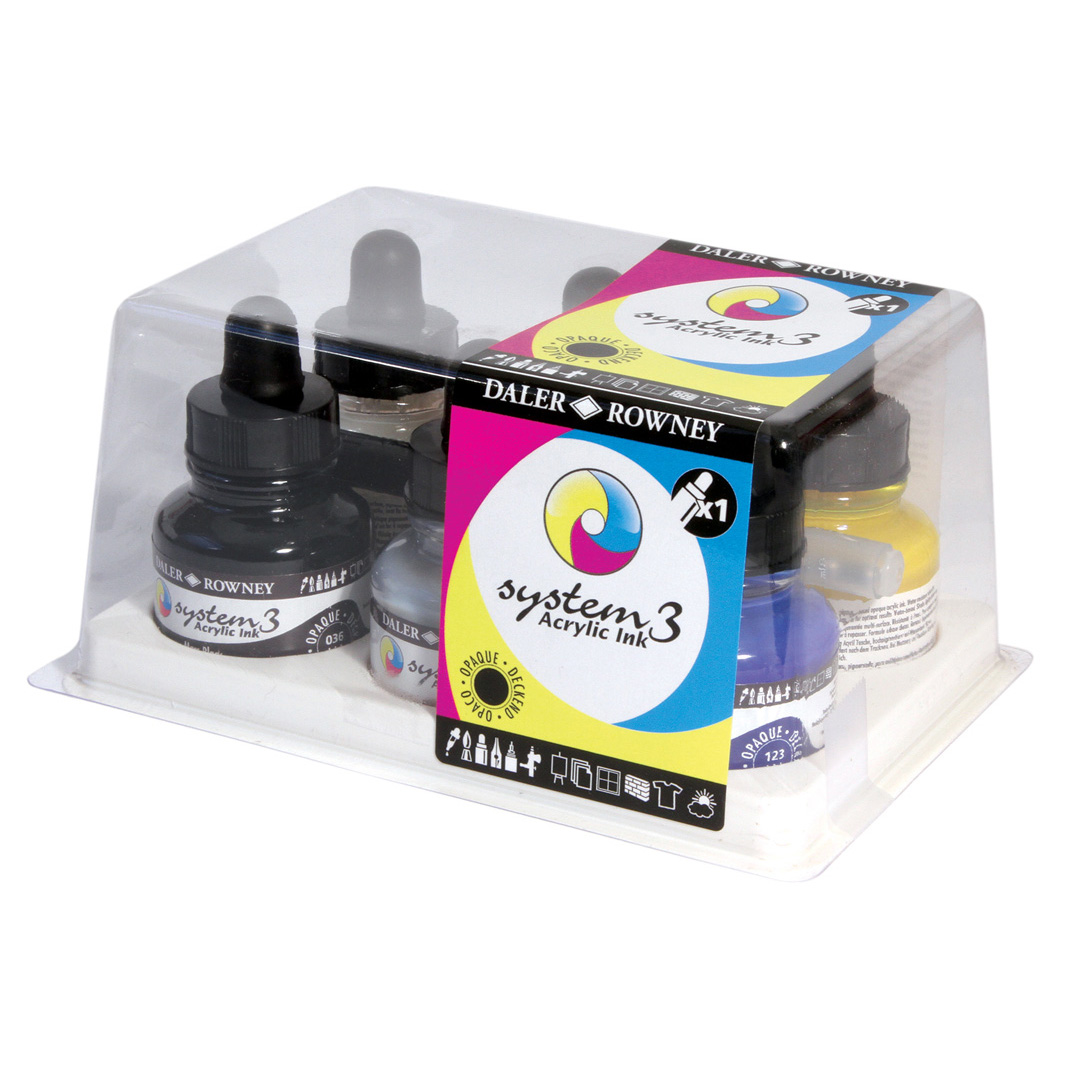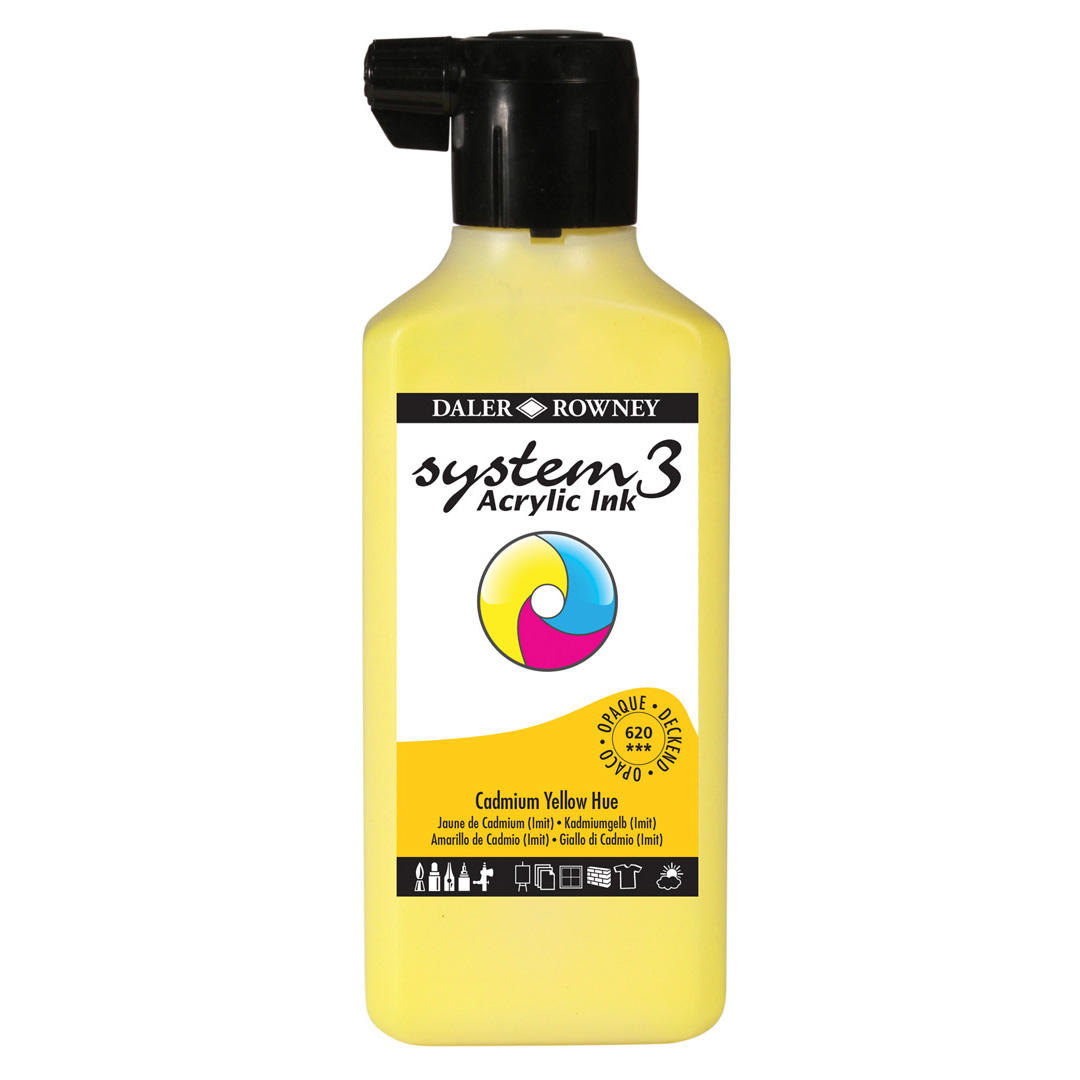 Pigment-based opaque acrylic inks.
Daler-Rowney System3 Acrylic Inks are a range of strong and vibrant pigment- and water-based acrylic inks. The colours are all opaque, and though they can be thinned with water, they are water-resistant once dry. If you are used to using Daler-Rowney System3 Acrylics or System3 Heavy Body Acrylics you will take to the familiar selection of colours easily.
Highly versatile acrylic inks.
These Acrylic Inks support a varied range of applications. They can be poured, dripped using the pipette lid, or applied with a paintbrush or with paint markers such as Daler-Rowney FW Mixed Media Paint Markers. They are also suitable for calligraphy pens, dip pens and airbrushes. System3 Acrylic Inks can be used both indoors and outdoors, on a wide variety of surfaces: paper, canvas, textiles, wood, metal, brick walls, plastic or ceramic.
Made in England.
Daler-Rowney is particularly proud to continue the long heritage of manufacturing System3 Acrylic Ink in the United Kingdom.
Lightfastness
starstarstarstarPermanent
starstarstarstar_borderNormally Permanent
starstarstar_borderstar_borderModerately Permanent
starstar_borderstar_borderstar_borderFugitive
Transparency
Opaque
Semi-opaque
Transparent
Lemon Yellow
651 / PW6 / PY3

starstarstar

Cadmium Yellow Hue
620 / PW6 / PY74 / PY83

starstarstar

Cadmium Yellow Deep Hue
618 / PW6 / PY1:1

starstarstar

Cadmium Orange Hue
619 / PW6 / PR112 / PY74

starstarstar

Cadmium Red Hue
503 / PW6 / PR112

starstarstar

Cadmium Red Deep Hue
504 / PW6 / PR112 / PR122

starstarstar

Crimson
513 / PW6 / PR122 / PR5

starstarstar

Purple
PW6 / PV19 / PR122 /

starstarstar

Pthalo Blue
142 / PW6 / PB15

starstarstar

Ultramarine
123 / PW6 / PB29

starstarstar

Coeruleum Blue Hue
112 / PW6 / PY3 / PB15:3

starstarstar

Phthalo Turquoise
154 / PW6 / PB15 / PG7

starstarstar

Phthalo Green
361 / PW6 / PG7

starstarstar

Sap Green
375 / PW6 / PY74 / PG7 / PR101

starstarstar

Portrait Pink
578 / PW6 / PR101 / PY42

starstarstar

Yellow Ochre
663 / PW6 / PY42

starstarstar

Burnt Sienna
221 / PW6 / PR101

starstarstar

Burnt Umber
223 / PW6 / PBk11 / PR101

starstarstar

Payne's Grey
065 / PBk7 / PB15:3

starstarstar

Mars Black
036 / PBk11

starstarstar

Titanium White
009 / PW6

starstarstar

Silver Imit
702 / PM1

starstarstar

Gold Imit
701 / PW6 + Mica

starstarstar

Fluorescent Yellow
681 / Fluorescent Yellow

star

Fluorescent Red
544 / Fluorescent Red

star

Fluorescent Pink
538 / Fluorescent Pink

star

Fluorescent Blue
100 / Fluorescent Blue

star

Fluorescent Green
349 / Fluorescent Green

star

Share your work with

#System3Acrylic

&

#DalerRowney