System3 Acrylic Art Supplies
System3 Products
What is System3?
The Daler-Rowney System3 collection is made for art students and artists who love to work with acrylics of all kinds. Comprising acrylic paints, inks, mediums, surfaces, and brushes, the System3 collection offers a complete acrylic suite of compatible products.
Each System3 acrylic product promises high-performing colours, rich pigments, durability and permanence. So whether you're creating an acrylic paint portrait or experimenting with screen printing, you can expect the same quality across System3.
Effortlessly versatile, the System3 collection can be easily applied across a variety of indoor and outdoor surfaces including paper, canvas, glass, murals and wood.
If you're looking for something to practice on, the System3 Acrylic Paper is designed to enhance the collection's features with its weight and texture. And while System3 is suitable for artists of all levels, the reliability, flexibility and economical price make it especially ideal for students looking to expand their craft.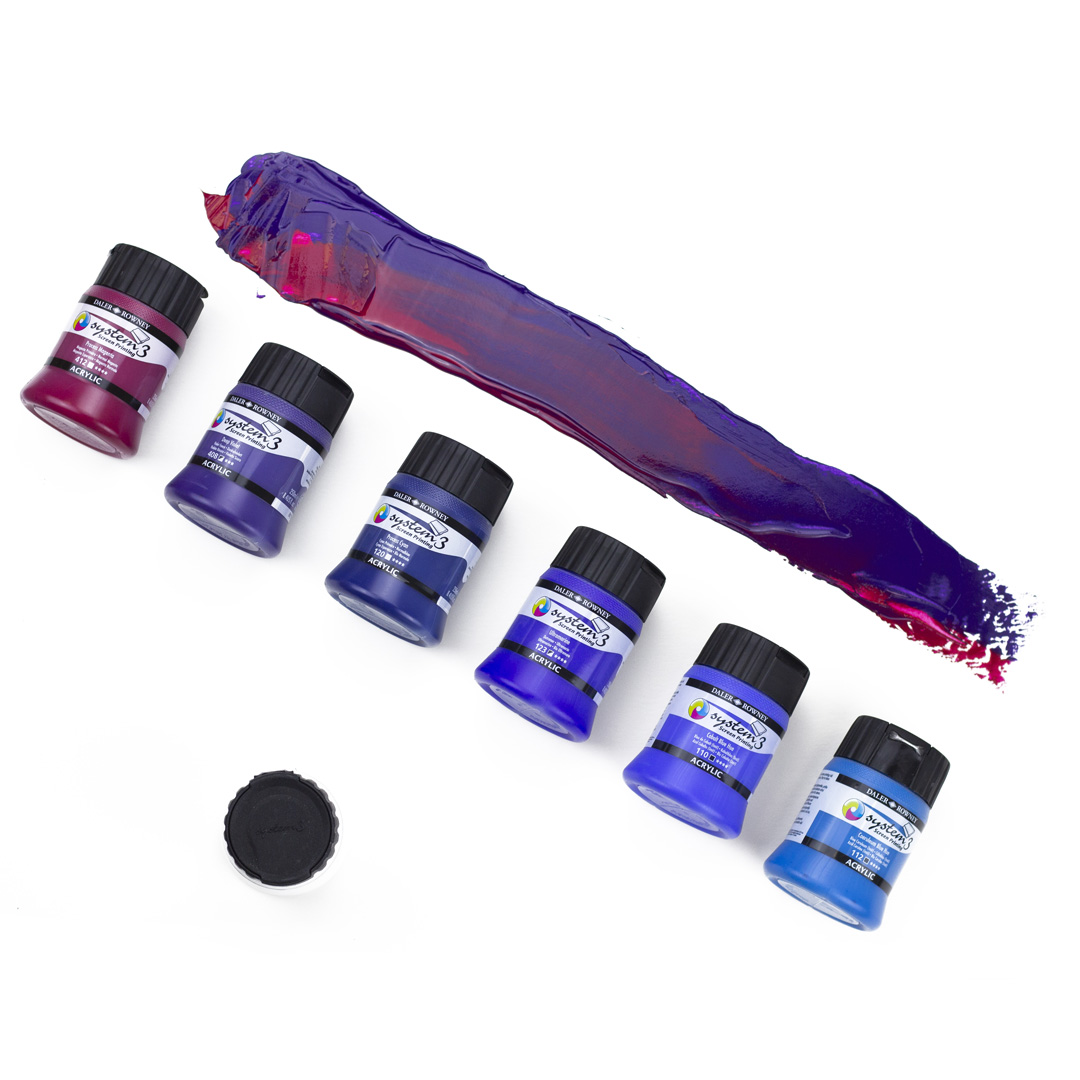 The staple of the collection is System3 acrylic paint, which is offered in three different consistencies: System3 Fluid Acrylic, System3 Acrylic and System3 Heavy Body. These paints are revered in the art world for their covering power, smooth consistency and ability to blend with ease. The System3 Fluid Acrylic offers great coverage making it perfect for murals and other large surface area applications. Ready to use straight from the tube or bottle, System3 Acrylic paint flows beautifully and dries within minutes, perfect for fast workers, while the System3 Heavy Body provides a thicker consistency, which is ideal for impasto works. The System3 Brushes are crafted from synthetic filaments to give a flexible spring and durable nature that complements the acrylic paints to a tee.
For those who prefer the fluidity of inks, System3 Inks provide strong tones that can be poured, dripped, painted or airbrushed onto hard and soft surfaces without losing their strength. They can even be used with calligraphy or dip pens, expanding their collection to penmanship as well as paintwork.
If you're ready to turn your designs into prints, the System3 Screen Printing Inks are ready for you. These pots of ink bring vivid colours, optimal consistency and a non-toxic, longer drying formula to your printing experience. If you're in a studio, art class or simply at home, the System3 Screen Printing set gives you all the tools you need to try screen printing yourself.
System3 features

Versatile uses
Apply to all kinds of indoor and outdoor surfaces including paper, canvas and wood.

High lightfastness
Resists gradual fading and deterioration from light, keeping your artwork looking sharp.

Rich colours
High-quality pigments give greater loading and coverage of vivid, opaque tones.

Water-based formula
Use straight away or thin down with water for endless shade and transparency options.

Permanent finish
Once dry, the durability of System3 ensures your piece will be set with a water-resistant finish.

Intermixable
System3 colours and inks can be mixed to create myriad shades and textures.
Discover System3 Art Collection
Browse the details and features of the System3 collection in its entirety. This extensive collection includes everything to help you experiment with acrylic techniques, find your next hobby or stock up on your favourite System3 products.
How to get creative with System3