What is the FW Ink collection?
The FW Ink collection comprises a comprehensive range of professional quality, acrylic-based inks in standard colours, neon and pearlescent. The solution of FW Acrylic Ink is highly-pigmented, offering rich hues that can be watered down to more subtle tones. Artists can apply FW liquid acrylic using a brush, pipette or airbrush.
The versatility of the water-soluble solution combined with the varying application methods gives artists endless technique opportunities, from intricate line work to broad washes.
The range is complemented with the FW Mixed Media Markers and nibs, which are refillable markers that can be used with a wide variety of liquid media, including FW Acrylic Inks, watercolour paints or drawing inks. They can also be filled with water to use as a blender for watercolour pencils.
For those who love ink pouring, create outstanding effects using the FW Acrylic Ink pouring medium, which is ideal for all pouring techniques including dirty pour, swirl, puddle pour, flip cup and swiping.
FW Pearlescent Ink features a shimmering formula that can be used to add a sparkling touch to your artwork. Whether you're adding to decorative arts like greetings cards, mounts and frames or covering your pieces in dazzling effects, the pearlescent ink delivers high shine and translucency for unparalleled shine.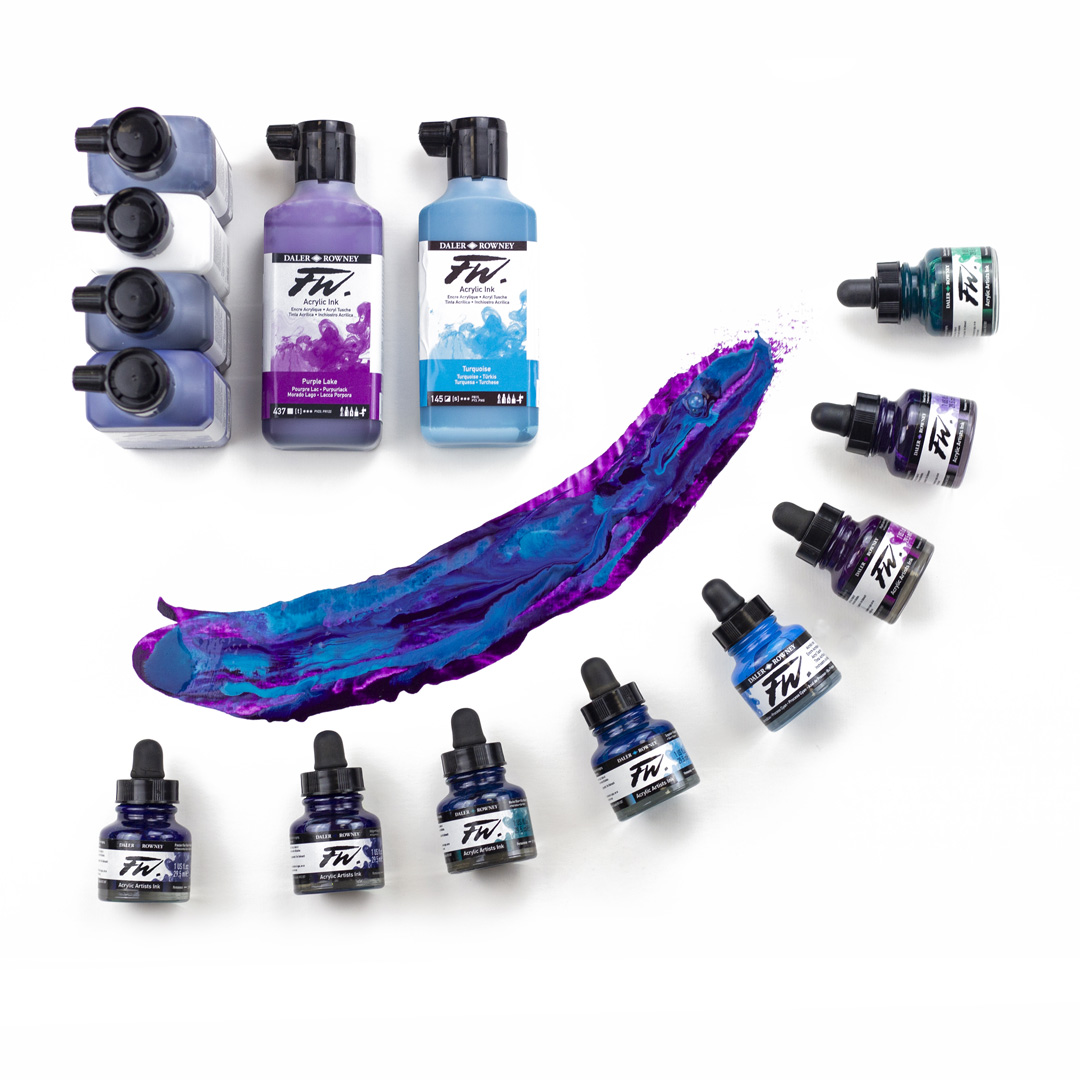 The FW collection also features a selection of mixed media marker nibs, which can either replace or extend your existing nib range. The FW Nibs are available in a variety of sizes and shapes, including round, chisel and flat. Artists can apply these to their mixed media markers to achieve techniques like technical drawing and street art.
The expressive fluidity of these acrylic inks is suitable for fine artists, illustrators, graphic designers, calligraphers, decorative artists and hobbyists.
FW Ink Features

Varying application methods
Artists can apply the inks using a brush, from the pipette or with an airbrush to achieve a range of effects.

Highly pigmented
The pigment-based formula of FW Acrylic Ink delivers rich colours with every drop, ensuring pieces are packed with vibrancy.

Professional quality
The FW collection is suitable for all kinds of ink, including illustrators and graphic designers.

High lightfastness
Resists fading when exposed to light to ensure finished pieces stay vibrant, even when hanging in brightly lit areas.

Intermixable
If you need a specific shade, simply blend two or more FW Inks together to create endless colours in the exact tone you need.

Water soluble
Mix with water to dilute the richness of colour to achieve subtle tones, ideal for watercolour effects like washes.

Made in England
Daler-Rowney FW Ink and Pouring Medium are proudly manufactured in the Bracknell region of the South of England, United Kingdom.
Find your FW Ink
With over 60 standard, neon and pearlescent ink colours to explore and experiment with as well as the myriad ways you can add ink to your creations, the FW collection has you spoilt for choice. Discover the full collection here.
Discover techniques with FW Inks
Discover artists using FW Inks