Products
Adigraf Block Printing Oil
Adigraf Oil Block Printing Inks use high-quality pigments creating professional quality printing inks perfect for all high-pressure techniques including block, woodcut and lino printing. Adigraf Oil Block Printing inks are more durable than water-soluble colours and need to be left to dry overnight before overprinting.
5 colours are available.
Highly pigmented oil block printing inks.
Create more colours by blending any of the Daler Rowney Georgian Oil paints with the Adigraf oil block printing medium.
Easily cleaned with white spirit and turpentine.
Perfect for use on canvas, paper, overprinting and primed surfaces.
Available in 250ml tins.
Made in England.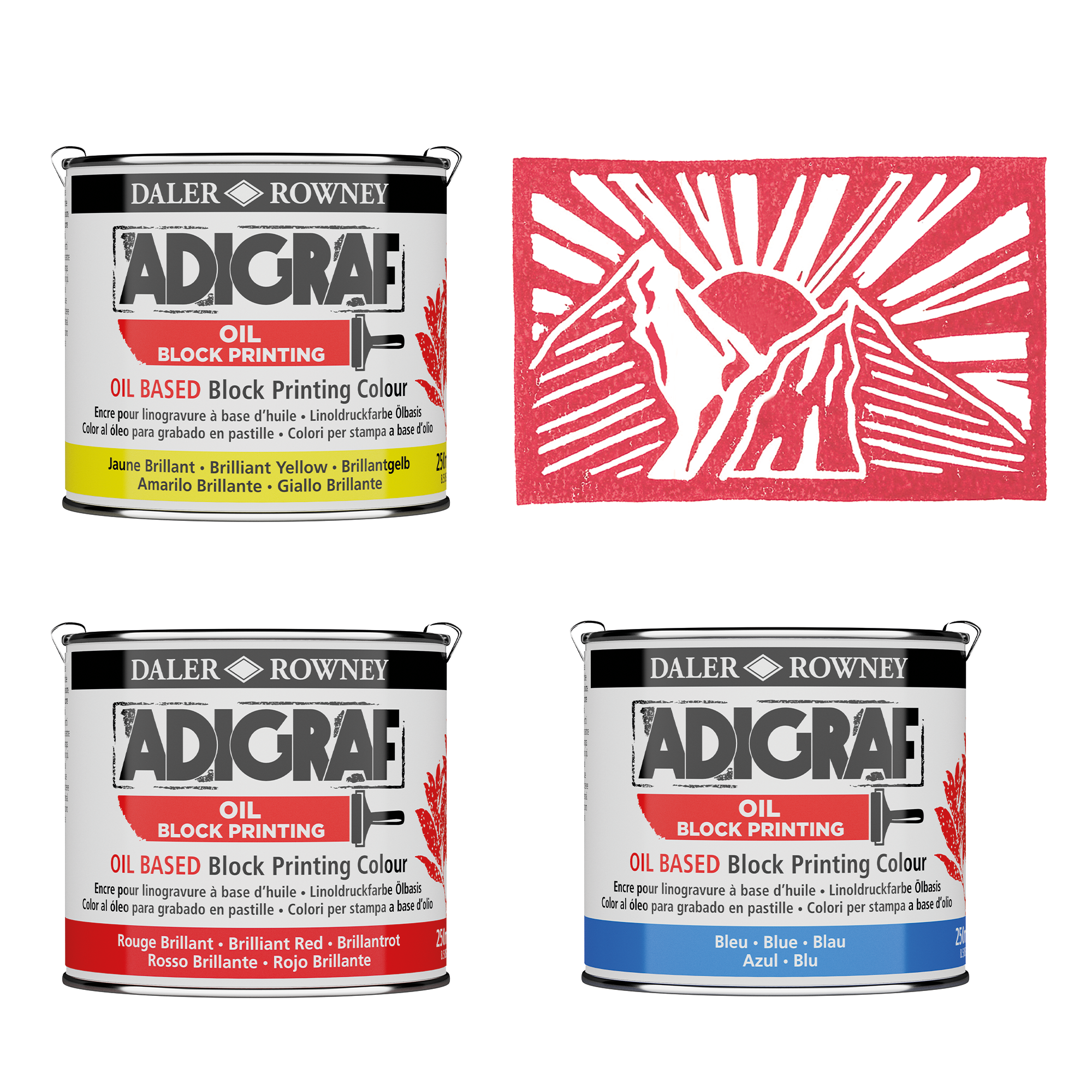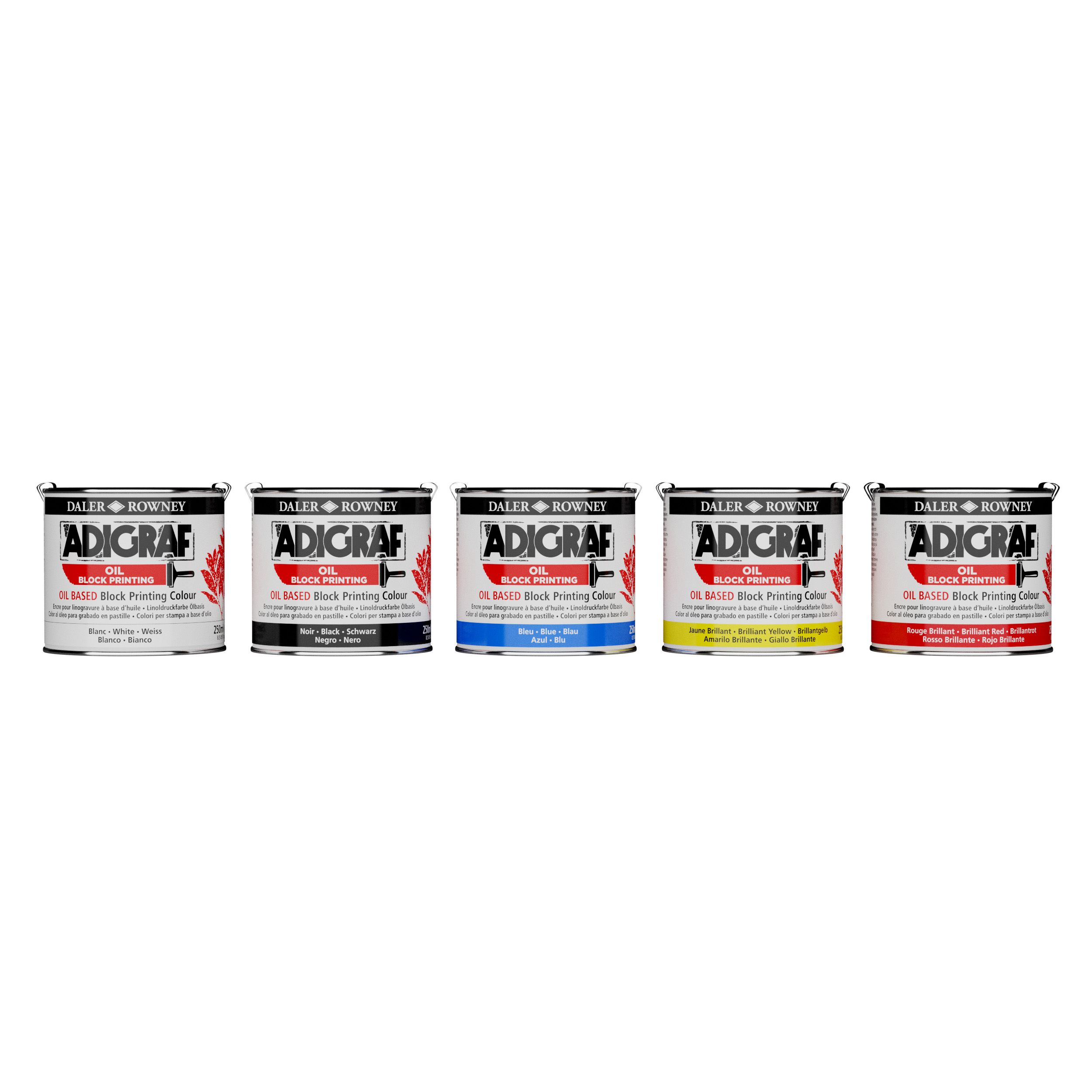 Comprehensive and affordable for different artist levels and requirements
The range covers all products & accessories needed for all artists. Relief and lino printing your creations in different colours and on different surfaces has never been this safe and easy. More colours can be created by mixing any Georgian Oil paints with Adigraf Block Printing Medium. They will be compatible for use with Adigraf Block Printing Oil inks.
Cleaning & thinning oil colours
To clean Adigraf Oil Block Printing inks, use white spirit and turpentine to make the most out of your tools. To thin oil colours, simply add Georgian Oil thinner to your Adigraf oil printing. Block Printing Colours are reusable by removing your leftover colour with a palette knife and putting it into an air-tight container for your next print-making session.
Transferring your design
Squeeze a small amount of paint onto a glass plate, and spread the ink out evenly with an ink roller until you have an even layer of paint on the roller. Then with the inked-up roller, roll over the lino print until the design is covered evenly. If you are printing at home, for beginners, we recommend placing the paper on top of your printing plate and using a spoon, clean ink roller or baren to move over the paper to distribute the paint evenly. If you are an advanced block printer, we recommend using the registration technique, such as the taped corner method by applying pins, and tabs. For professional results, we recommend using a press or visiting a professional block printing studio.
Wide Range of Surfaces
Paper: For best results, we are recommending printing on paper above 250gms with high absorbency and a smooth finish to get the best outcome for your design.
Textile: You can print on natural textiles such as cotton, linen hemp or bamboo, however, you are not able to wash the achieved result due to the colours fading with washing. Before printing your design always make sure to test the colour on a small bit of the material to make sure you are happy with the result.
Canvas: To receive a better result while printing on canvas, we recommend using our FW Mixed Media Canvases with a rigid cardboard backing to achieve a better registration and a clear print result. If you print on traditional canvas, make sure to stretch the canvas with the supplied wedges and underlay it further to achieve the best print results.
Others: You can print on wood, brick or walls using our Adigraf green printing plates. Prior testing is recommended. Adigraf Oil Block Printing inks are recommended for indoor use only.
Lightfastness
starstarstarstarPermanent
starstarstarstar_borderNormally Permanent
starstarstar_borderstar_borderModerately Permanent
starstar_borderstar_borderstar_borderFugitive
Transparency
Opaque
Semi-opaque
Transparent
Brilliant Yellow
PY3/PW6

starstarstarstar

Brilliant Red
PR112

starstarstar

Brilliant Blue
PB29 / PW6

starstarstarstar

White
PW6

starstarstarstar

Black
PBk7 / PB29 / PBk11

starstarstarstar

Share your work with

#AdigrafBlockPrinting

&

#DalerRowney