Ivory Sketchbooks
Ivory products
What are Ivory sketchbooks?
Meet your new artistic companion – the long-standing Daler-Rowney Ivory collection has been popular among artists of all levels for years, and once you get your hands on one, you'll see why.
Available in hard or softback, each Ivory sketchbook is coated in an elegant black cover that's smooth to the touch and a pleasure to hold. Both cover types offer protection from wear and tear, preserving your handiworks and keeping them secure. While the hardback prevents the ultimate damage from page bending, the softback offers greater flexibility for those who like to travel with their sketchbooks. All the sketchbooks in this collection are also bound, which is perfect for presenting work in a professional style.
Inside you'll find 50 or 78 pages of creamy ivory paper with a weight of 90 gsm. The lightweight and smooth grain acid-free FSC® (FSC-C111372) certified paper is best suited to dry techniques such as pencil, graphite and charcoal, but can also be used with pen and ink. So, whether you're taking a life drawing class or taking notes, the Ivory sketchbooks offer reliability and luxury. Each page is also micro-perforated to one edge, giving the option to tear away individual pages either for safekeeping or to showcase finished pieces.
The collection also comes in a range of sizes, including pocket size, A6, A5 and A4, ensuring you have plenty of options to choose from based on your preferences or project. The smaller sizes are portable and compact, perfect for taking out to sketch your surroundings in a studio, at school or when inspiration strikes.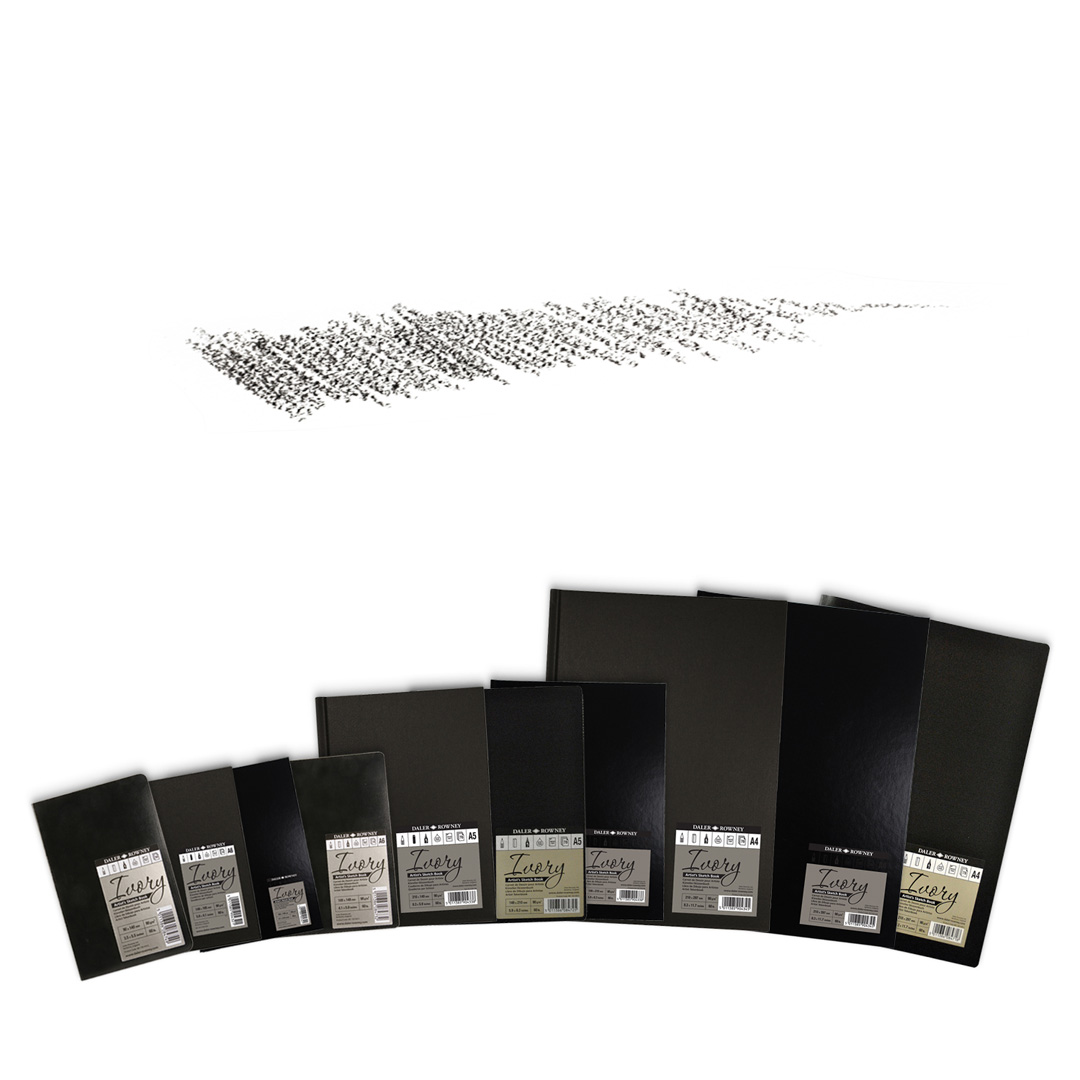 The Ivory sketchbooks are ideal for everyday use or for students and artists to practice their craft and experiment with new mediums and can also be used as a notebook. As you fill in the pages, you're left with a visual range of your muses as well as your progress over time.
Features of Ivory sketchbooks

Filled with ivory paper
The creamy cartridge paper is perfect for artists who prefer a rustic and elegant backdrop to their sketches.

Lighter in weight
Each sheet in the Ivory sketchbooks has a weight of 90gsm, which is best suited to lighter mediums.

Micro-perforated pages
Easily remove individual pages cleanly and without mess – perfect for framing finished pieces.

Hardback or softback
The luxurious black covers protect your designs, feel soft to the touch and look professional.

Various sizes
The collection comes in pocket size, A6, A5 and A4, so artists can choose the best option for their project.

Suitable for dry techniques
The lightweight and smooth ivory paper is a joy to work with and enhances graphite, charcoal, pencil and ink work.

Made in the UK
Ivory sketchbooks are proudly manufactured in England.
Find your Ivory sketchbook
Discover the whole Daler-Rowney Ivory collection here, including the various sizes and don't forget to tag #IvorySketchbook when sharing your work.
Discover techniques with Daler-Rowney
Artists using Daler-Rowney