Graduate Art Supplies
Graduate products
What is the Graduate Range?
The Graduate range is specifically designed to meet the needs of beginner artists and students who want to practice and perfect their skills, particularly in the fields of acrylic and oil painting.
Daler-Rowney Graduate Oil paint is traditionally crafted with a soft buttery consistency and high pigment loading. The rich colours are easy to mix and offer high permanence, while the excellent lightfastness preserves paintings once finished. Graduate Oil paint is suitable for smooth brush techniques as well as impasto, allowing artists to practice a range of oil paint techniques.
Graduate Acrylic colours are of good pigment strength and flow easily across paper and primed surfaces or canvas, indoors or outdoors. Benefitting from the quintessential acrylic paint features, they are water-based, smooth and mix well together. Their fast-drying nature also makes it easy for students to store their work shortly after they've been completed.
The range of Graduate Brushes includes brushes with natural, synthetic and blended hairs as well as different head shapes and a variety of sizes. You'll find both long and short handles, offering choice for painting with Graduate oil paint, acrylic and watercolours. The Graduate brush range extends to XL brushes, too, which are suitable for large format painting, such as oversized canvases, murals and home decorating.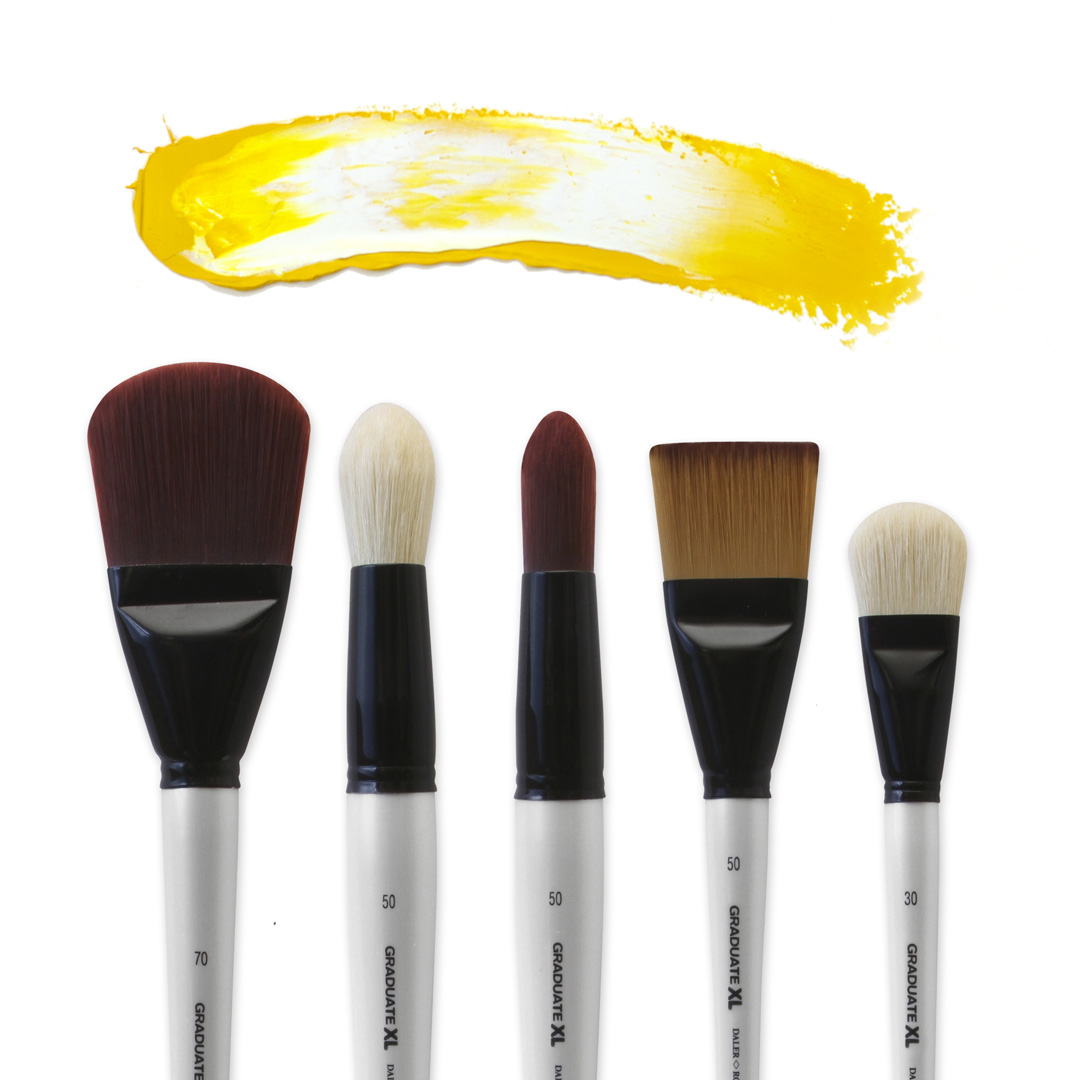 The Graduate range also offers papers and sketchbooks in practical sizes and varying weights as well as economic mountboards for mounting or framing artwork, photography, modelling, and school or college project work. To ensure your designs are always safe and protected, you'll find sturdy and weatherproof portfolios and art cases that allow artists to transport their pieces with ease.
Whether you're honing your craft, completing an art course or presenting your work, the Graduate range will help you master your skills with dependable projects at a modest price.
Graduate features
Affordable
Combines professional quality with excellent value for money for a range that students can appreciate.
Reliable
Consistency remains at the core of the Graduate colours to ensure they meet expectation every time.
Easy to use
Everything in the Graduate range is accessible, making practising to perfection simple and enjoyable.
Ideal for students and beginners
Designed for those starting and improving their artistic journey, whether at home or in classes.
Multi-media products
From acrylics to oils and watercolours, the Graduate range has colours and brushes to suit you.

Made in England
The Graduate oil paint and acrylics are proudly crafted in the United Kingdom.
Explore the full Graduate range
The complete Graduate range includes everything a budding artist or student needs to create, enhance, store and present their artwork proudly and professionally. Discover the full range of Graduate pads developed by our partner Canson as well as the drawing and sketching essentials developed by Lyra to complete your assortment!
Graduate products from Canson and Lyra
How to tips with Graduate