Ebony Sketchbooks
Ebony products
What are Ebony sketchbooks?
The Daler-Rowney Ebony collection offers students and artists an affordable yet professional set of hardback sketchbooks in a range of sizes, formats and weights.
Ebony sketchbooks are available in several sizes: A6, A5, A4 and A3, as well as square sizes, giving artists the opportunity to create everything from detailed fine art to large scale pieces. Ebony sketchbooks are also available in portrait or landscape, so you have plenty of options based on your preferences.
The hardback cover protects your artwork from damage that can occur during travel or general wear and tear, including rips and folding, keeping your designs preserved and secure. If you'd prefer the option of laying your sketchbook completely flat, you'll also find a range of spiral bound sketchbooks that allow you to turn individual pages autonomously.
Inside the Ebony sketchbooks, you'll find smooth, white cartridge paper in weights ranging from 150gm to 180gsm. The fine grain of the Ebony paper is best suited to dry works such as pen, pencil, ink, charcoal and pastel, while the weight allows artists to also add light watercolour washes without puckering. The paper is acid-free, too, meaning it has been made with a neutral PH. This works with your preferred medium to ensure that finished works do not become discoloured or for the paper to yellow over time. It also prevents fading if the artwork includes colouring. The number of pages in each Ebony sketchbook ranges from 48 sheets to 62, giving plenty of paper to work with while keeping the closed sketchbook compact.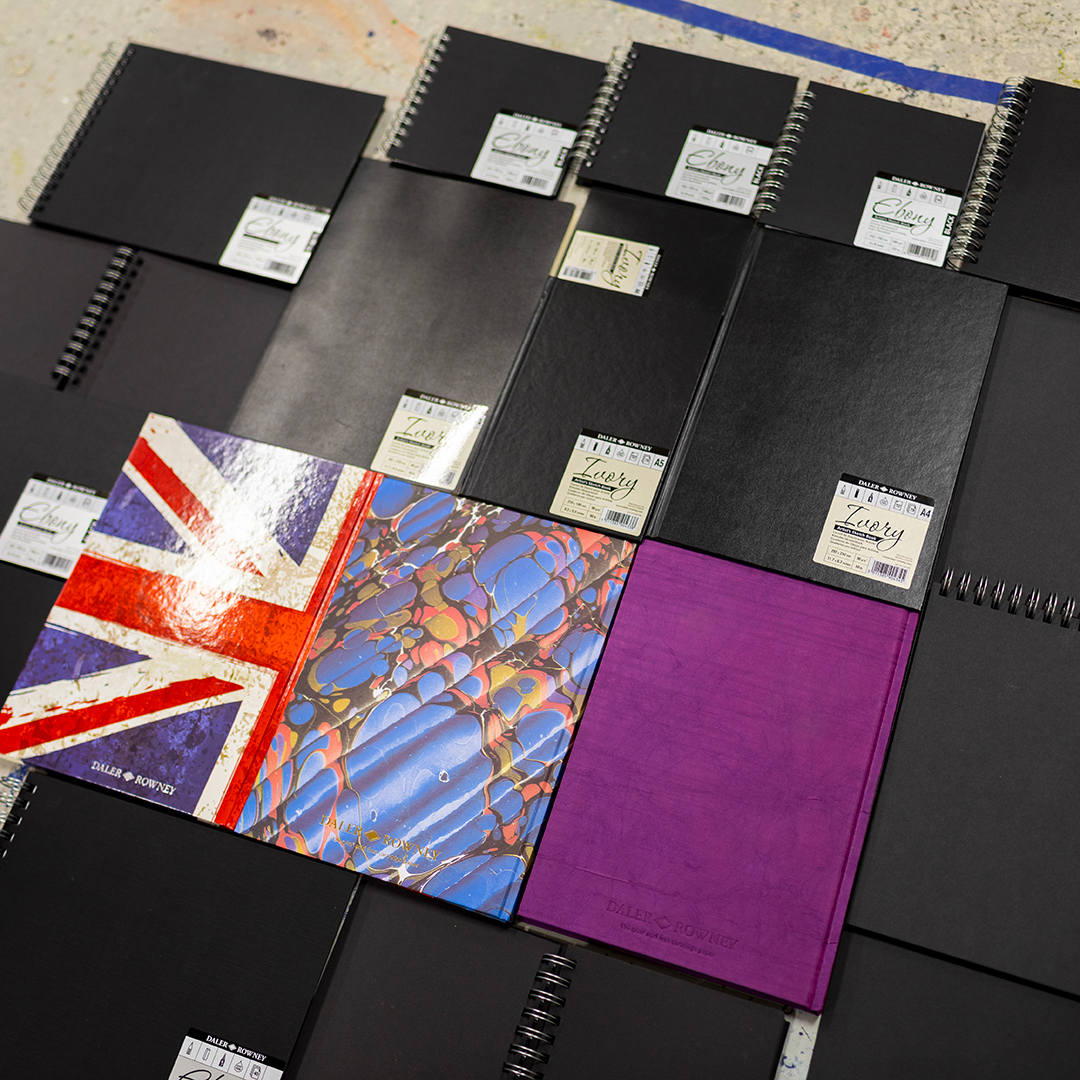 Features of Ebony sketchbooks

Wide range of sizes
Ebony sketchbooks come in all the sizes an artist might need, including A6, A5, A4 and A3, in both landscape and portrait formats.

Hardback covers
The smooth, black hardback cover is designed to preserve work and keep it safe from rips, tears or damage.

Suitable for dry techniques
The smoothness and fine grain of the cartridge paper enhances pencil, pen and ink and light watercolour wash work.

Acid-free paper
The neutral PH of the paper helps to prevent discolouration and fading, ensuring your creations are permanent.

A variety of weights
The weight of Ebony paper varies between 150gsm and 180gsm, allowing for light washes without puckering.

Made in England
Ebony products are proudly manufactured in England.
Start sketching with Ebony
Begin your visual and artistic journey with the stylish Ebony sketchbooks. Explore the whole collection of hardback and spiral sketchbooks here and share your work with #EbonySketchbook.
Discover techniques with Daler-Rowney
Artists using Daler-Rowney