Bristlewhite Paint Brushes
Bristlewhite products
What are Daler-Rowney Bristlewhite brushes?
Since their creation in 1952, Bristlewhite paintbrushes by Daler-Rowney have been a premium option for artists. Impeccably complementing Daler-Rowney's acrylic paints and canvases, the Bristlewhite brush collection features some of the finest natural paint brushes on the market. They are ideal for oil and acrylic painting.
Expertly crafted Bristlewhite paint brushes
Daler-Rowney's ever-popular Bristlewhite brushes are easily recognized by their white-tipped blue handles. Expertly crafted using specialised interlocked construction, each art paint brush easily retains its shape after use.
In addition to their durable handles and hardy construction, Bristlewhite art paint brushes are made using the finest quality Chungking hog bristle. Handpicked for its resilience, the natural hair on each paintbrush is dressed by hand for a seamless finish. Not only does the Bristlewhite paint brush collection look stunning, but each paint brush gives the artist flawless control over their work.
With numerous options available within the collection to cover everything from fine detailing to larger painting projects, Daler-Rowney's Bristlewhite artist paint brushes continue to be the ideal choice for a variety of creative endeavours.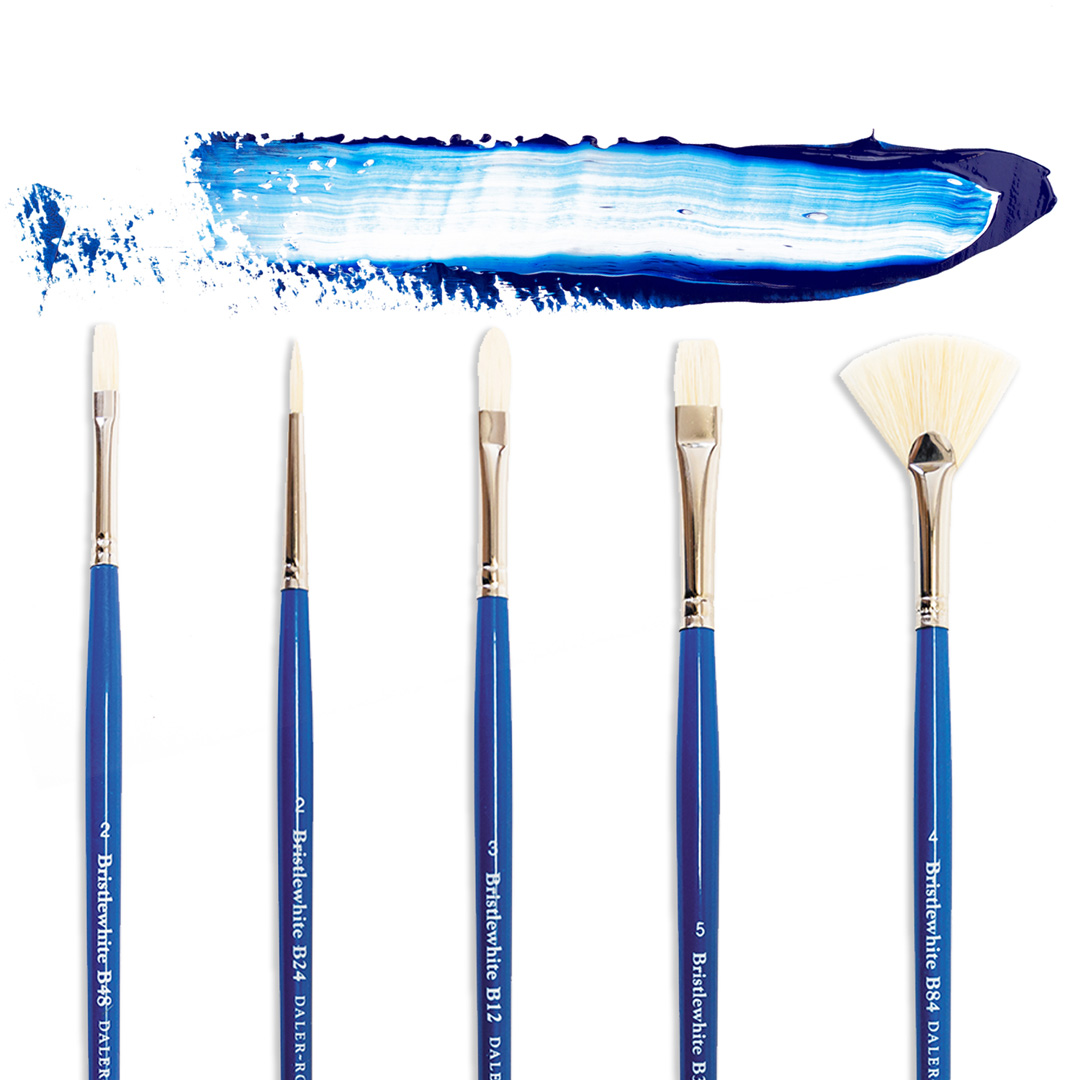 Tools within the Bristlewhite collection
Though there are several excellent brushes available within the Daler-Rowney Bristlewhite paintbrush collection, the Fan Size 4 brush is amongst the most popular. Designed to exquisitely blend wet colours with minimal disruption, it is a must-have tool for any artist working extensively with oil or acrylic paints.
If the artist is working on more detailed canvases, the B24 Round Size 2 paintbrush promises to be an invaluable tool. Recommended for applying wet thinned colour and touching up small areas, this durable brush is suitable for all precision work. Due to the reasonably dense bristles, Daler-Rowney's smaller Bristlewhite brushes offer the artist unrivalled control with each stroke.
For thick and creamy impasto work, the B36 Short Flat Size 4 paintbrush is a wonderful option. Providing robust definition to any canvas, it's an art paintbrush that should feature in any artist's toolkit. On occasion, artists may require acrylic paintbrushes that hold more colour. For this purpose, the Daler-Rowney B48 Long Flat size 3 Bristlewhite paintbrush is an obvious choice. With the ability to pack on colour and provide a longer stroke, it's the perfect companion for all acrylic work.
Features of Bristlewhite Paint Brushes

Designed in England and made in Dominican Republic
All Daler-Rowney Bristlewhite brushes are designed in England and made in Dominican Republic for guaranteed quality.

Pure Chungking hog bristle
Each Bristlewhite paintbrush is made using the finest quality hog bristle for optimal performance.

Durable and resilient
The combination of natural fibres and interlocked structure creates the ultimate in durability and resilience.

Large collection
With numerous brush types and sizes on offer, every artist can find a suitable paintbrush from the Daler-Rowney Bristlewhite collection.
Complementary paints
Daler-Rowney's beautiful Georgian oil paints work in tandem with the Bristlewhite collection to create a seamless finish.

Dressed by hand
Daler-Rowney's Bristlewhite collection features interlocked construction, which allows each brush to retain its shape after every use.
Discover the Daler-Rowney Bristlewhite collection
Discover the full collection of Daler-Rowney Bristlewhite art paintbrushes for an experience that will unlock your potential as an artist. Not only is the Bristlewhite brush collection an important part of Daler-Rowney's brand heritage, but it remains one of the most appreciated and assured brush options for any paint-based creative project.
Discover painting techniques with Daler-Rowney
Discover painters with Daler-Rowney