Calli Art Supplies
Calli products
What is Daler-Rowney Calli?
Daler-Rowney Calli is a collection of seamless, water-resistant calligraphy inks that has long been favoured by artists. Specifically optimised for calligraphy work, Calli ink is one of the most effective choices on the market for both professional and amateur creatives.
Daler-Rowney Calli
Calligraphy requires a delicate touch, and poor-quality ink can rapidly ruin a beautiful piece of work. Created specifically with the artist in mind, Daler-Rowney Calli ink is ideal for calligraphy work as the acrylic-based formula allows for optimal flow from all pens and brushes.
In addition to exceptional ink flow, each of Daler-Rowney's acrylic inks are highly pigmented and promises a vibrant and impactful image every time. Allowing artists to create careful and deliberate strokes, Daler-Rowney's Calli inks are an excellent choice for traditional calligraphy.
With high permanence and a non-clogging formula, Daler-Rowney ink ensures your artwork is always free from smudging or bleeding. Calligraphers will appreciate the strength and opacity of all Daler-Rowney acrylic inks, with Calli ink proving especially viable for use in illustration and mixed media work.
Though Daler-Rowney ink is marketed to artists, writing purists will also appreciate the depth of colour that Calli ink provides. Whether writers are looking to pen their first novel or wish to elegantly sign a handwritten letter, a Daler-Rowney Calli ink set serves as the perfect indulgence.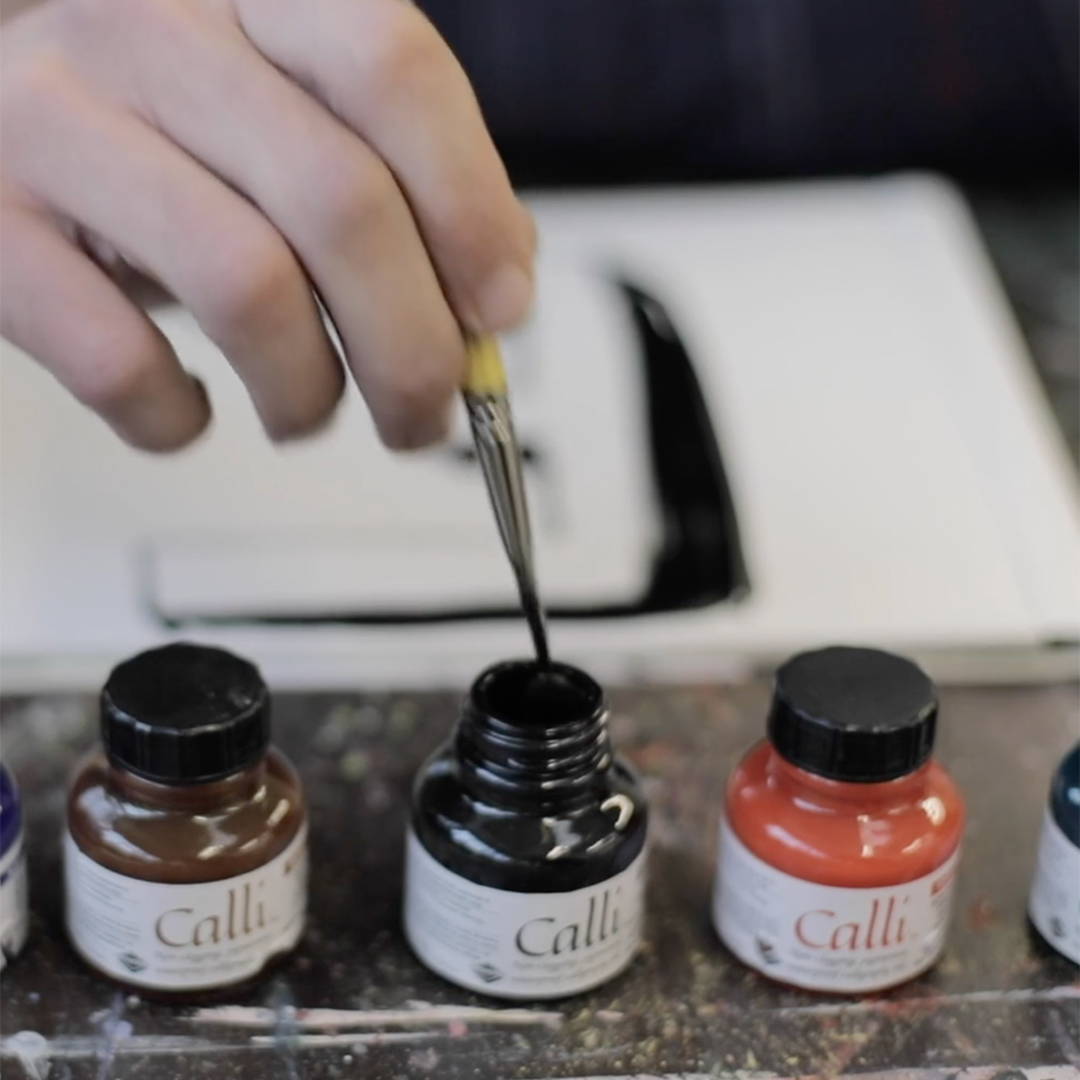 Tools within the Daler-Rowney Calli collection
Within the Daler-Rowney Calli ink collection, there are six unique colourways; Scarlet, Burgundy, Blue, Green, Brown, and Jet Black. Though each Daler-Rowney acrylic ink can be used separately for a bold look, all colours are fully intermixable. Much like acrylic paints, Daler-Rowney ink can be mixed to create a variety of colours for any project. Therefore, the artistic possibilities are truly endless with the Daler-Rowney Calli collection. Packaged in sturdy 29.5ml glass jars, they are also an ideal size for frequent use.
For a perfect finish, pair the Calli ink collection with Daler-Rowney's expert calligraphy paper. Available in white, buff, and stone, this high-quality calligraphy paper affords the artist a more intense colour payoff. With a surface that allows optimum absorption of smooth and sweeping strokes, it's an ideal companion for any Daler-Rowney ink set.

Intense colour payoff
Each Daler-Rowney Calli inkpot provides a beautifully dense colour for a vibrant finish.

Six unique colourways
With six unique colourways, artists can select the very best option for the task at hand.

Fully intermixable
As the Daler-Rowney Calli ink collection is fully intermixable, artists can indulge their creativity using a variety of colour combinations.

Exceptional pigment
Daler-Rowney ink is exceptionally pigmented, providing excellent strength of colour on the page time after time.

Waterproof
The Daler-Rowney Calli acrylic ink collection is waterproof, which ensures a seamless, long-lasting finish that won't be marred by spills.

Non-clogging with excellent flow
The Daler-Rowney Calli collection is optimised to flow perfectly in all calligraphy work.

Made in England
Daler-Rowney acrylic ink is made in England for an unmatched level of quality in manufacturing.
Discover the Daler-Rowney Calli collection
Be sure to explore the Daler-Rowney Calli collection in detail before undertaking your next project. With magnificent colourways, unrivalled depth and exceptional pigment, the Daler-Rowney Calli ink collection remains one of the finest choices for any artist who enjoys delicate calligraphy work.
Discover techniques with Daler-Rowney
Discover artists with Daler-Rowney