Daler-Rowney Paper Pads
Paper Products
What are Daler-Rowney pads?
Daler-Rowney pads are a series of drawing paper pads that cater directly to the needs of artists. With sketchpads available for every technique, the Daler-Rowney sketchpad products are ideal for both students and professional artists and are a must-have for any artist or creative.
Daler-Rowney pads
Daler-Rowney are one of the leading choices for sketch artists in the UK. Offering an extensive range of sketchpads in varying sizes, weights, and textures, each Daler-Rowney artist sketch pad is developed to be both hardwearing and enjoyable to use.
The variety of textures available to artists within the Daler-Rowney sketchpad range is one of the main reasons for its broad appeal. Alongside traditional weighted artist sketch pads, options such as Daler-Rowney's Calligraphy Paper and the Graphic Series are available for calligraphy and manga artists who require more specialist surfaces.
In addition to the several textures and weights available within the Daler-Rowney pads range, each pad is made with high quality gsm paper for the most glorious drawing experience. As many of Daler-Rowney's drawing paper pads are suitable for use with pen, ink, or watercolour, there is no need to worry about colour bleeding or running.
With simple yet smart designs, the Daler-Rowney sketchpad range is a premium choice for any artist wishing to combine a luxurious feel with affordable prices.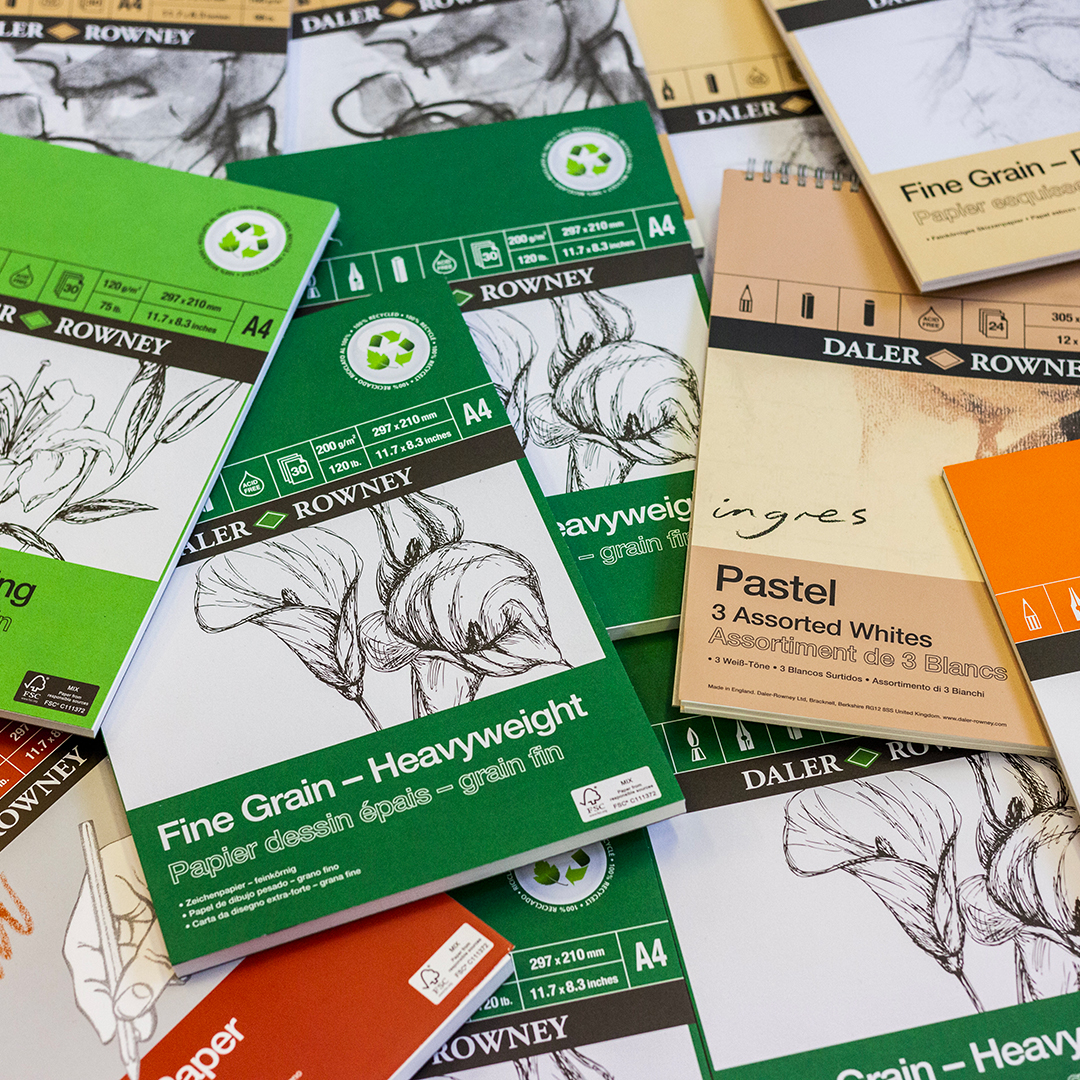 Tools within the Daler-Rowney pads range
There are many sketchpad options available within the Daler-Rowney range, and any artist should be able to find a high-quality option to suit their project requirements.
Artists who work primarily with graphite and coloured pencils will appreciate Daler-Rowney's Fine Grain Drawing Pads. Made using eco-friendly recycled paper, the Daler-Rowney Fine Grain pads are ideal for conscious consumers looking to create fine art that comes with no environmental damage. In addition to the 100% recycled surface, these art sketchbooks are also perfect for smooth shading and blending techniques due to a distinctive fine grain textured surface.
Features of Daler-Rowney Pads

Variety of size, weights, and textures
Daler-Rowney sketch pads are available in several sizes, weights, and textures for a seamless creative experience which directly caters to the task at hand.

Eco-conscious options
100% recycled paper surfaces are available for environmentally conscious artists looking to make a difference.

Specialised sketchpad options for artists
With a variety of options available for calligraphers and manga artists, Daler-Rowney's drawing paper pads rise above the competition.

Art pads made in England
Daler-Rowney's art pad range is manufactured in England as a home-grown, quality product that is built to last.

Bristol paper
Daler-Rowney's Graphic Series paper pads feature phenomenal Bristol paper, which allows artists to use a range of techniques without bleeding or running.
Discover the Daler-Rowney sketch pads range
Explore the full Daler-Rowney pads range to source the perfect sketchpad for your next project. The Daler-Rowney Pads range remains one of the best choices for artists looking for paper pads that deliver wondrous quality with every turn of the page.
Discover drawing techniques with Daler-Rowney
Discover illustration artists