Daler-Rowney Artist Easels
Easel products
What are Daler-Rowney Artist Easels?
Daler-Rowney artist easels are high-quality wooden easels for artists of every ability. Offering a comprehensive range of easels that cater to both beginners and professionals, Daler-Rowney easels aim to make art accessible to all.
Learn more about Daler-Rowney artist easels
Daler-Rowney produces art easels for a variety of projects, and are suitable for small to extra-large canvases. Daler-Rowney indoor and outdoor wooden easels are practical, lightweight, and sturdy enough for daily use.
One of the major appeals of Daler-Rowney art easels is the exclusive Artsphere mechanism. Allowing the seamless movement of drawing boards in any direction, the Artsphere is a feat of artistic engineering that encourages creatives to think outside the box.
Among Daler-Rowney's 11 unique easels are the Lincoln table-top easel and Daler-Rowney Cotswold studio easel. Though these products offer entirely different benefits to the artist, both are ideal for day-to-day use in any workspace. The studio easel stand adjusts smoothly and can be tilted multi-directionally to achieve a variety of canvas positions. Should you be painting in a smaller space or wish to create more delicate artwork, the table-top art easel is a lightweight solution that holds canvases and pads up to A3.
Whatever project you have in mind, Daler-Rowney's extensive range of painting easels will make your creative vision attainable.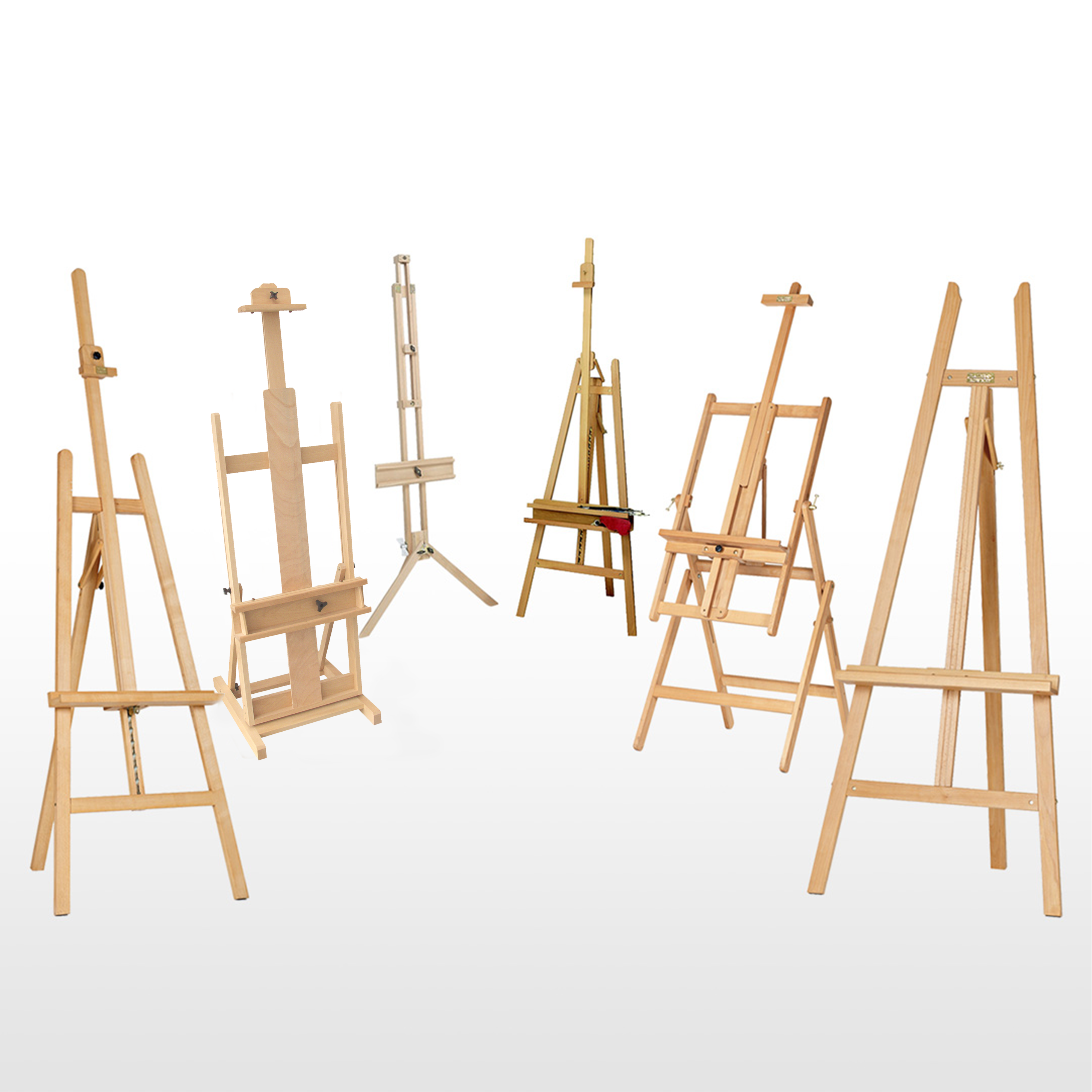 Tools within the Daler-Rowney artist easel range
If Daler-Rowney's traditional Lincoln table-top easel or Cotswold studio easel is not suitable for your project, there are several alternatives available.
For watercolour specialists, the robust Lincoln easel is a perfect choice. On the other hand, an artist on the go may prefer the Daler-Rowney Edinburgh table easel stand. Specifically designed to store art tools like colours and brushes, it's an excellent two-in-one product that is both convenient and economical.
Artists working in larger spaces may wish to opt for the Daler-Rowney St Paul's easel stand. This painting easel allows for flawless watercolour and oil painting and features a folding-tripod design crafted from Daler-Rowney's signature oiled beechwood. For plein air artists who need to easily transport their work, the lightweight Daler-Rowney field easels are ideal options.
With a compact yet sturdy finish, the Daler Rowney artist easel range is guaranteed to suit any artist wishing to create bold and intuitive work. Share your studio set up and work with #DalerRowney.
Features of Daler-Rowney Artist Easels

High-quality materials
Daler-Rowney painting easels are made of oiled beechwood for a long-wearing, seamless finish. Look out for our 100% FSC® (FSC-C111372) products.

Range of sizes
The variety of sizing options within the Daler-Rowney art easel range will bring any artistic project to life.

A variety of designs
Several easel designs are available to match every artistic project with its perfect counterpart.

Lightweight
Daler-Rowney easels are both portable and easy to store.

Ideal for small spaces
Daler-Rowney table easels are ideal for use in small spaces.

Exclusive Artsphere
Available exclusively at Daler-Rowney, this unique ball and socket mechanism allows detachable drawing boards to move in any direction.
Discover the Daler-Rowney Easel range
Explore the Daler-Rowney artist easel range in detail, and view the full range of wooden easels to find the best match for your project. Inspiring creativity since 1783, Daler-Rowney continues to be one of the finest options for both beginners and professionals in the art world.
Discover artist techniques with Daler-Rowney
Discover artists with Daler-Rowney