Products
System3 Fluid Acrylic
Daler-Rowney System3 Fluid Acrylics are versatile, multi-surface, pigment-based, and ideal for multi-technique applications. The System3 Fluid Acrylics offer great coverage making them perfect for murals and other large surface area applications.
Highly intense pigment load.
Maintains depth of colour & vibrancy.
Ideal for pouring, dripping, and all liquid art techniques & offers great coverage.
Versatile with applications (brush, knife, pouring) and surfaces (canvas, paper, murals, textiles).
Available in sizes of 29.5ml, 250ml, 500ml and sets.
Made in England.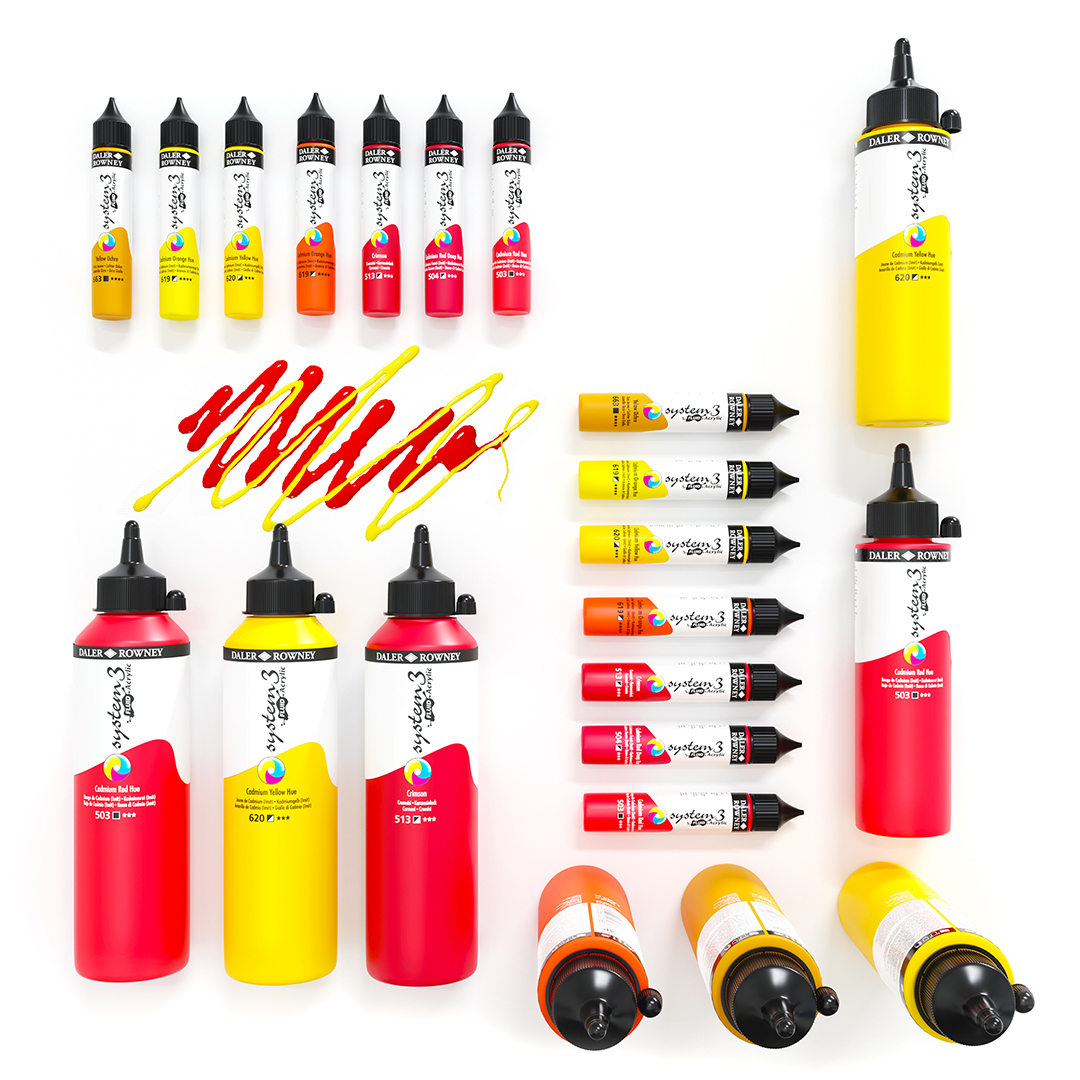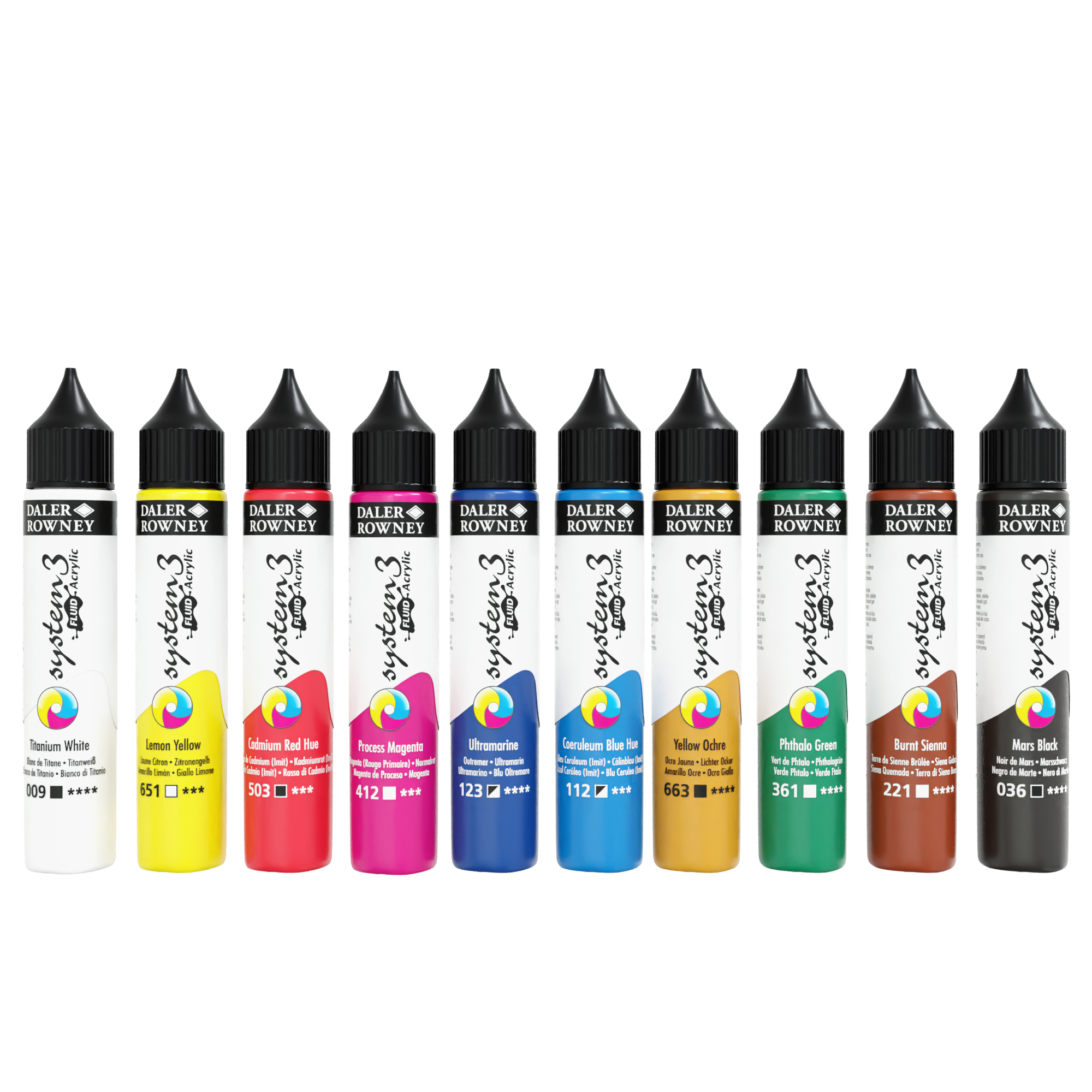 Pigment Load and Fluidity.
The System3 Fluid Acrylic has a highly intense pigment load which equals high tinting strength. Its fluid consistency allows you to load a brush more evenly, allows more uniform brushstrokes, and assists with long painting strokes without reloading the brush.
Highly Versatile Fluid.
The System3 Fluid Acrylic support a varied range of applications; poured, puddled, dropped & dragged, used for layering & glazing & mixed with texture paste or other mediums & gels. It can be mixed with textile printing medium, airbrush medium & System3 pouring medium for traditional fluid art techniques.
Wide Range of Applications
System3 Fluid Acrylic is durable and flexible with excellent adhesion to multiple surfaces including stone, wood, textiles, canvas & paper. There is no need to dilute with water for immediate application. This acrylic offers great coverage making it perfect for murals and other large surface area applications. It is superior for use in watercolour applications (wet on wet & wet on dry).
Reusable
Our 29.5ml bottles are reusable and can be refilled by taking the nib section out of the main tube and reinserting once filled. This is ideal when wanting to continue using the small nib to create lines or other small & delicate details.
Made in England.
Daler-Rowney is particularly proud to continue the long heritage of manufacturing System3 Acrylic in the United Kingdom.
Lightfastness
starstarstarstarPermanent
starstarstarstar_borderNormally Permanent
starstarstar_borderstar_borderModerately Permanent
starstar_borderstar_borderstar_borderFugitive
Transparency
Opaque
Semi-opaque
Transparent
Lemon Yellow
PY3

starstarstar

Cadmium Yellow Hue
PY184 / PO5 / PY74 / PW6

starstarstarstar

Cadmium Orange Hue
PO36

starstarstarstar

Cadmium Red Hue
PR254

starstarstar

Cadmium Red Deep Hue
PR254 / PR122

starstarstar

Crimson
PR122 / PR170

starstarstar

Process Magenta
PV19 / PR122

starstarstar

Purple
PV19 / PR122

starstarstar

Prussian Blue Hue
PB29 / PB15 / PBk7

starstarstarstar

Phthalo Blue
PB15

starstarstarstar

Ultramarine
PB29

starstarstarstar

Cobalt Blue Hue
PB29 / PW6

starstarstarstar

Coeruleum Blue Hue
PB15:3 / PW5 / PY74

starstarstar

Phthalo Turquoise
PB15:3 / PG7

starstarstarstar

Phthalo Green
PG7

starstarstarstar

Sap Green
PY74 / PG7 / PR101 Trans

starstarstar

Peach Pink
PW5 / PY42 / PR101Trans

starstarstarstar

Yellow Ochre
PY42

starstarstarstar

Burnt Sienna
PR101 Trans

starstarstarstar

Burnt Umber
PR101 Trans / PBk7

starstarstarstar

Raw Umber
PBr7

starstarstarstar

Payne's Grey
PB29 / PBk11

starstarstarstar

Mars Black
PBk11

starstarstarstar

Zinc Mixing White
PW5

starstarstarstar

Titanium White
PW6

starstarstarstar

Silver Imit
PW6 + Mica / PBk7 / PB15:3

starstarstarstar

Pale Gold Imit
PW6 + Mica / PR101 Trans / PY83

starstarstarstar

Share your work with

#System3FluidAcrylic

&

#DalerRowney