Aquafine Watercolour Art Supplies
Aquafine products
What is the Aquafine Watercolour collection?
The Daler-Rowney Aquafine collection specialises in watercolours, as well as gouache (also known as opaque watercolours) their accompaniments such as suitable paper and similar paints, bringing art students and experienced artists a complete watercolour collection of harmonious products.
Aquafine Watercolour paints are made from a selection of modern high-quality pigments and are milled to perfection to offer optimal performance and control. Aquafine watercolours are rich, free-flowing transparent colours with excellent tinting strength and working properties that reliably produce beautiful, delicate washes. With a comprehensive palette of 48 colours, the Aquafine Watercolour collection boasts the largest collection of colours in its category.
A favourite in the Aquafine collection, the Daler-Rowney Aquafine Travel Sets offer artists a mixture of half-pan paints, a brush and a case, making them easy for art students and artists to complete paintings from wherever they please. Once the paint is used up, simply swap them for a new or different half pan colour to ensure your Aquafine travel set is always fully stocked.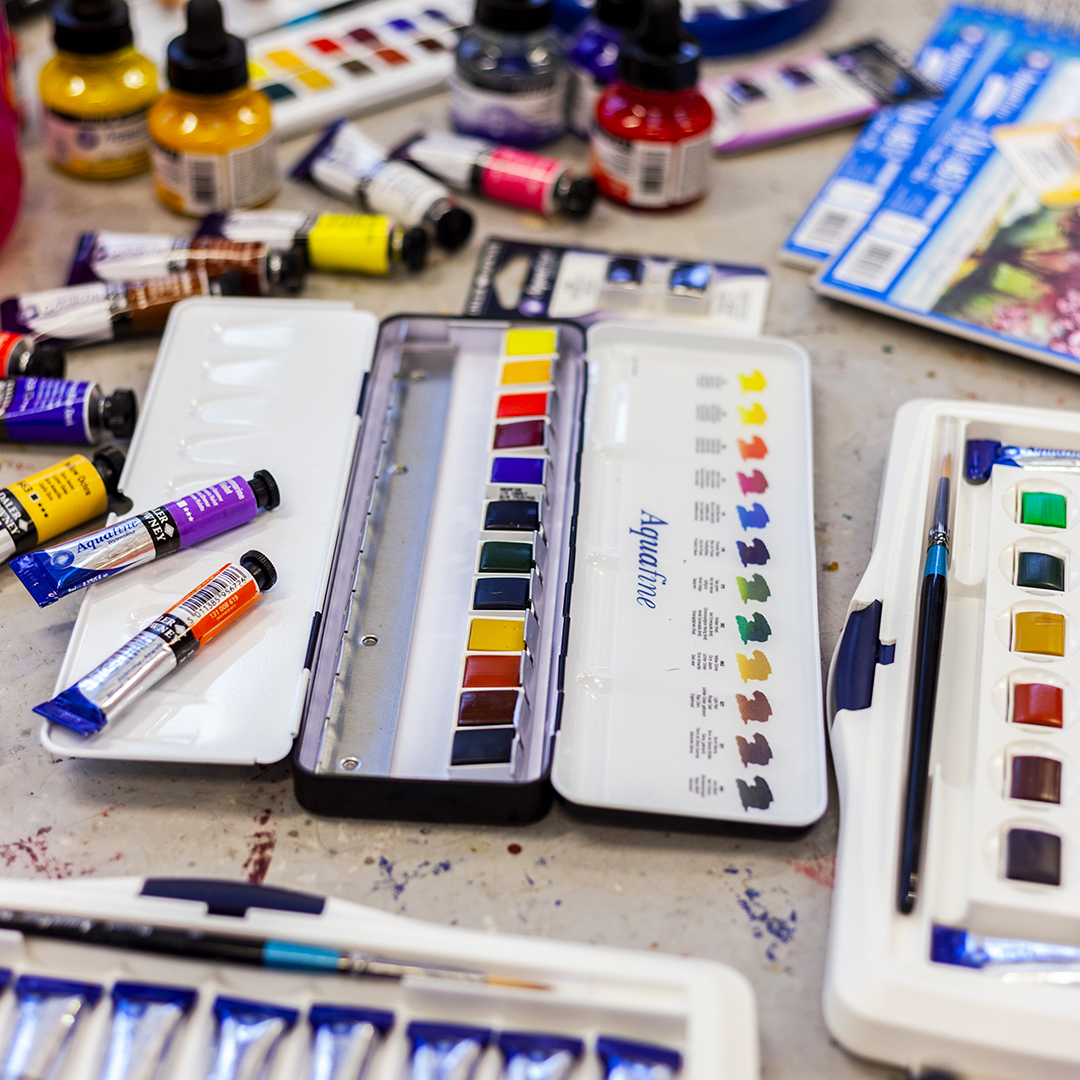 Get more from the Aquafine collection
Aquafine Watercolour Inks can be used straight from the dropper, brushed onto surfaces or used in airbrushing. The formulation is pigment-based and water-soluble, allowing it to be diluted to create subtle tones and remains vibrant over time. If you prefer block printing, the Aquafine Block Printing Inks are intermixable and water-soluble, offering artists an easy-to-use and fast-drying alternative to traditional oil-based printing inks.
For artists who love Aquafine Watercolour but need something more opaque, Aquafine Gouache delivers intense colours that can be watered down to the preferred opacity.
The Aquafine collection also includes mediums, brushes, pads, and artboards that are designed specifically to be used alongside the watercolour paints and inks in the same collection. The Aquafine brushes are available in varying sizes with soft synthetic and naturally mixed brush heads, while the accompanying paper is acid-free to prevent colour loss and a 300gsm weight to withstand washes.
Aquafine Watercolour features

Highly pigmented
Each Aquafine paint and ink delivers vibrant colours in a wide variety of shades.

Milled to perfection
Considered manufacturing offers optimal performance and control for artists.

High lightfastness
Provides resistance to fading when exposed to light, keeping artworks rich over time.

Accessible to all
Art students and professional artists will find the Aquafine collection the perfect companion for watercolours.

A full collection
Complementing papers, mediums and brushes allows artists to complete their watercolour collection.

Made in England
The Aquafine Watercolour paints are proudly crafted in the United Kingdom.
Explore everything that is Aquafine Watercolour
Whether you're taking the leap to discover hidden artistic talents or want to continue working on your watercolour skills with high-performing and trusted products, you'll find all the products you need to create beautiful watercolour artworks with the Aquafine collection.
How to create with Aquafine watercolours