#simplycreate
Simply Art Supplies
Simply products
What is the Simply range?
The Simply range is designed to give budding and beginner artists alike the chance to try something new, simply paint, simply draw, simply create! It's made to make an art and fun journey uncomplicated, so they can focus less on the tools and more on their handiwork. This means that each product in the Simply range is excellent value for money while remaining reliable and of a high standard.
The Simply Acrylics range of soft, water-based colours can be used straight from the tube, are fast drying and provide vivid colours. The classic tones, range of sizes available and fast action makes the Daler-Rowney acrylic paint set perfect for a variety of purposes.
Alongside the Simply Acrylic paint range is Simply Watercolours, which have a high light fastness and create washes with ease, as well as Simply Oils, which offer smooth consistency.
Both the Simply Acrylic and Watercolour paints have their own Simply paper range that complements their paint products. Many also use the Simply canvases for these paint types as well as for the Simply Oils. And as for applying, there are the Simply Acrylic, Watercolour and Oils brushes, which all work with the Simply paints.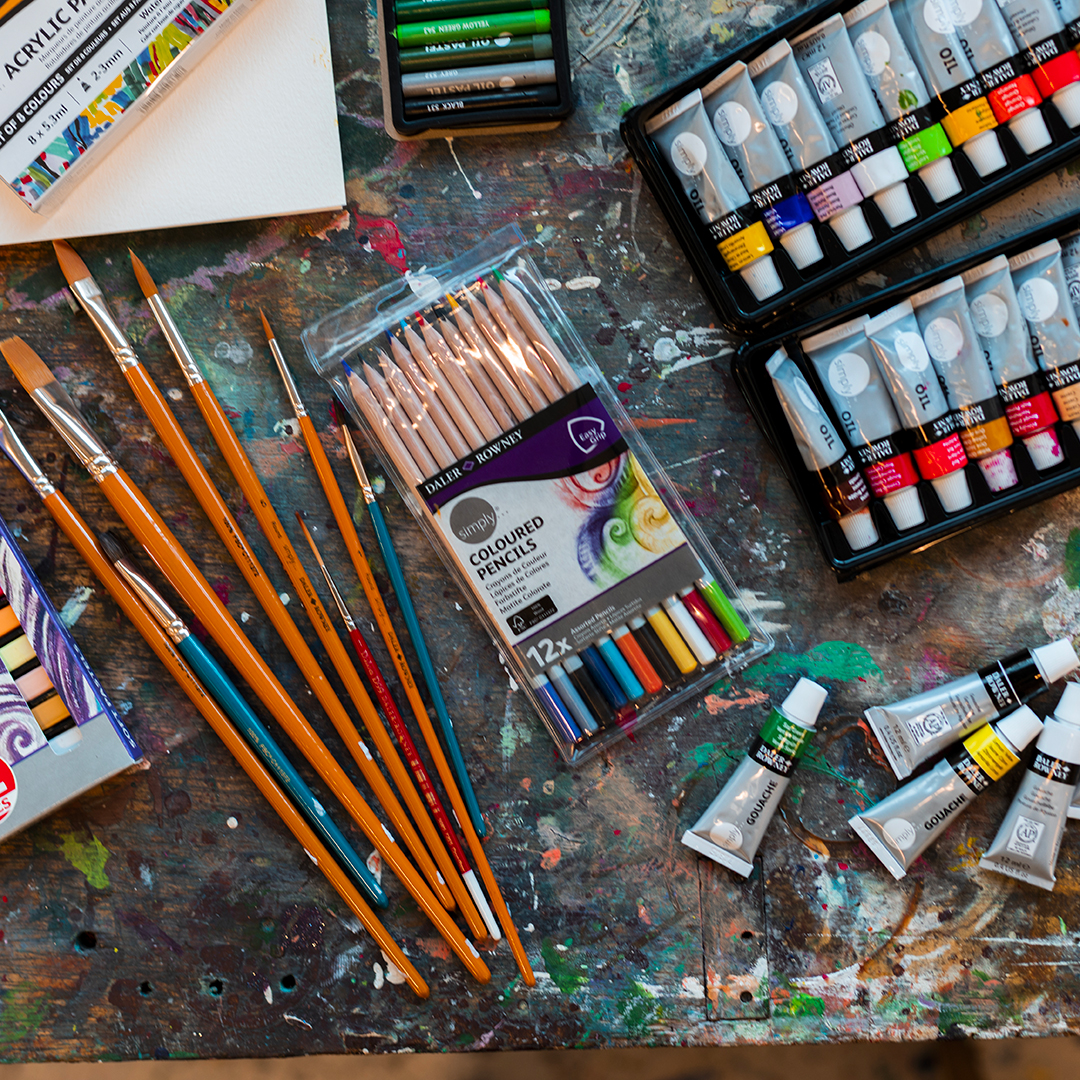 More from the Simply range
The Simply range doesn't stop there. It also includes the gouache range of opaque watercolours, sketching and colouring pencils, paper, mediums, markers, sketchbooks and even accessories such as palettes, an apron and an art board, giving you everything you need to get started.
So, if you're looking to get creative or begin drawing and painting, the Simply range gives you an easy starting point.
Simply features

Excellent value for money
The Simply range ensures affordability without compromising on quality.

Reliable products
No fuss, just good quality art supplies that make crafting, drawing and painting fun!

Suitable for all
Beginners, students, hobbyists and seasoned artists can use the collection with ease.

Made in United Kingdom
All Simply paint colours are made in the United Kingdom.

Use anywhere
The versatile products are ideal for home crafts and family activities as well as art.

Ideal for experimenting
The Simply range makes it easy to discover new skills, practice techniques and learn.

Comprehensive collection
You'll find most types of medium, art tools and accessories covered in the collection.
Explore the full Simply range
From pastels and easels to calligraphy sets and charcoals, the Simply range is bursting with all kinds of art supplies for you to discover. Browse the full range here and don't forget to tag #simplycreate, #simplypaint and #simplydraw when sharing your work!