Products
Aquafine Watercolour Ink
Daler-Rowney Aquafine Watercolour Inks are pigment-based inks that are perfect for a wide range of uses and techniques. The Aquafine Inks can be applied directly using the included dropper or use brushes, paint markers, technical pens or airbrushes.
Pigment-based inks.
High lightfastness (3*).
Vibrant and transparent colours.
Great mixing ability.
Ideal for producing technical illustrations and finely worked drawings.
Made in England.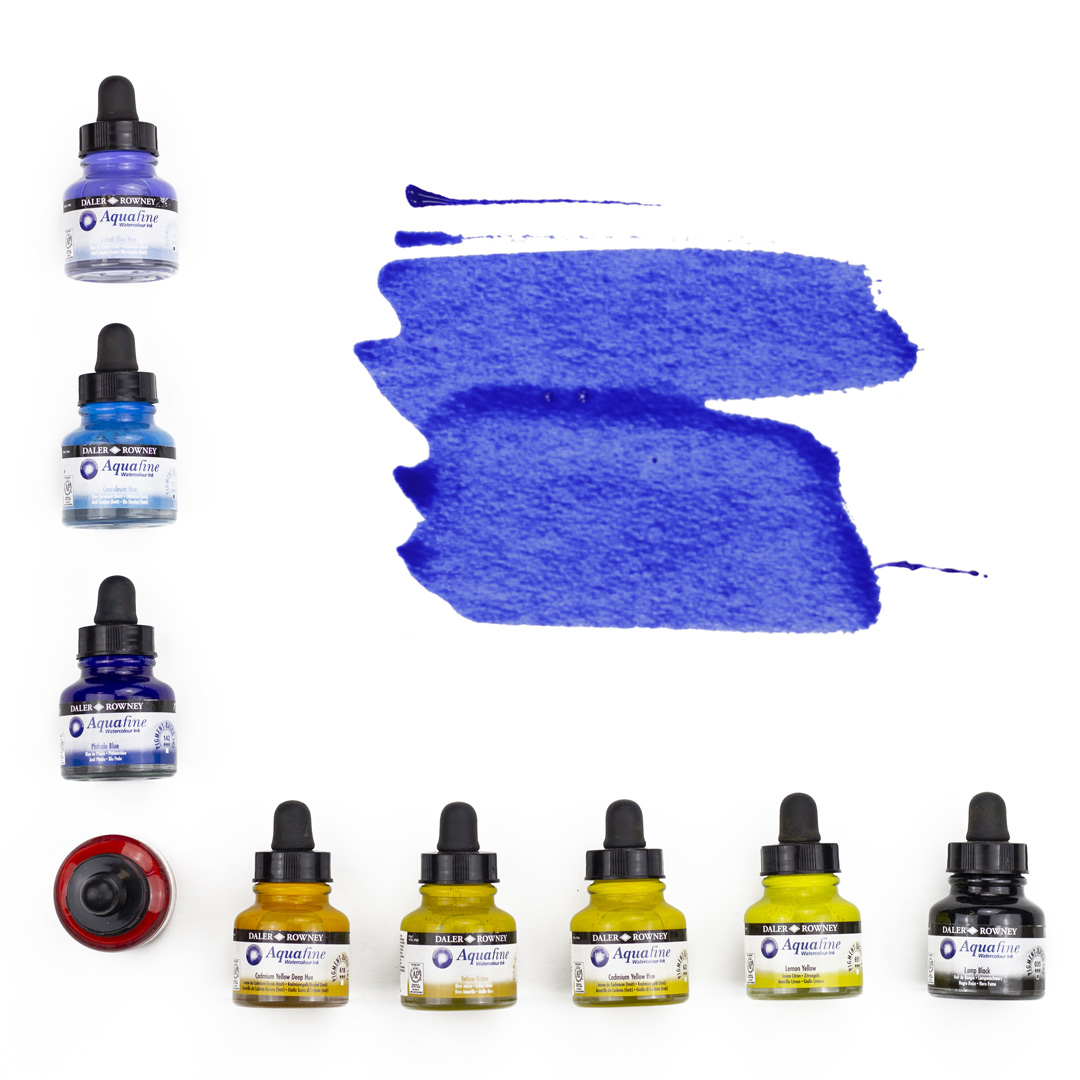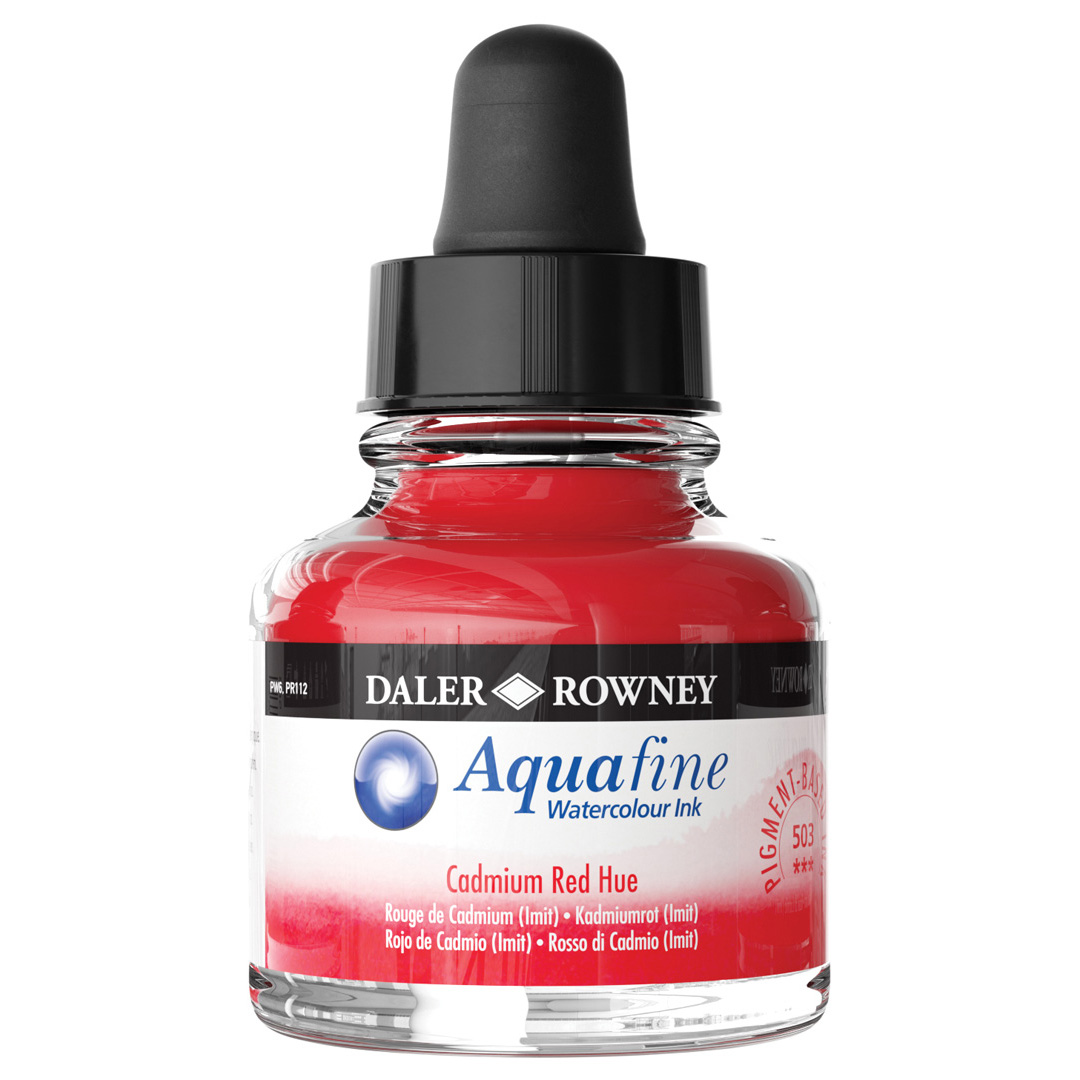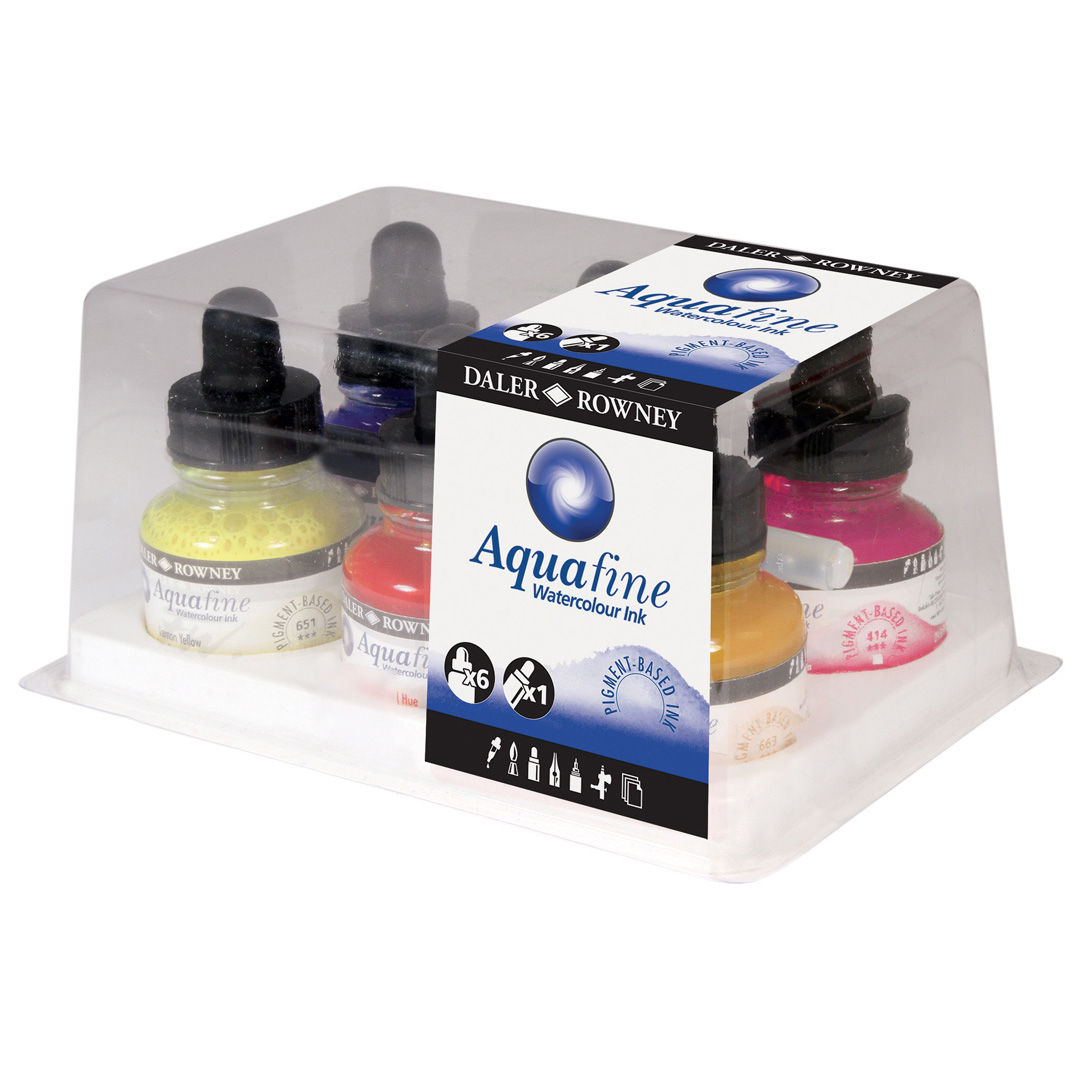 Pigment-based watercolour inks for high degree of lightfastness.
Daler-Rowney Aquafine Watercolour Ink is a pigmented, water soluble ink range with a high degree of light fastness and intermixability. Aquafine Ink can be used straight out of the dropper, or diluted to achieve the most subtle of tones. Because the inks are formulated with genuine fine art pigments, colours will remain bright and vivid over time compared to dye-based inks which will quickly fade.
Aquafine Watercolour Inks are versatile.
Daler-Rowney Aquafine inks can be applied using traditional brushes, but also work well through airbrushes, technical pens, and paint markers making them ideal for producing technical illustrations and finely worked drawings. The expressive fluidity of watercolour inks is suitable for use by fine artists, illustrators, graphic designers, calligraphers, decorative artists and hobbyists.
Made in England.
Daler-Rowney is particularly proud to continue the long heritage of manufacturing Aquafine Watercolour Inks in the United Kingdom, based in the South of England, in Bracknell.
Lightfastness
starstarstarstarPermanent
starstarstarstar_borderNormally Permanent
starstarstar_borderstar_borderModerately Permanent
starstar_borderstar_borderstar_borderFugitive
Transparency
Opaque
Semi-opaque
Transparent
Lemon Yellow
651
PY3
starstarstar

Cadmium Yellow Hue
620
PY155
starstarstar

Cadmium Yellow Deep Hue
618
PY3 / PY65
starstarstar

Gamboge Hue
640
PY155 / PR242
starstarstar

Indian Yellow Hue
643
PY65
starstarstar

Cadmium Orange Hue
619
PO71
starstarstar

Vermilion Hue
588
PR255
starstarstar

Cadmium Red Hue
503
PR242
starstarstar

Alizarin Crimson Hue
515
PR176
starstarstar

Rose Madder Hue
563
PR83 / PR122
starstarstar

Permanent Rose
537
PV19
starstarstar

Peach Pink
578
PW6 / PR101 / PY42
starstarstar

Quinacridone Magenta
414
PR122
starstarstar

Purple Lake
433
PV19
starstarstar

Ultramarine Pink
420
PR259
starstarstar

Ultramarine Violet
419
PV15
starstarstar

Cobalt Violet Hue
406
PV23 / PV15
starstarstar

Permanent Mauve
413
PV23
starstarstar

Indigo
127
PB15 / PBk7 / PV19
starstarstar

Prussian Blue
135
PB27
starstarstar

Ultramarine Blue Light
122
PB29
starstarstar

Ultramarine Blue Dark
123
PB29
starstarstar

Cobalt Blue Hue
110
PB29 / PW6
starstarstar

Phthalo Blue
142
PB15
starstarstar

Coeruleum Hue
112
PB15 / PW6
starstarstar

Transparent Turquoise
157
PB16
starstarstar

Viridian Hue
382
PG7
starstarstar

Leaf Green
355
PY3 / PG7
starstarstar

Hooker's Green Light
353
PY3 / PG7
starstarstar

Hooker's Green Dark
352
PY3 / PG7 / PV19
starstarstar

Sap Green
375
PY73 / PB29
starstarstar

Olive Green
363
PG36 / PO36
starstarstar

Yellow Ochre
663
PY42
starstarstar

Raw Sienna
667
PBr7
starstarstar

Light Red
527
PR101
starstarstarstar

Burnt Sienna
221
PR101
starstarstarstar

Naples Yellow
634
PR176 / PBr24
starstarstar

Burnt Umber
223
PY155 / PR176 / PBk7
starstarstarstar

Vandyke Brown Hue
264
PBr7 / PBk7
starstarstarstar

Raw Umber
247
PBr7
starstarstarstar

Sepia Hue
251
PY42 / PR9 / PBk7
starstarstar

Payne's Grey
065
PBk7 / PB29
starstarstar

Ivory Black
034
PBk7
starstarstarstar

Lamp Black
035
PBk7
starstarstarstar

Titanium White
009
PW6
starstarstar

Chinese White
001
PW5 / PW6
starstarstar

Silver Imit
702
PW6* Coated Mica Flake Metallic pigment
starstarstar

Gold Imit
701
PW6 + Mica
starstarstar

Share your work with

#AquafineWatercolour

&

#DalerRowney