Optima Art Supplies
Optima products
What is Optima paper?
Optima is a multi-technique acid-free paper which is designed to withstand wet and dry techniques. With excellent binding, heavy weighting, and great versatility, Daler-Rowney Optima paper is one of the finest choices for artists opting to work on the move. The Optima paper comes in FSC® (FSC-C111372) certified spiral pads and is also available as artboards.
Daler-Rowney Optima paper
Any artist working extensively with pencil, ink, or paint will be looking for a solid base that discourages bleeding and smearing. Although Optima paper is ideal for pencil, pen, ink, pastel, and charcoal, it also fully supports watercolour and acrylic. Whether artists are searching for an alternative to canvas for mixed media work, or simply wish to experiment with wet and dry techniques on a disposable base, Daler-Rowney Optima paper is unlikely to disappoint.
Daler-Rowney Optima paper has a durable, light-textured surface, which ensures all mediums will adequately cling to each page with minimal bleeding or running. Due to the heavy 250gsm weight and spiral binding that features on each Optima paper pad, artists can indulge their creativity with collages and visual journaling should they wish to. Due to its natural white colour, Optima paper is ideal for use with all colour palettes. This means that artists won't have to restrict their ink and paint choices to those which align with warm, neutral, or cool-toned paper as is usual with other brands on the market.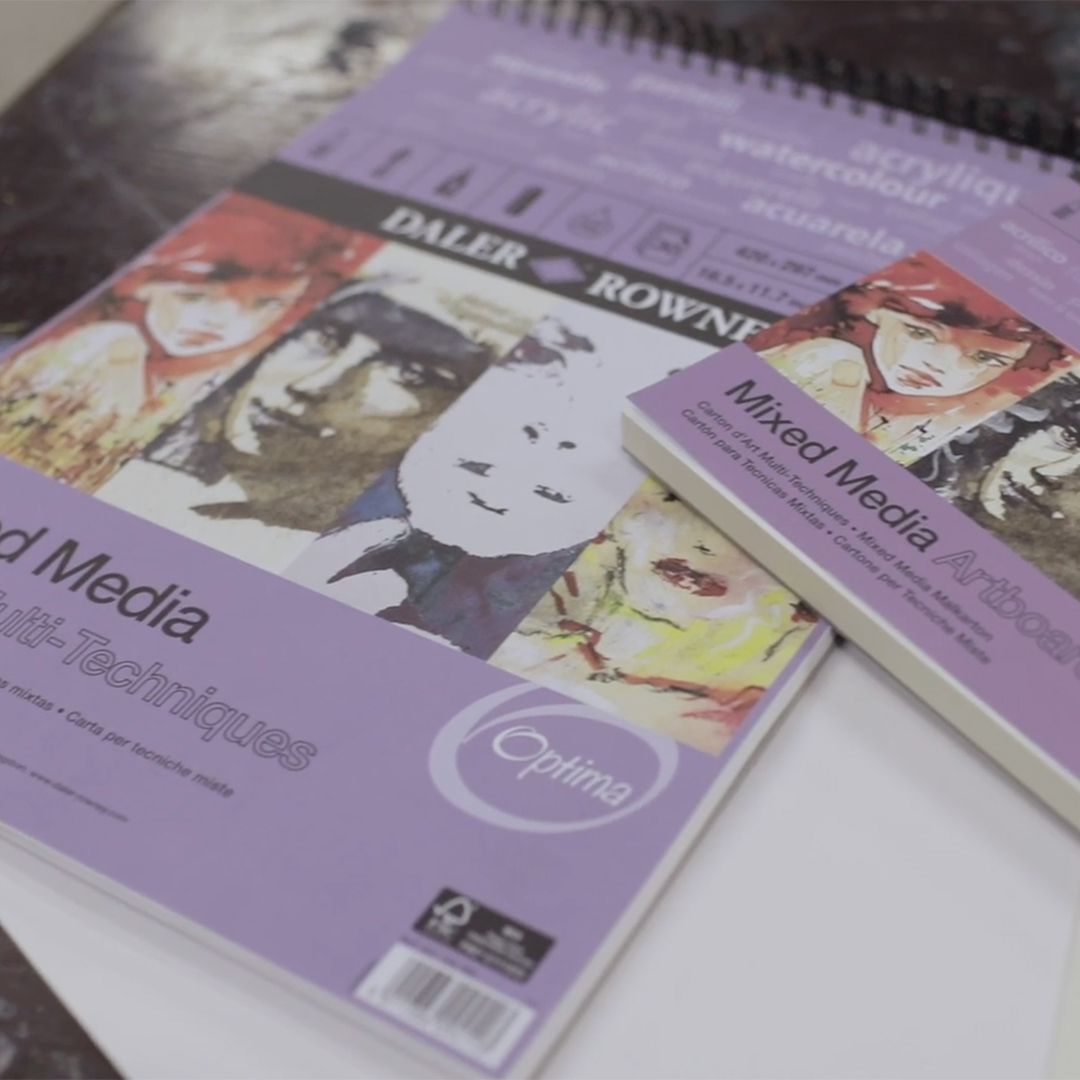 In addition to its excellent surface and natural colour, Daler-Rowney Optima paper is also perfect for artists who tend to seek inspiration outside of the home. Available in several portable sizes, artists can rely on Daler-Rowney Optima paper to be available whenever creativity strikes.
Tools within the Daler-Rowney Optima Collection
Optima paper also pairs perfectly with any drawing and painting tool.
Due to its heavy weighting, artists may wish to experiment with Daler-Rowney Cryla paint or the beautiful System3 Acrylic collection. As both appear seamless and vibrant on paper surfaces, they are an ideal match for the Optima paper collection.
For artists and hobbyists who are looking to experiment with watercolour, exploring the Simply Watercolour collection is an excellent idea. Providing artists with stunning washes of colour on paper and canvas, they provide an excellent base for ink and pencil work. As well as offering artists excellent value for money, the Simply Watercolour collection won't clash with the natural white shade of Optima paper pads. This makes it easy for artists to create impactful work with ease.
Features of Optima art paper

Heavy weighting
With a superior 250gsm weighing, Daler-Rowney Optima paper provides a luxurious and sturdy surface for artists to work on.

Durable and acid-free
Daler-Rowney Optima paper is both durable and acid-free.

Natural white colour
The natural white colour of Optima paper allows artists to use a varied colour palette with no risk of tonal clashing.

Excellent for mixed media work
Able to adequately support wet and dry techniques without bleeding or smearing, Optima paper is ideal for mixed media work.

Supports all drawing techniques
Perfect for pencil, ink, charcoal, and paints, Optima paper is a solid choice for any artist looking to experiment with different techniques.

Extremely versatile
The extreme versatility of Optima paper makes collage creation and visual journaling a breeze.
Discover the Daler-Rowney Optima collection
Explore the full Daler-Rowney Optima collection in detail before undertaking your next mixed media project. Able to support artists who work primarily in the studio and those who prefer to work on the go, Optima paper remains one of the best choices for amateur and professionals alike.
Discover drawing techniques with Daler-Rowney
Discover illustrators with Daler-Rowney