Georgian Oil Art Supplies
Georgian products
What is the Georgian Oil collection?
Whether you're an art student at the beginning of your oil painting journey or you're a dab-hand, any oil painting artist can enjoy using Daler-Rowney's oil paint collection, Georgian – named after the brand's founder.
The complete Georgian Oil collection includes paints, mediums, brushes and paper that are all specifically designed for oil painting. It offers all oil painters a complete oil suite of perfectly compatible products.
The Daler-Rowney Georgian Oil paint collection is made to the same exacting standards as the Professional Artists' Oil Colour, promising a reliable collection for an excellent price. Traditionally crafted and triple-milled to preserve the long-established quality, each of the Georgian oil paint colours is high-performing, permanent, intermixable and experiences no shift in colour from wet to dry. Used straight from the tube, Georgian Oil delivers the impasto technique with ease while thinning down with a medium smoothes the consistency for greater coverage.
The Georgian Water Mixable Oil colours are a modern take on traditional oil paints as they can be mixed, thinned and washed using water as opposed to mediums. These oil paints are therefore ideal for use indoors, such as in a studio or during school art classes, or for those who have solvent allergies. As well as this useful feature, these colours also offer a high concentration of pigment, resistance to fading and a buttery texture.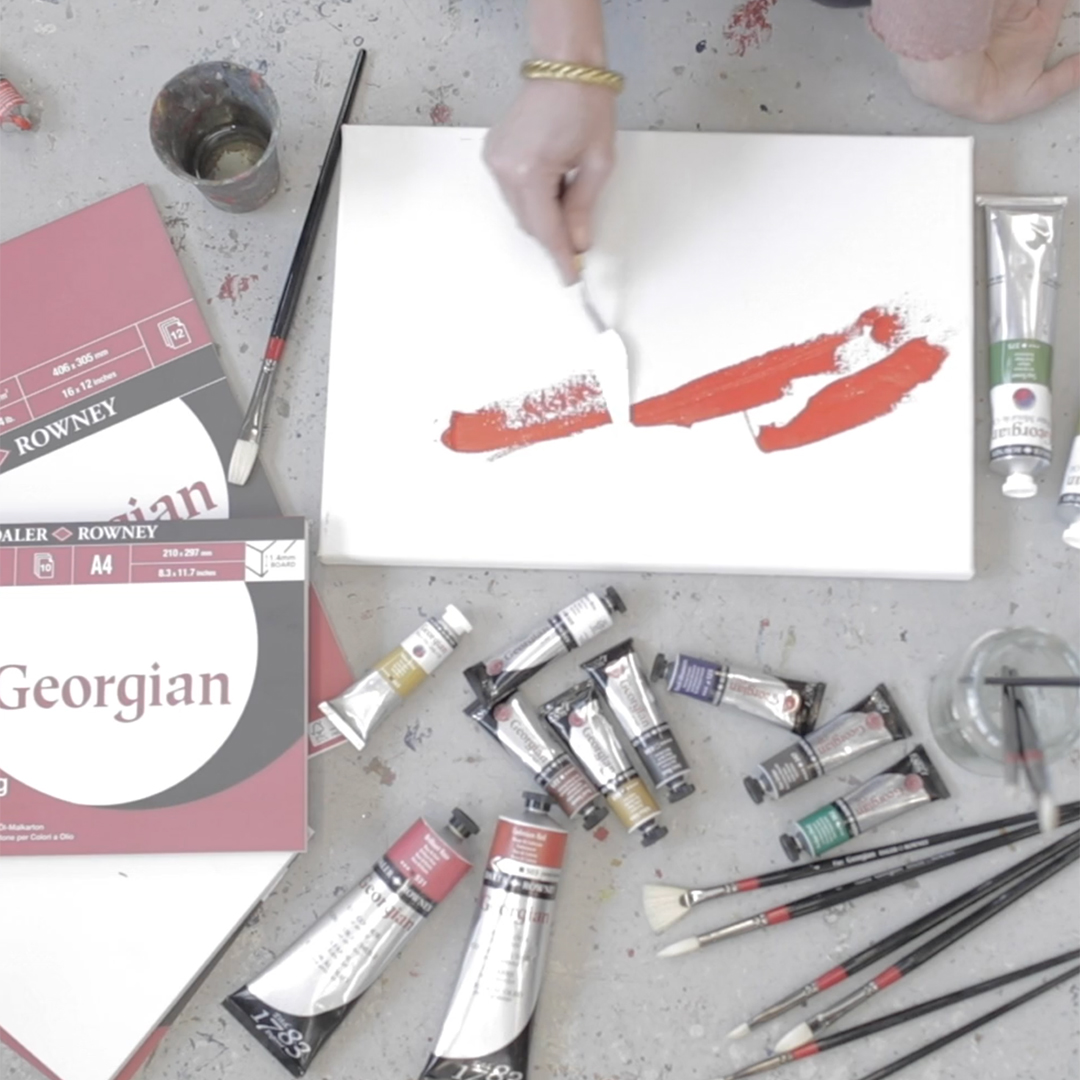 While the Daler-Rowney Georgian paper has been developed for use with Georgian colours, it also works with any oil paint on the market as well as with oil pastels. The Georgian Oil brushes feature extra-fine quality Chungking bristles, with a high percentage of natural flags for maximum colour holding and smooth flexible strokes making them ideal for oil painting.
Art students and professional artists will find using the Georgian Oil collection straightforward and satisfying, allowing you to expand your expertise no matter your experience.
Georgian features

Excellent value
An affordable collection for hobbyists, students and artists alike.

Professional quality
Made to the same standards as the Artists' Oil Colour collection.

High performing
Each colour promises high-pigment load, consistency and durability.

Compatible products
Specifically developed papers and brushes gives artists a complete collection.

Traditionally crafted
Combining established manufacturing with modern shades and techniques.

Made in England
The colours are proudly manufactured in the United Kingdom.
Discover the Georgian Oil collection
From the paint to the paper, explore every part of the Daler-Rowney Georgian Oil collection and unleash the oil painter in you today.
Discover techniques with Georgian Oil Paint
Artists using Georgian Oils