Welcome to Daler-Rowney, Lyra and Strathmore marquee! Every day, you will find new workshops demonstrating and explaining your favourite art supplies. Partner artists will guide you and provide you with their tips and tricks: Jenny Muncaster, Kirsty Partridge, Charles Evans, Jen Dixon and Carleen de Sozer. Enjoy our workshops and make sure to visit us every day for new content added from 9am!
12.07.2020 - Drawing a Portrait with Charcoal Workshop - Strathmore Bristol Paper & Lyra with Kirsty Partridge
Learn how to draw a full portrait using charcoal. A detailed step by step tutorial from artist Kirsty Partridge. Draw different facial features, skin, and hair with Lyra Charcoal Pencils and Strathmore Bristol Paper. Kirsty will guide you through the sketch outline using a graphite pencil, shading in the shadows and the midtones, blending with a paintbrush and adding highlights. Lots of tips and encouraging workshop for anyone who has a basic charcoal experience.
12.07.2020 - Buoys on the Beach & Reflection - Aquafine Watercolour with Charles Evans
Join Charlie to paint an inviting beach scene from his studio in Northumberland. His witty character will attract and captivate you to paint with Aquafine Watercolour. Improve your watercolour techniques with this easy step by step beach landscape tutorial, using a handful of colours and only 4 Aquafine Brushes. Fall in love with watercolour and see how calming and inspiring Charlie's workshop is. And added bonus at the end with two easy and quick paintings reflections in watercolour. A few basic guidelines with reflections and fairly easy to do. In this tutorial you will learn valuable pointers on painting water refections.
11.07.2020 - Discover Daler-Rowney Inks with Jenny Muncaster
Explore the effects of all 3 different types of Daler-Rowney Inks - a fascinating workshop providing you plenty of information, advice and demonstration of the inks with different tools. Different applications with System3 Acrylic Ink, Aquafine Watercolour Inks and FW Inks - Jenny's workshop will change your way of using inks! A fabulous turorial incorporating different materials that most people have around the house like stencils, tooth brush, stamps, straw and a hair dryer.
11.07.2020 - Inks with Airbursh Tutorial with with Carleen De Sozer
Discover how to use airbrush with Daler-Rowney Inks. Carleen De Sözer is widely regarded as one of London's most skilled and diverse aerosol and airbrush artists. She will guide you through the process of airbrushing with all 3 types of inks: System3 Acrylic Inks, Aquafine Watercolour Inks and FW Acrylic Inks. Carleen's friendly and spontaneous demonstration will make you find at ease with this more technical tutorial - so relax and sit down with a cup of tea!
10.07.2020 - Heavy Body Workshop - System3 Acrylic Heavy Body with Jenny Muncaster
Go wild with System3 Heavy Body Acrylic using different tools and various materials to apply paint with. Jenny demonstrates a simple sea landscape painting using only a palette knife. No experience required as Jenny makes this tutorial fun and easy to recreate. Amazing textures, layering and marks using a brush, palettte knife and even bubble wrap and stencils. Learn how to paint with heavy body, layering straight from the tube and applying Kandahar Ink on top, an unsual and "ideal match in heaven" as per artist unique technique. An added bonus for a distressed look to your heavy body artwork.
10.07.2020 - Painting Trees & Reflections Workshop - System3 Acrylic with Charles Evans
Dynamic step by step tutorial with Charlie couldn't be easier! This workshop focuses on trees along a farm field with a busy cloudy sky, shadows and their refelctions around the trees. A great guide to System3 Acrylic, brushes and the benefits of using a Daler-Rowney Stay-Wet Palette. Charlie exhuberant and informal personlity is reflected in his painting, which have a lightness and simplicity that many artists aspire to.
10.07.2020 - Sunset Tutorial - Graduate Oil with Jen Dixon
A simple, fast and inspirational sunset tutorial with artist Jen Dixon. A good reminder that painting with Graduate Oil can be spontaneous and stress free with only a few materials. For those wishing to get started with oil painting or further their skills and knowledge, this simple tutorial with Jen will provide you with the essence of oil painting.
09.07.2020 - Wow Effects Workshop - System3 Acrylic with Jenny Muncaster
Discover the versatility of The Daler-Rowney System3 Acrylic Family. A totally inspiring workshop jam packed with amazing techniques. Get your hands on a stunning range of colours including metallics, pearlescent and fluorescents in fluid and heavy body paints, acrylic inks, printing and much much more! With guidance from Jenny who will share all her mixed media tips and tricks and show you how to use different tools and stuff around the house to create amazing 'wow' effects. Learn lots of new processes and how to incorporate all of these products in two stunning pieces of art to take away.
09.07.2020 - Drawing Animals with Charcoal Workshop - Strathmore Bristol Paper & Lyra Charcoal Pencils with Kirsty Partridge
Learn how to draw a realistic dog with Strathnore 300 Series Bristol Vellum Paper and Lyra Charcoal Pencils. A motivating step by step tutorial with Kirsty Partridge. Starting with sketching all the main faetures of the subject matter, shading in the shadows and the midtones, blending with a paintbrush and adding highlights. Lots of tips and an encouraging workshop for anyone with a basic charcoal painting experience.
09.07.2020 - Coastal Landscape Worshop - Aquafine Watercolour with Charles Evans
The most common place for new watercolour artists to start is with landscapes, as they seem to be the easiest subject: no complex buildings or people to paint in. Charlie will guide you through a complex landscape with the added bonus of coastal details, trees, shadows and light. Starting with the drawing, this tutorial is a lovely open landscape with gentle hills; the sea merges with the lake to give a feeling of isolation and remoteness.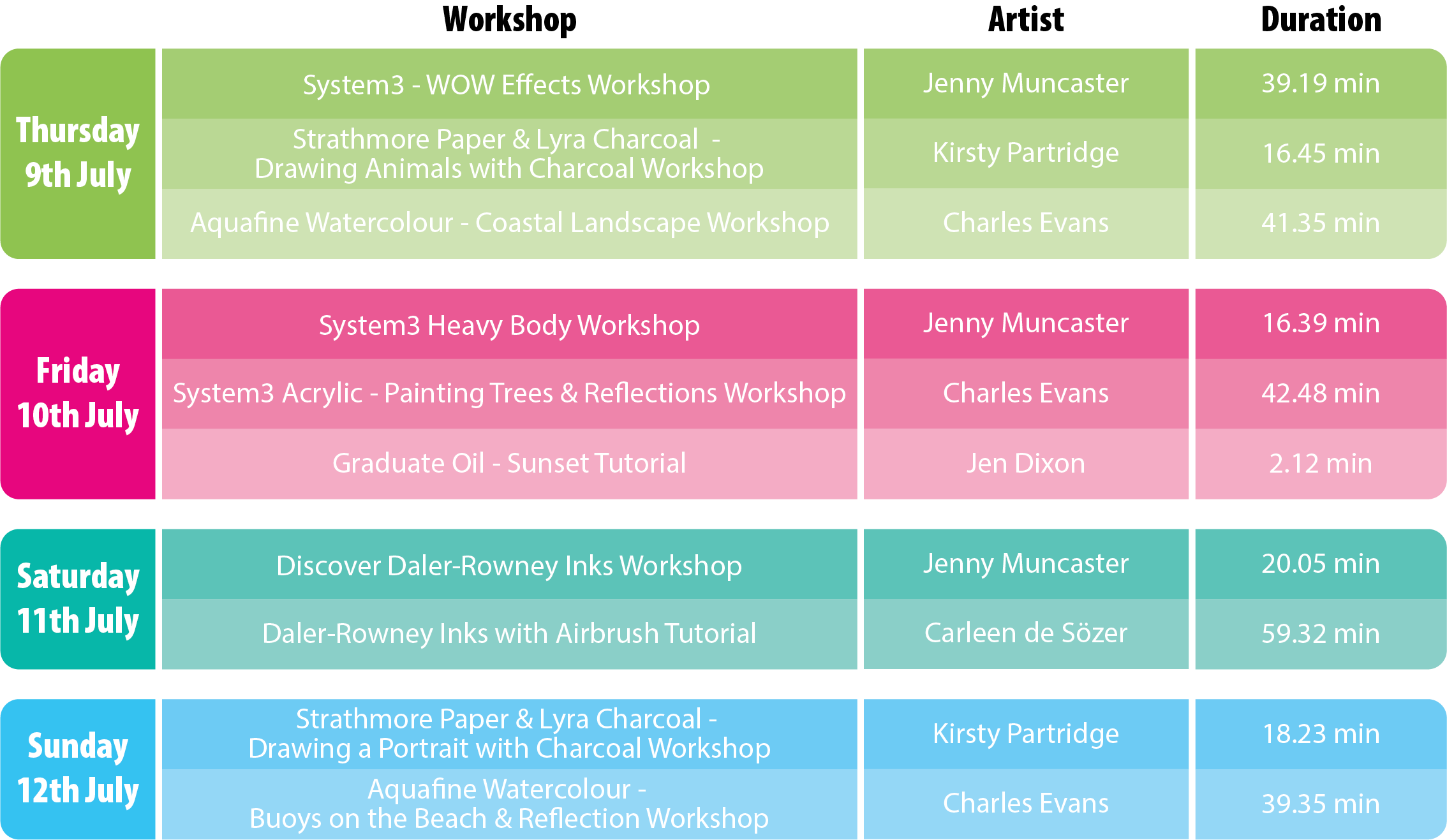 #