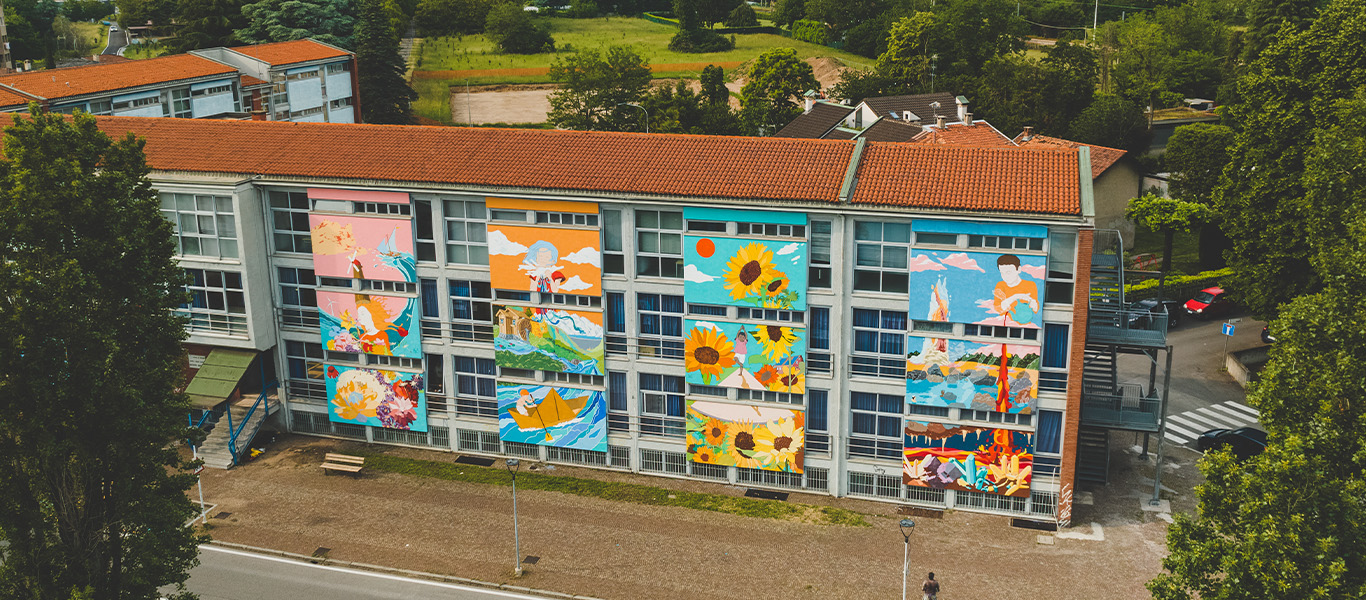 19th June 2023
Sustainable fun in the primary school Seregno, Milan
Pepe Gaka - Milan School Mural
International mural artist Pepe Gaka couldn't be happier to be out on the road again and started his summer with a 12-sectioned mural all around the topic of sustainability to brighten up every day of the pupils at the Mercalli school in Milan.
The 2 weeks' installation of the artwork on the school building was sectioned into 4 artworks on twelve concrete panels outside of the school. Pepe focused on the 4 renewable energies wind, solar, hydro, and geothermic, which are featured in harmony with human existence, all done in System3 Fluid Acrylic.
Pepe Gaka wouldn't be, Pepe Gaka, if he would have stopped creating his own artwork. He was working in tight partnership with the "Scuola Mercalli" to get as many pupils as possible interested in creating their own art and sharing his knowledge of creating art on a big scale. In cooperation with the school, Pepe was running mural competitions and implementing the winners indoors in the school.
We send our respect and thank you to the Mercalli School for this engaging and forward-thinking project and to Pepe Gaka for his outstanding art and community drive.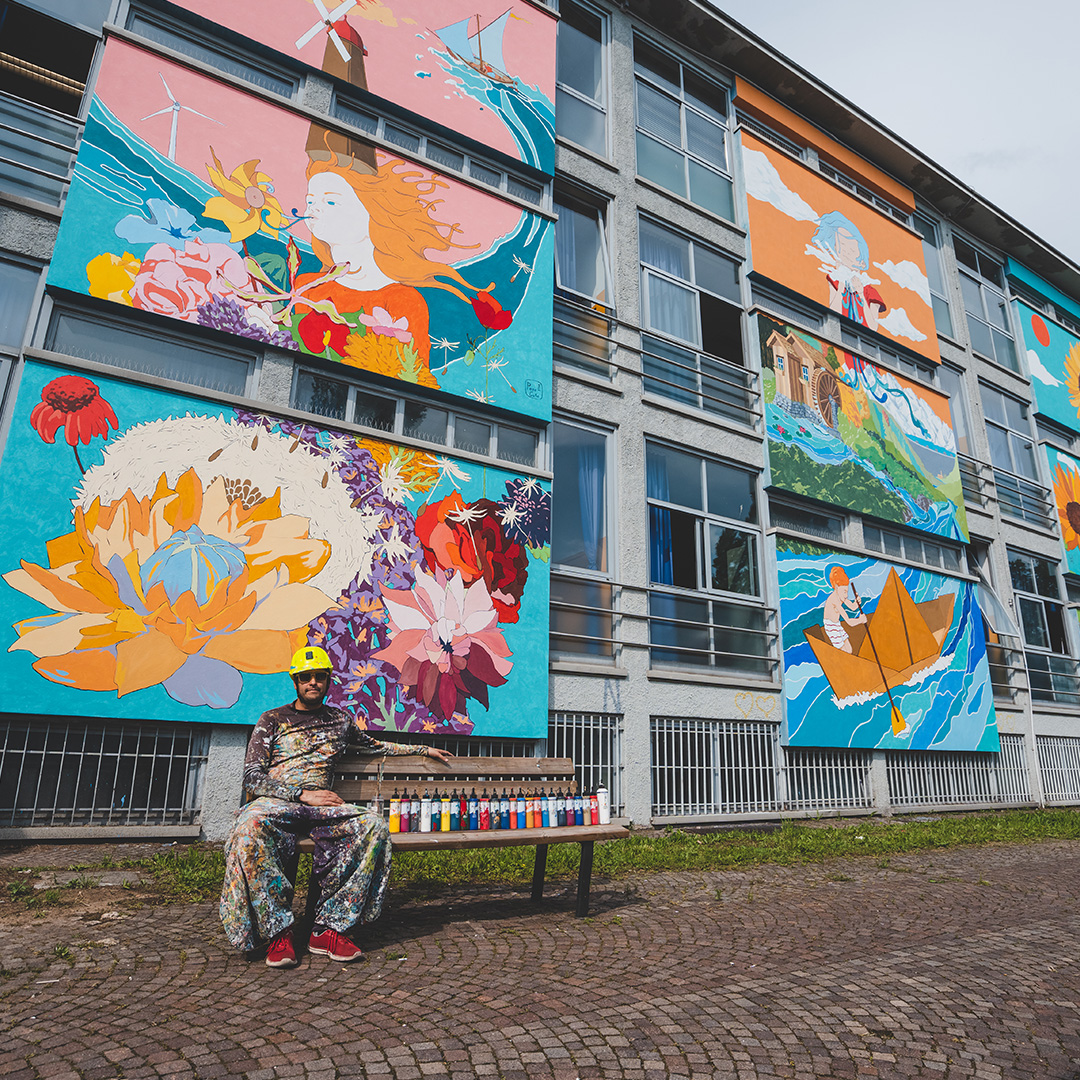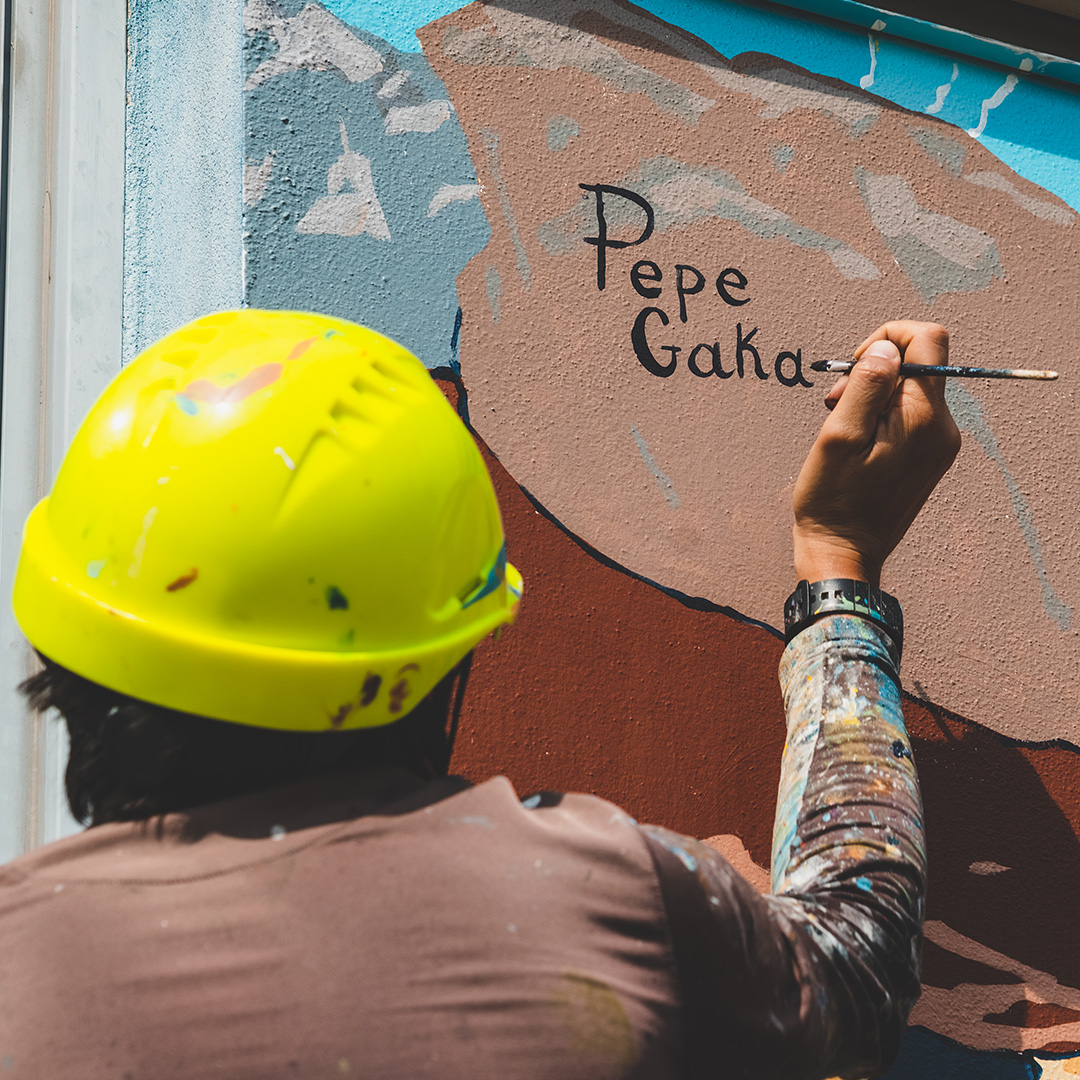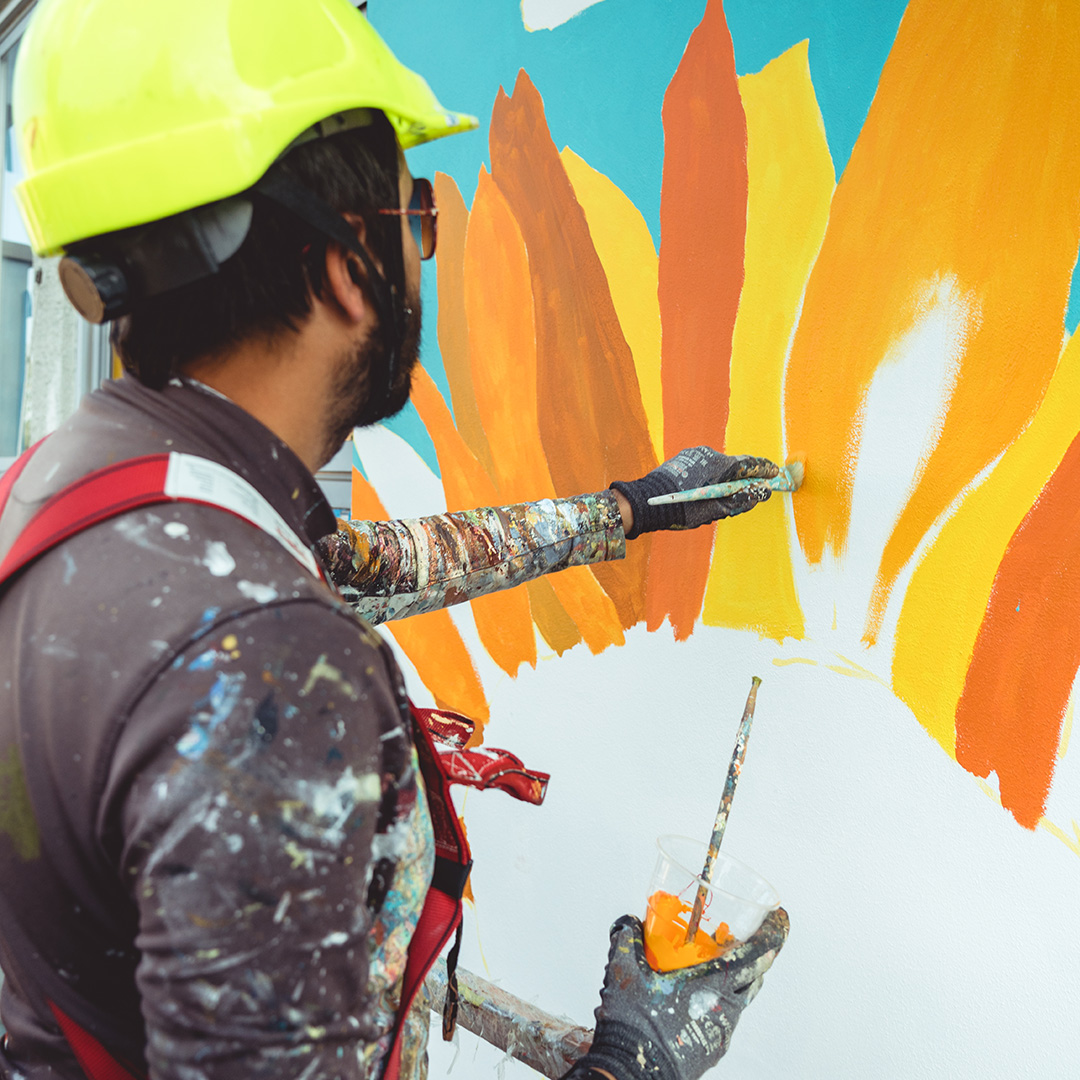 Daler-Rowney artist Pepe Gaka Interview
Hi Pepe,
Congratulations on your first community mural after the Covid lockdown!
Tell us more about the idea of the Milan project and the inspiration behind it.
The idea behind it was to create something that was beautiful in the first place and at the same time to be joyful and cheerful both in the design and in the use of the colours, and for it to have a message too. Yet, I didn't want the message to be too straight, I wanted the mural to tell a story, to be dynamic. Because of the configuration of the wall, which wasn't a typical wall for a mural, but 12 panels grouped in 4 columns, I decided to have the murals on the four renewable energies (solar, hydro, geothermic, wind) but without wind turbine, hydropower plant etc. Most of us, when we think about wind power, we associate it with wind turbines. I didn't want to draw a huge giant wind turbine; it seemed sad for the students to go to school every day looking at something like that. Rather, I wanted to explore the source behind each renewable energy and the possibility that the space gave me.
Besides your artwork outside the school, you were running a competition with the school pupils and created the winning artwork per grade indoors. How was your teaching received?
Yes, both the school and I wanted to have a workshop with the students, but we had to find a way to select the students. I knew from experience that not all children are interested -very unfortunately- in art and painting. But I knew that some are very keen. And we didn't want to mix the two groups, because the first would distract the second. Hence, we decided to have a competition, between all the students that wanted to take part in it, and I was going to be the judge since I didn't know the students and could not make any preference.
I then received and selected the best drawings, not knowing who the winner was (no name or gender was allowed on them). We had about 5 lessons with them, each of around 3 hours. The first one was a more theory class, where I would explain to them some technical aspects of the preparation of the wall, the scaling up, etc. The other four were fully practical, where around 12 children, divided into groups, would work on different murals. Two of them, Isabel and Romeo, who won the first and second prizes, worked on their own mural, while the others, divided into 3 groups, worked on two murals they designed and started with me, and completed a mural that was started previously with their art teacher. I assisted. them, but they worked on them almost on their own, creating in total four wonderful murals.
Tells us a bit more about your long-term partnership with Daler-Rowney.
I collaborate with Daler-Rowney since 2015, and it's been a wonderful journey so far. We created videos and photos contents, using DR acrylic paint to create large-scale murals and explored what can be done mainly using the System3 Acrylic collection.
Moreover, we had several projects in the Philippines, where we combined art creation with the idea to share the joy of painting and art with less fortunate people. I created some murals using System3 Acrylic colour inside a primary school in Naga City 2017, which serves a very poor community. Without that school, which is totally free for the children, run by volunteers and priests of the local Catholic church, those children would be left with no education, wandering around, since the public school is too far away and expensive, for families that may earn as little as $3 a day.
In 2019 Daler-Rowney sponsored a school in Manila, One World School, where they are providing education even for children with disabilities, from autism to cerebral palsy. Two orphans from the orphanage I collaborated with since 2015 are students at that school, and DR organised with FILA a large quantity of art material for them to be used and enjoyed.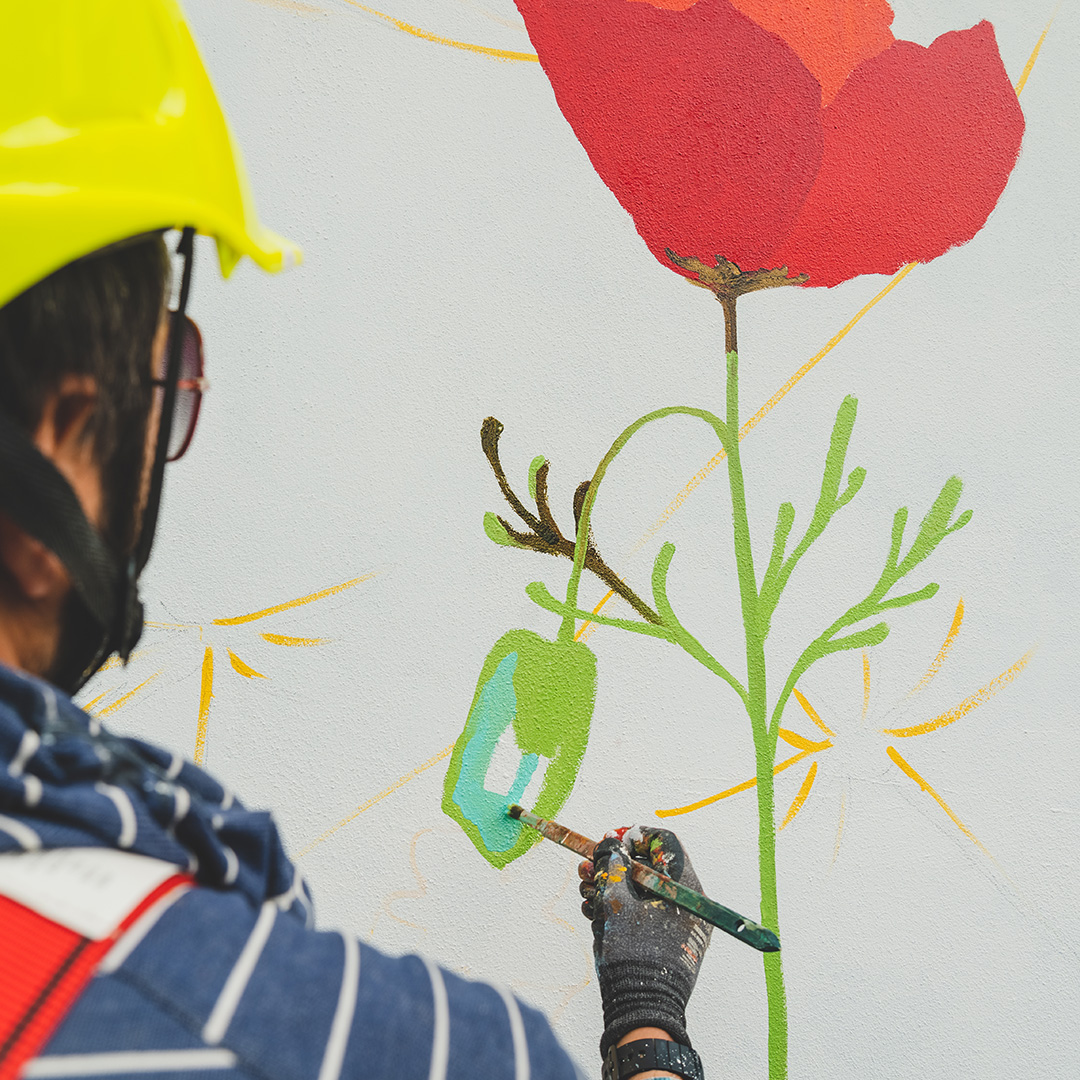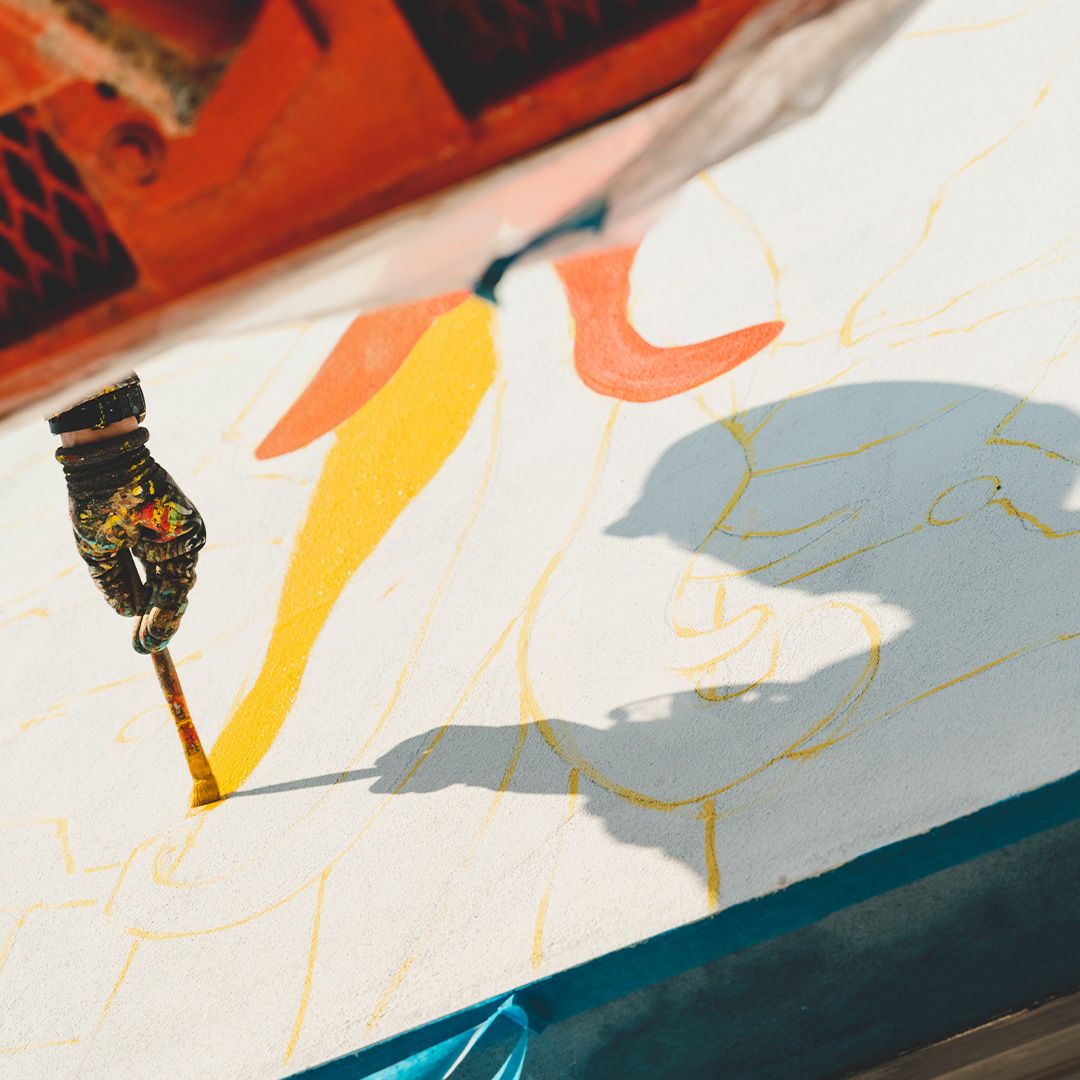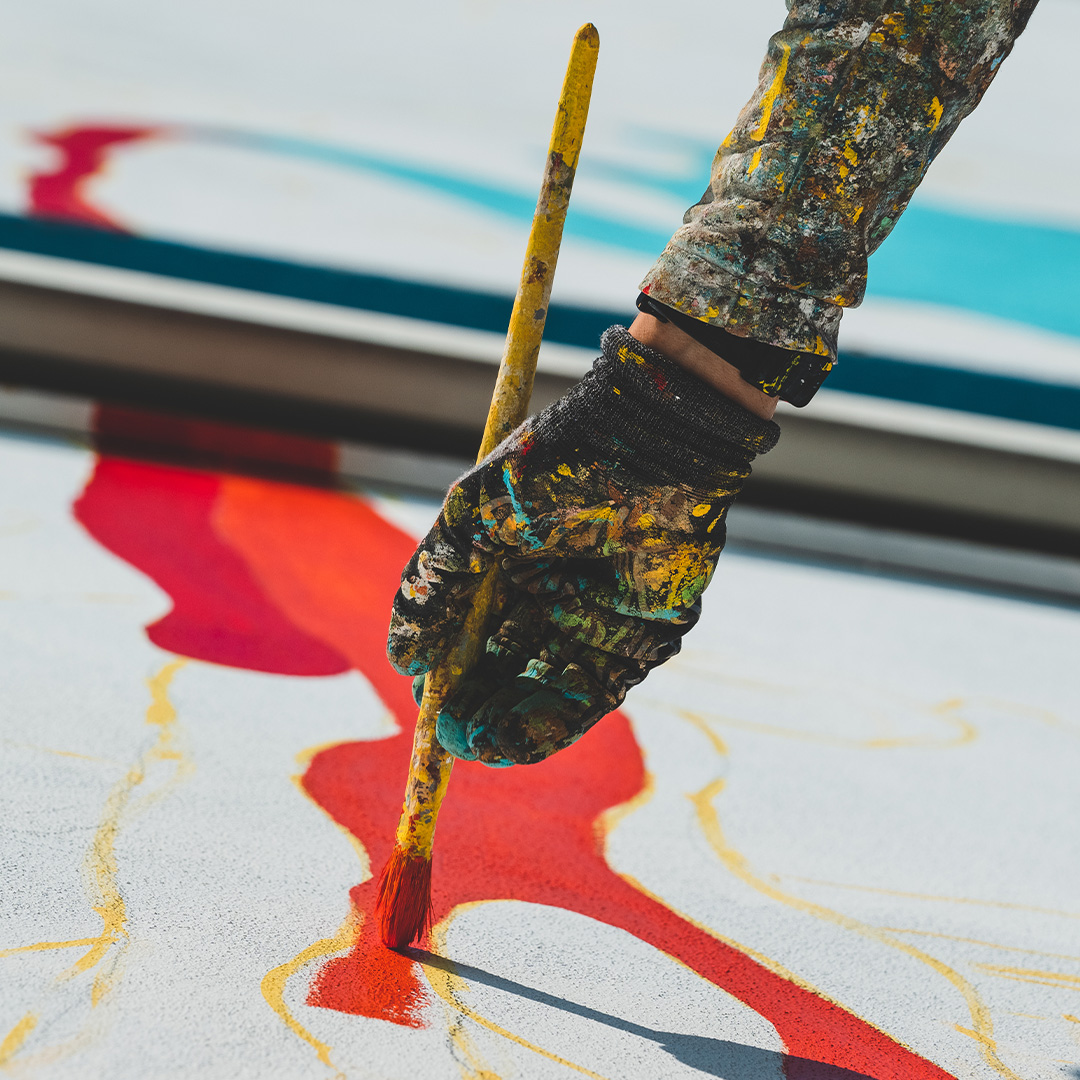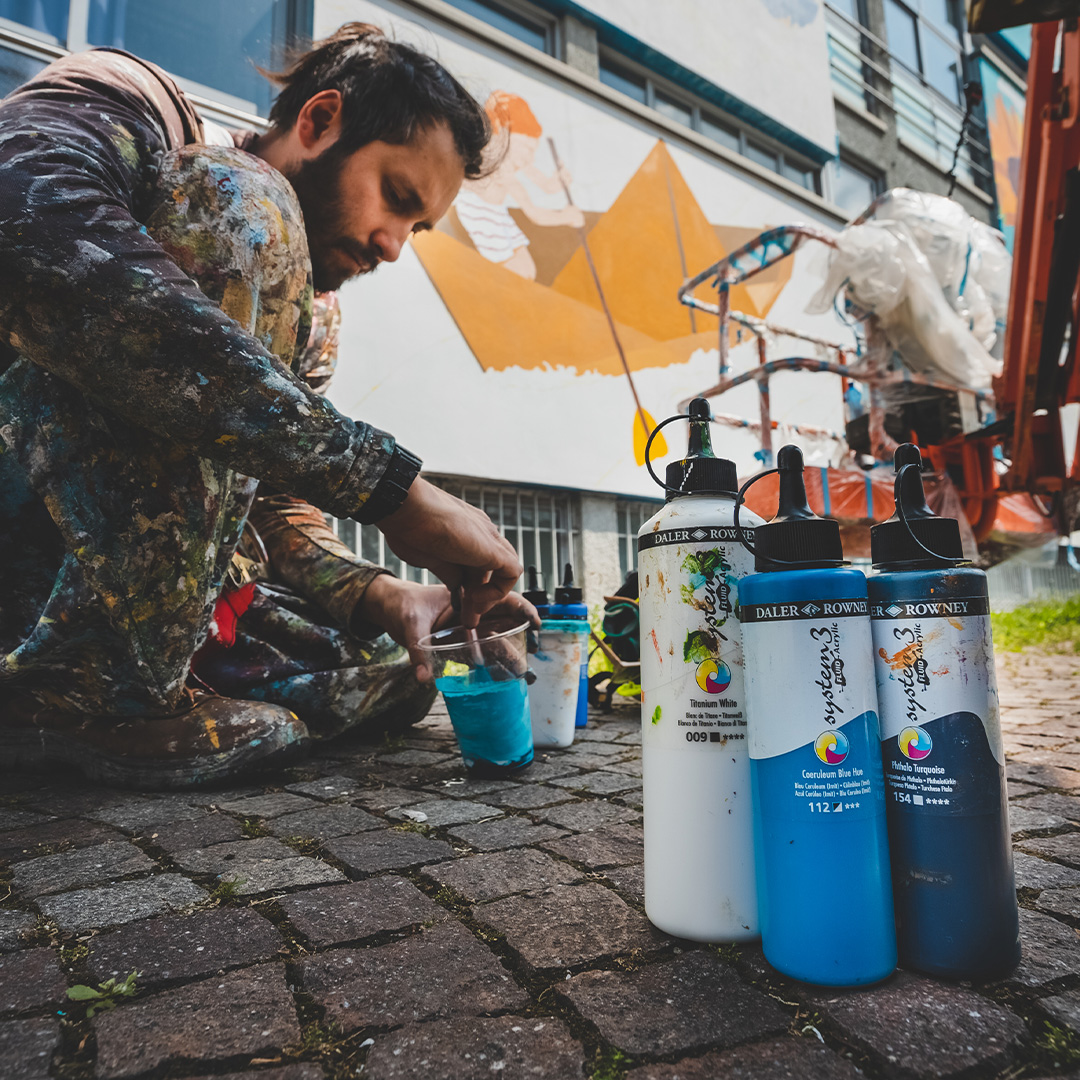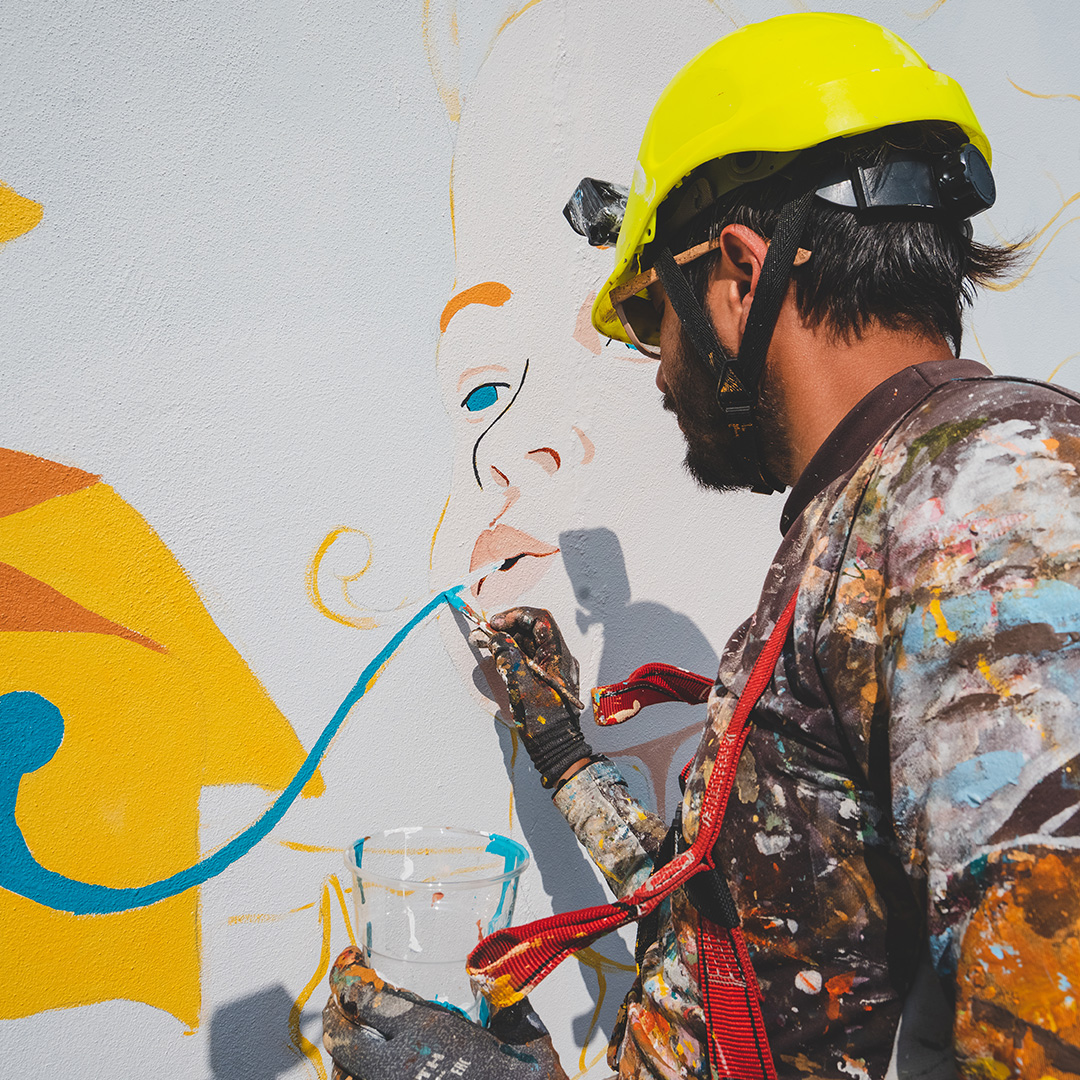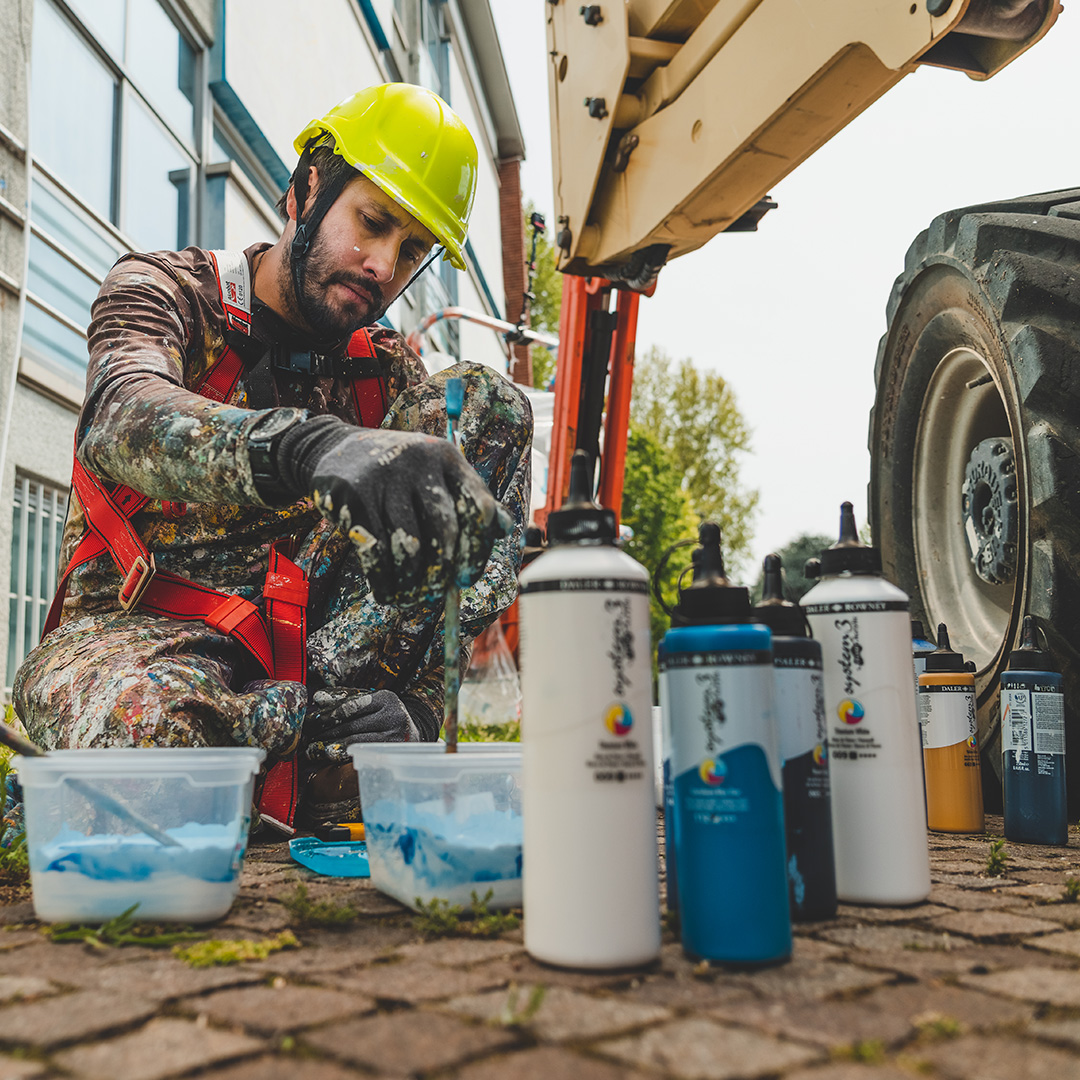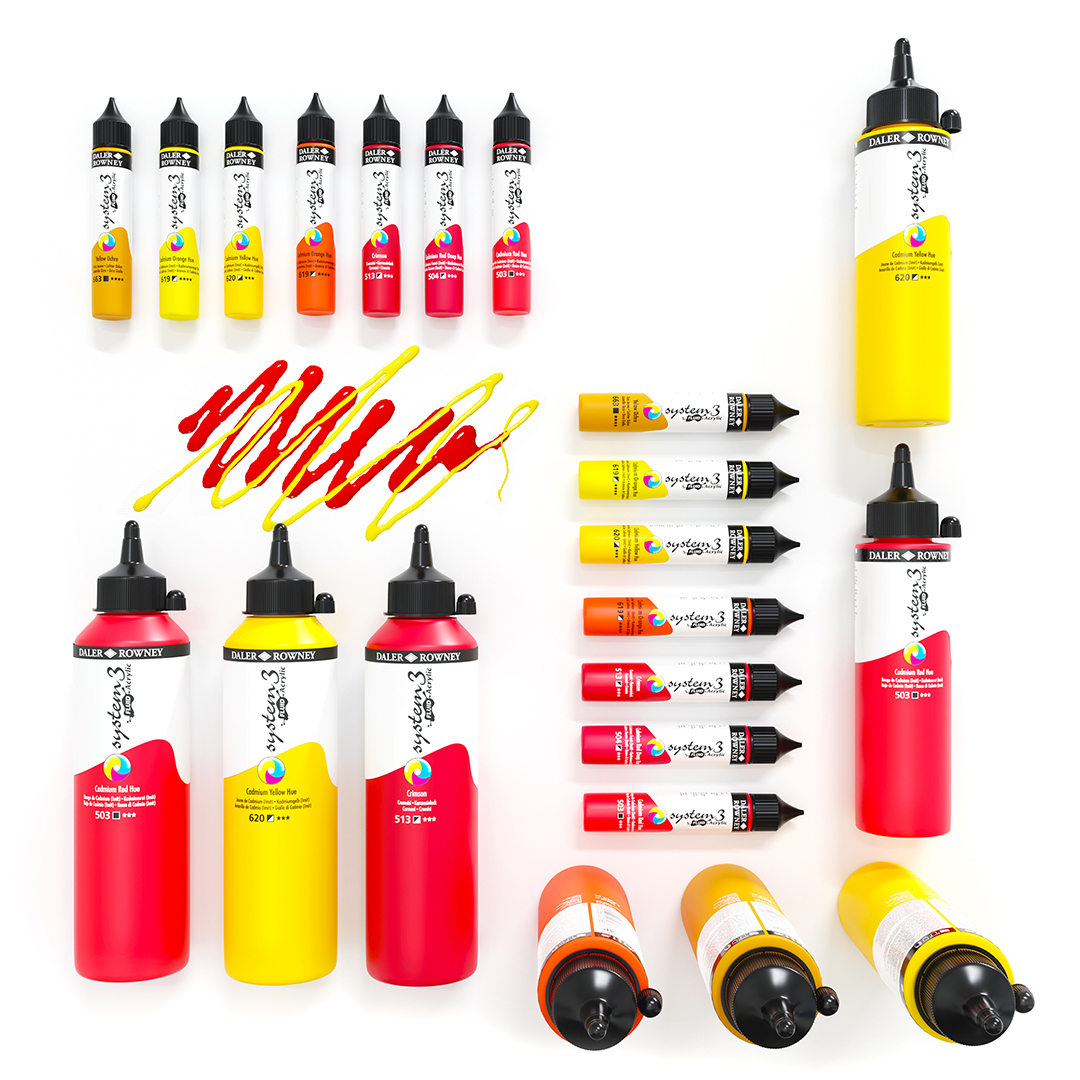 System3 Fluid Acrylic
Daler-Rowney System3 Fluid Acrylics are versatile, multi-surface, pigment-based, and ideal for multi-technique applications. The System3 Fluid Acrylics offer great coverage making it perfect for murals and other large surface area applications.
View System3 Fluid Acrylic