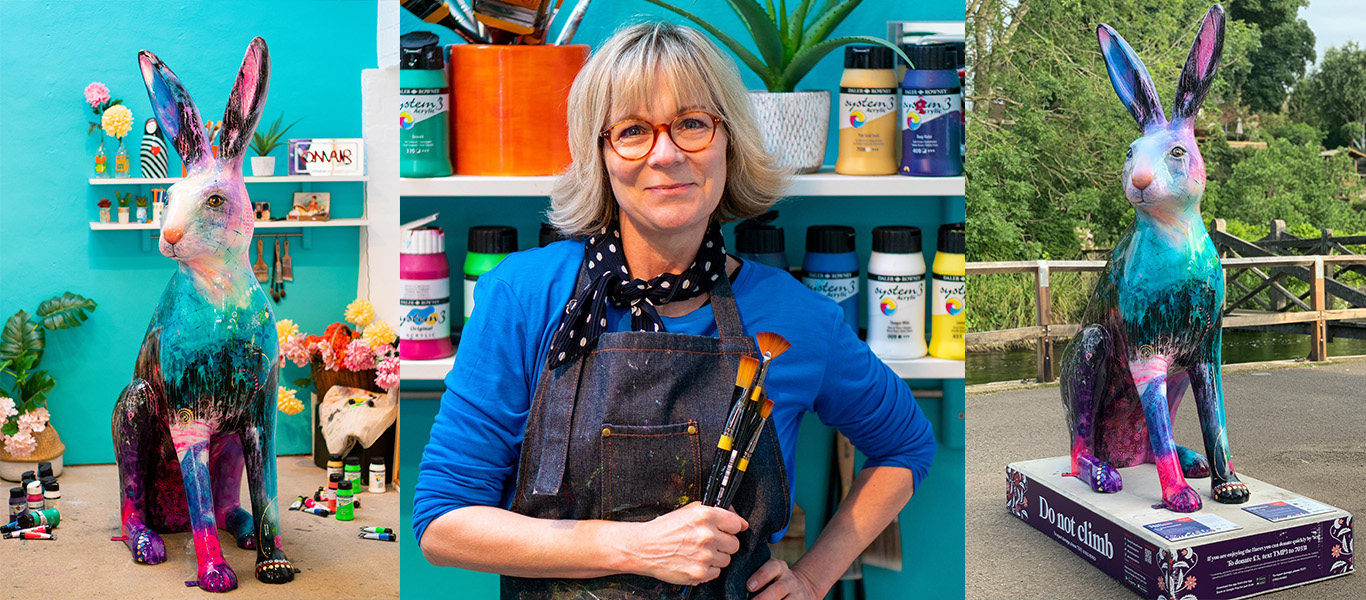 16th June 2022
Hares of Hampshire Art Trail x Jenny Muncaster
Title of Hare: 'Be Your Beautiful Self'
Sponsored By: The University of Winchester
Hare Trail: Thursday 16th June until Thursday 25th August 2022 across Winchester City & Southampton, UK
Jenny Muncaster, a professional mixed-media artist and one of our Daler-Rowney artists, has taken part in one of the largest public art events in Hampshire, UK. The event encourages the participants to explore, learn & create with 32 Hares and 42 Leverets on display across Winchester and Southampton. After the free public event, each Hare will be auctioned to raise funds for The Murray Parish Trust.
In the area? Why not head on the trail and follow #HaresofHampshire on Instagram.
Interview with Jenny Exploring the Event & Process
How did you get involved in The Hares of Hampshire Art Trail?
"Some creative projects just can't be ignored, and this is definitely one of those! Such a great idea, a really positive project for a brilliant cause. I'm very much in support of creative happenings across the City that engage locals and visitors alike. The initial procedure involved a selection process for the submission of design ideas by artists. I was thrilled to be chosen as one of the 30 artists to create a hand painted Hare for the trail."
Tell us about the inspiration for the artwork you created for the University of Winchester Hare?
"Now more than ever I am conscious of the importance of looking out for each other, embracing diversity & making time for our health & wellbeing which can all be enhanced by getting creative. My design for the University of Winchester Hare is about promoting all of those things but ultimately, it's about being comfortable in one's own skin, hence the title 'Be Your Beautiful Self'.
I am known for my vibrant and uplifting mixed media work, which this artwork typifies. My motivation begins with the sheer pleasure of the creative process and so a very personal narrative flows through the artwork. I have chosen a lively mix of patterns and colours utilising a variety of beautiful creative techniques. Ranging from subtle & soft watercolour to more intense deep layers & pops of colour. I wanted this work to reflect the layers that make up our unique personalities. The abstract patterns include motifs from varied sources and the final painting presents a highly decorative and non-gender-specific artwork."
How long did it take you to complete?
"The actual painting of the Hare took about a week. I started with the washy background layers of colour combining blending techniques, and using big soft brushes and sponges. It's a slow process to start with getting the balance of the design right. Scaling up the elements of pattern and individual mark-making from a small design to the 6ft canvas requires a bit of patience to get the composition right. Once the flow of colour and pattern works in 3D, I then start creating the next layers using some interesting paint techniques, combining water, acrylic paint and the use of a hairdryer! The paper design acts as a starting point, each fresh layer is a response to the previous one and the artwork evolves. I then go on to layer pattern with stencils, printing, even some gold leaf and of course the more intricate details of the eyes and face which give this Hare its unique personality."
The Hare is over 6 feet tall: is this the largest piece you have ever worked on?
"This is the largest 3D painting I've worked on. It's very liberating working on a large scale like this but a 6ft 3D 'canvas' offers some more unusual challenges – getting into tight corners, crawling underneath to paint the belly and then high up to reach those long ears! Fun but physical at times! I am used to working on large 2D canvases. I have painted 12ft canvases for the suites on The Royal Caribbean as well as for various hotels around the world. Then of course there's the collection of slightly smaller but more unusually hand-painted art bollards in The Square Winchester - another favourite project."
How different is this commission from the work you usually do?
"The Hare definitely shares many of the processes and techniques from my own work as an artist, just on a different scale. I love experimenting with different effects, techniques, mark-making and patterns – it's lovely to bring many of the processes I've developed on to one piece. One of my favourite mediums to work with is acrylics. They are incredibly versatile and can be used in numerous ways to achieve all sorts of effects, many utilised in the painting of the Hare. The acrylics I've used are System3 Acrylics by Daler-Rowney, amazing colours and incredibly high pigment strength so great for this vibrant large scale artwork. Back in my studio, I create smaller paintings using a wide range of art materials. These are often inspired by my favourite subjects, food, wine and nature. And I'm partial to a coastal view! I also really enjoy creating personalised paintings for people bringing in elements of their day-to-day life, home and hobbies into the finished artwork.
My work as a full-time professional artist is very varied, and when I'm not painting in the studio at The Colour Factory I'm teaching or presenting for TV & videos. I like to demystify the creative process by sharing my professional tips and tricks to make the creative process more achievable for all. I love sharing my passion for art and believe everyone has an artist in them just waiting to get out!"
What do you hope people will think/feel when they see the Hare on the Art Trail?
"I hope people will smile and feel uplifted, encourage friends and family to get out and explore the Hare Trail and perhaps even be inspired to pick up a paintbrush themselves!"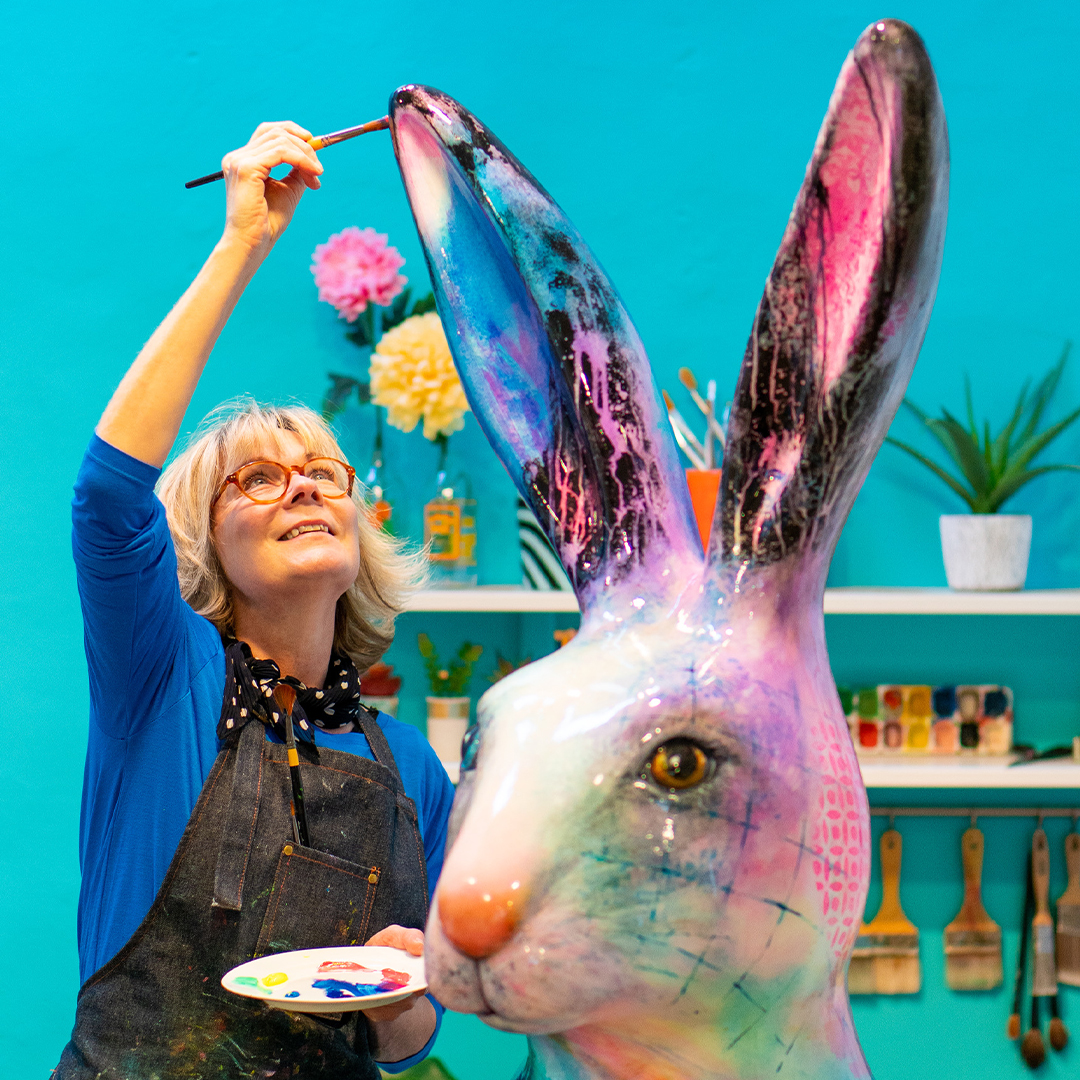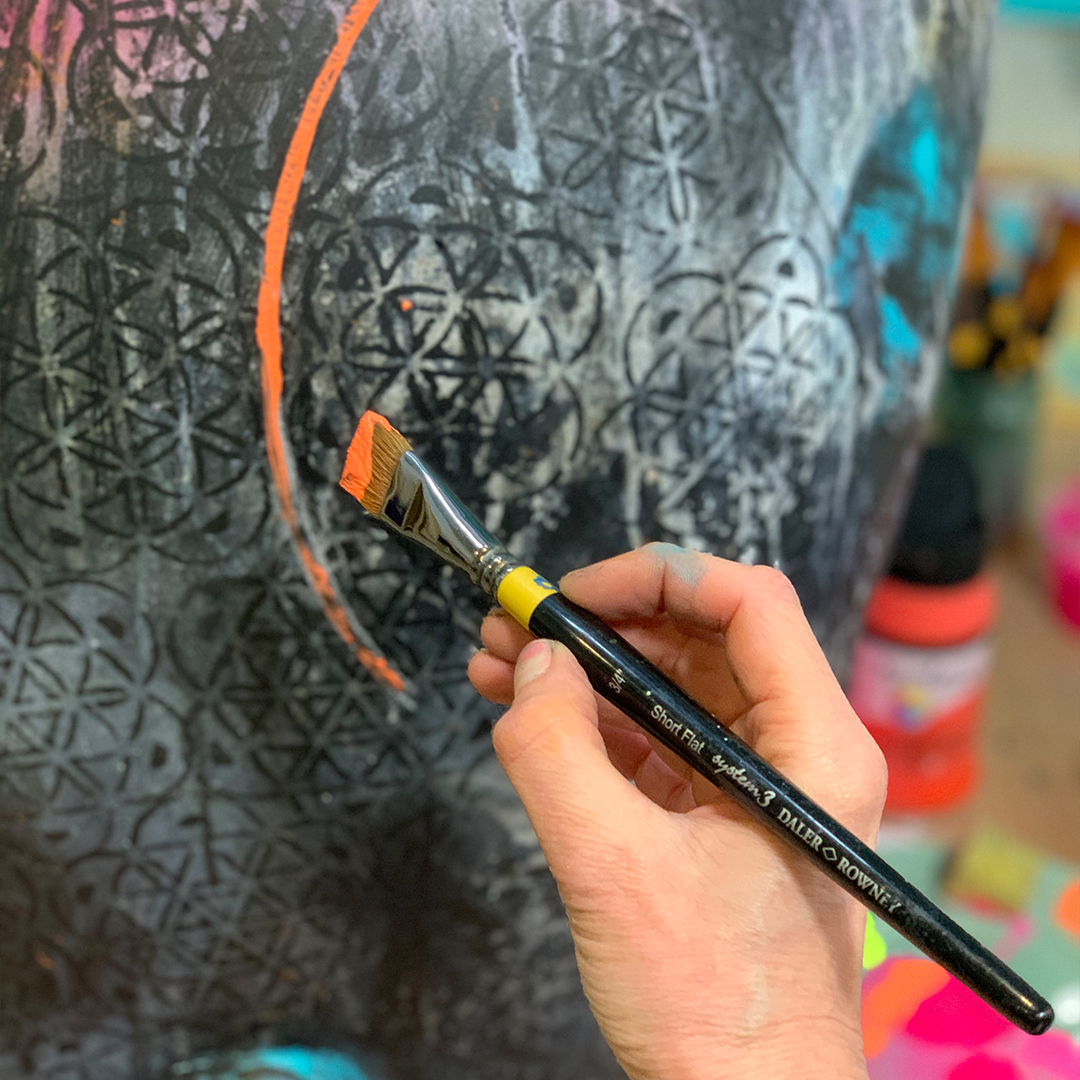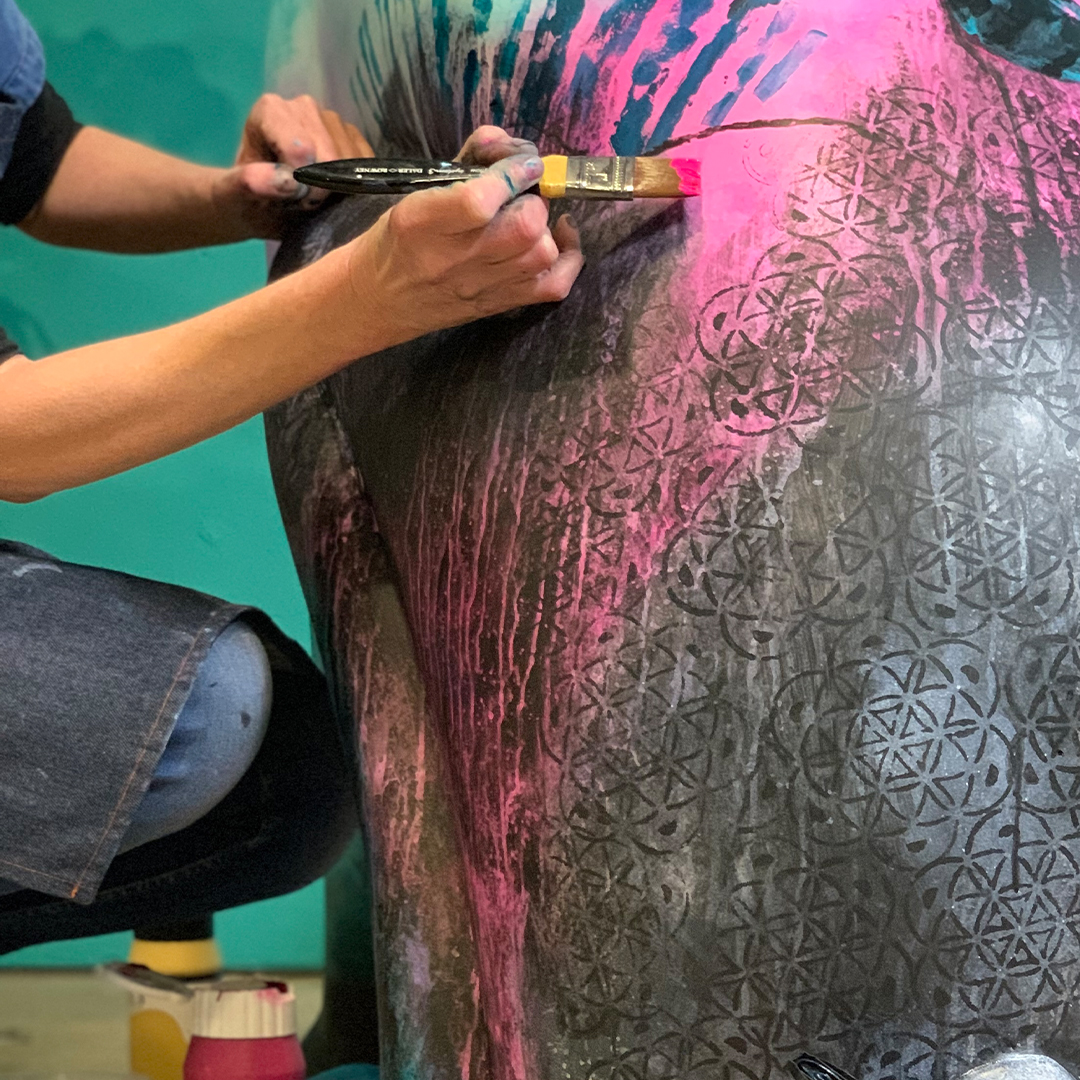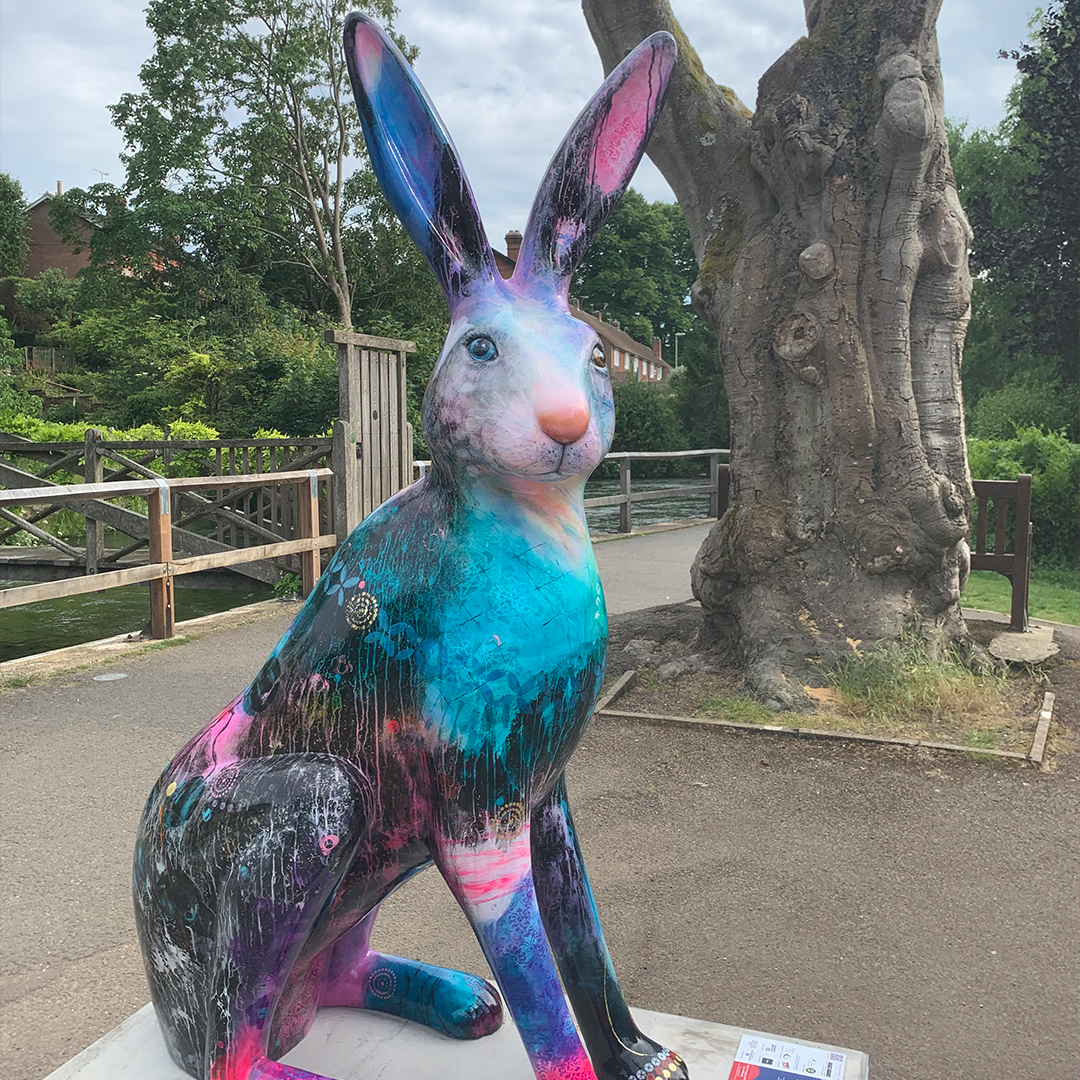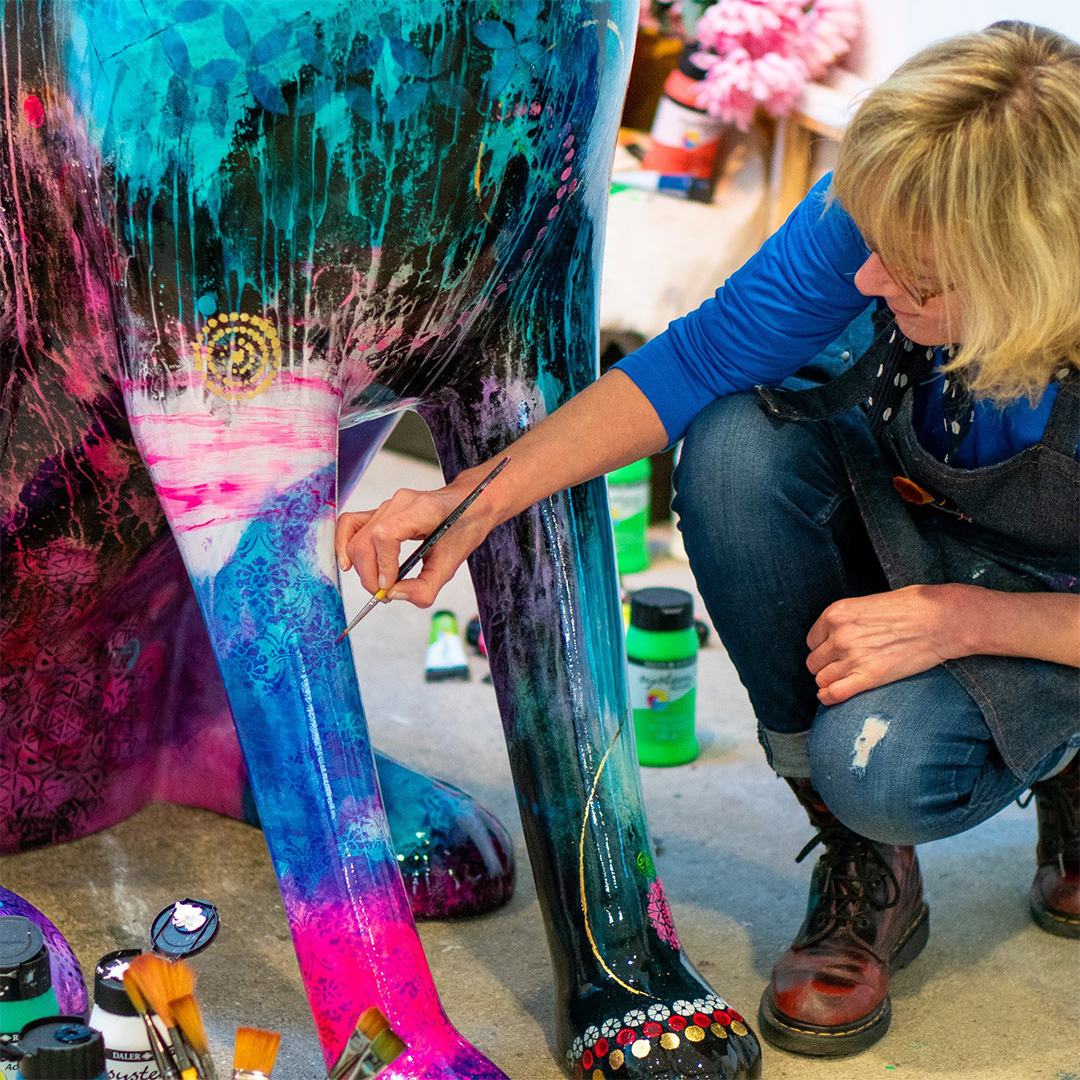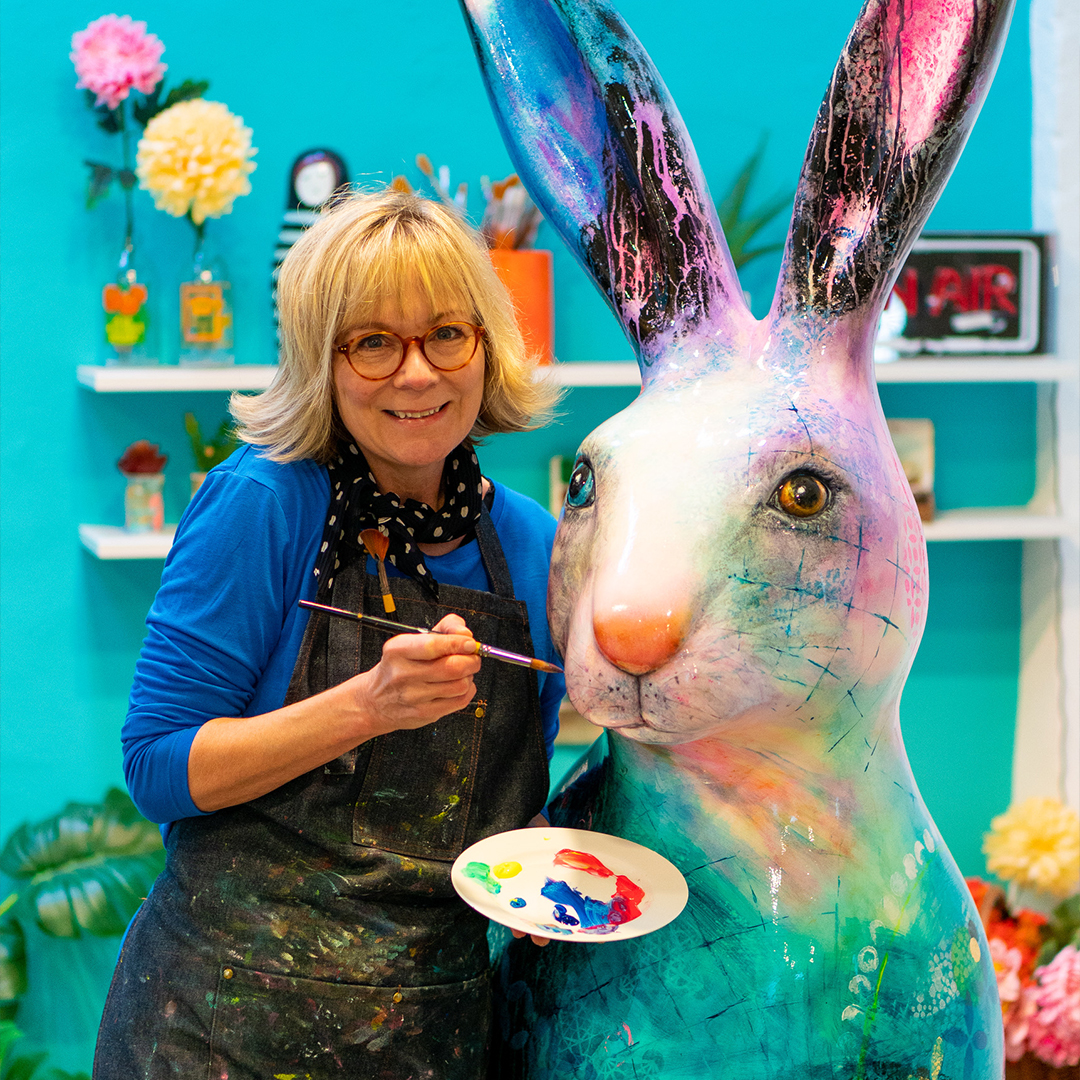 System3 Acrylic Paint
Daler-Rowney System3 Acrylics are versatile water-based colours made from high quality pigments. System3 Acrylic colours are lightfast, permanent, opaque, flexible and quick drying, making them suitable for applications on multiple surfaces both indoor and outdoor.
View System3 Acrylic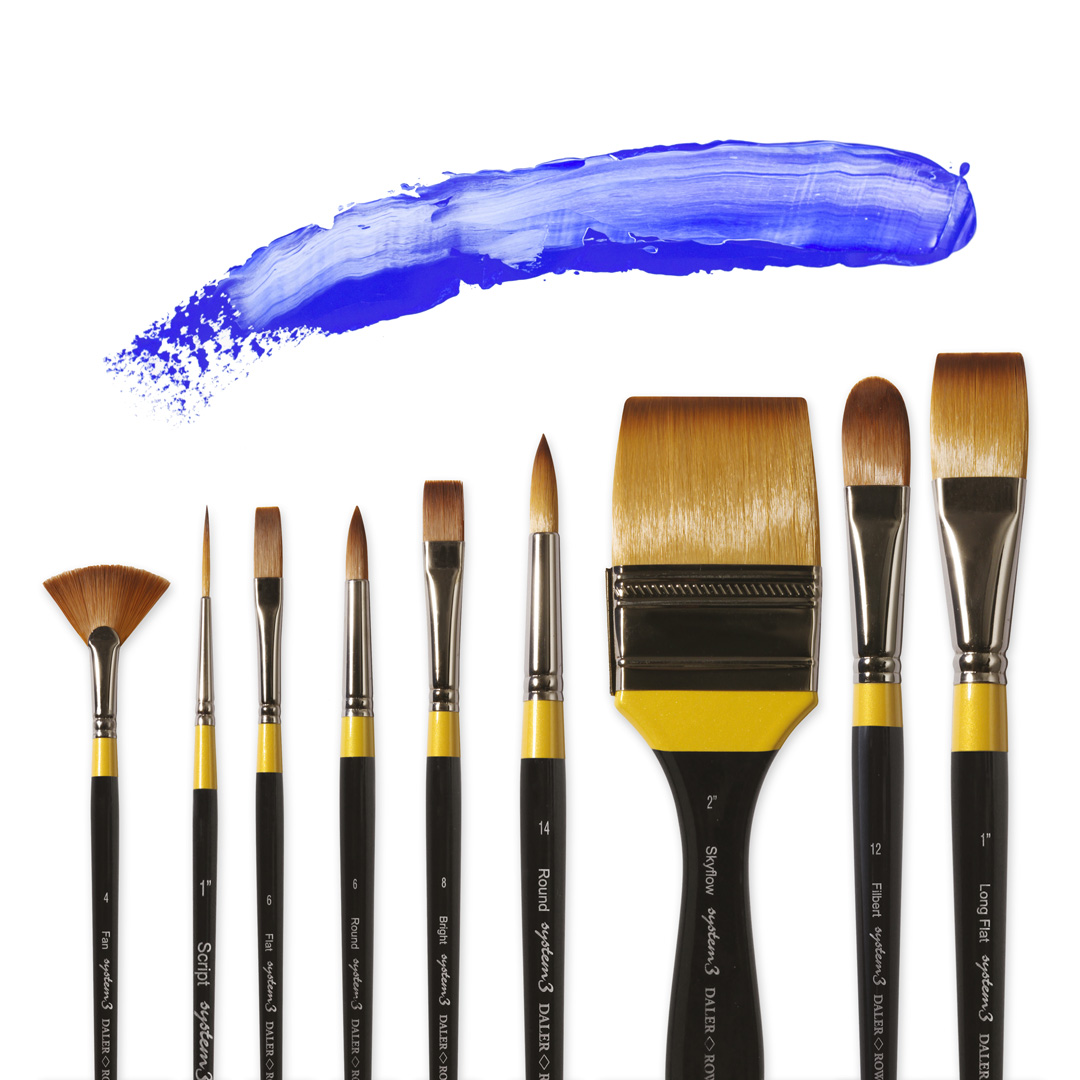 System3 Acrylic Brushes
Daler-Rowney System3 Acrylic Brushes are resilient and durable, perfect for painting with acrylics. The dark-tipped synthetic filaments and black shadow aluminium ferrule combined with an ergonomic black handle gives this brush style, affordability, flexibility and comfort.
View System3 Brushes