Cachet Art Supplies
Cachet products
What is the Cachet range?
Cachet by Daler-Rowney is a series of stunning artists' sketchbooks and portfolios. Renowned for their high-quality acid-free paper and coloured covers, the Daler-Rowney cachet sketchbook range is a premium choice for any artist who works extensively with pencil, charcoal, or watercolour.
Daler-Rowney Cachet Sketchbooks
Cachet by Daler-Rowney is one of the finest choices for sketchbooks in the UK. With a series of vibrant colours and contemporary designs on offer, each cachet sketchbook gives an artist the opportunity for self-expression.
Alongside sturdy and eye-catching covers, Daler-Rowney Cachet sketchbooks also feature high-quality acid-free paper that varies in weight. With options ranging from 110gsm to 300gsm, there is an ideal cachet sketchbook waiting for even the most intense watercolour work. Due to the cachet sketchbook range's spectacular weighting, artists needn't worry about unwanted smudging, running, or bleeding.
Should artists be unsure of which sketchbook is most suitable for their needs, each Daler-Rowney cachet sketchbook notes whether it is designed for pencil, watercolour, or mixed media. As a result, with Cachet by Daler-Rowney, artists can purchase the correct sketchbook for each project with ease.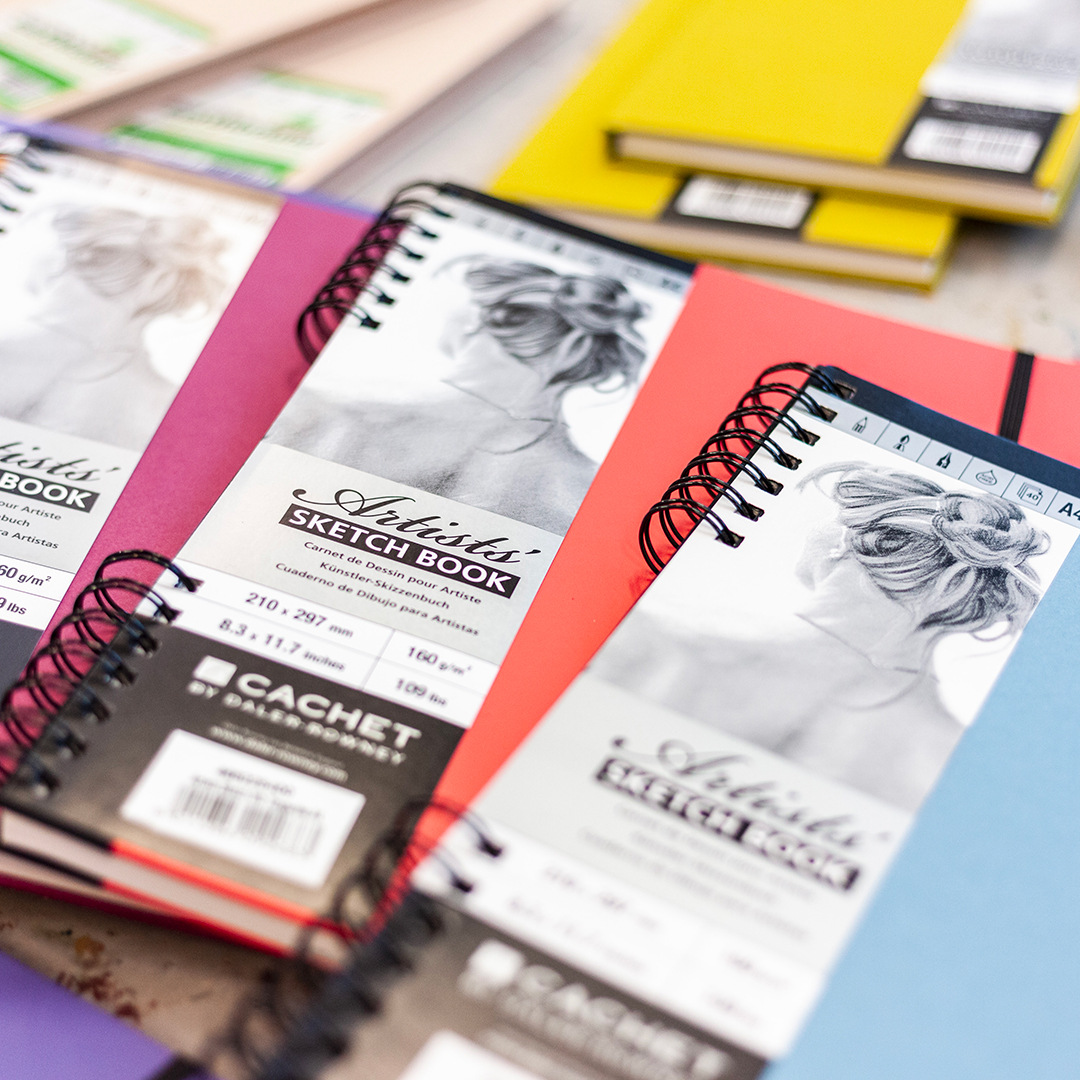 Tools within the Daler-Rowney Sketchbook Range
One of the most popular subsections of the Daler-Rowney Cachet sketchbook range is the Cachet Earthbound range. Though the Cachet Earthbound sketchbook colours largely mirror the Cachet Classic sketchbooks, the Cachet Earthbound sketchbook range is geared towards more environmentally conscious artists.
Made from recycled paper that retains surface uniformity for optimal performance, the distinctive Earthbound recycled sketchbook puts conservation at the fore without compromising quality. For those on the hunt for a rustic Cachet sketchbook design that matches the range's earthy aesthetic, then the Daler-Rowney Earthbound toned tan sketchbook is a perfect choice.
For artists who prefer more traditional sketchbooks, the Cachet Classic sketchbook range is unlikely to disappoint. Available in colours and sizes to suit any artist, it's an enduring staple sketchbook range that continues to be one of the most loved within the Cachet by Daler-Rowney range.
Artists who dare to be different will appreciate the distinctive textured cover featured on the Sedona and Riata Cachet sketchbook models.
Features of Daler-Rowney Cachet

Gorgeous contemporary designs
The Daler-Rowney Cachet sketchbook range is vivid and contemporary, offering artists a product that looks as good as it feels.

High-quality paper of varying weights
With gsm weights that range from 110gsm to 300gsm, artists can always find the perfect paper match for their artwork.

A range of sizes
Cachet by Daler-Rowney offers artists a range of sketchbook sizes (including A5 landscape) to suit a variety of projects.

Recycled paper with surface uniformity
The Daler-Rowney Earthbound range features 100% recycled paper for an earth-friendly alternative that never sacrifices performance.

No bleeding or running
Daler-Rowney's high-quality acid free paper prevents unsightly bleeding and running that can often occur with heavy watercolour work.
Discover the Daler-Rowney Cachet range
Be sure to explore the full Daler-Rowney Cachet sketchbook range before undertaking your next paper-based project. Regardless of which option is chosen by the artist, Cachet by Daler-Rowney aims to continually support and inspire creativity with robust surfaces that never falter.
Discover sketching tips with Daler-Rowney
Discover sketch artists with Daler-Rowney